Sustainable Catalysis: Challenges and Practices for the Pharmaceutical and Fine Chemical Industries
ISBN: 978-1-118-15542-4
440 pages
April 2013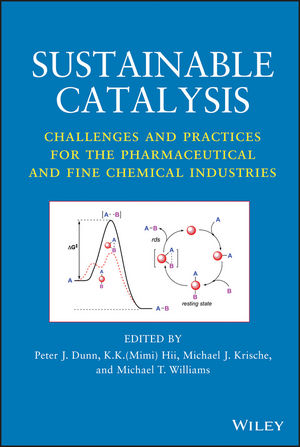 Opens the door to the sustainable production of pharmaceuticals and fine chemicals
Driven by both public demand and government regulations, pharmaceutical and fine chemical manufacturers are increasingly seeking to replace stoichiometric reagents used in synthetic transformations with catalytic routes in order to develop greener, safer, and more cost-effective chemical processes. This book supports the discovery, development, and implementation of new catalytic methodologies on a process scale, opening the door to the sustainable production of pharmaceuticals and fine chemicals.
Pairing contributions from leading academic and industrial researchers, Sustainable Catalysis focuses on key areas that are particularly important for the fine chemical and pharmaceutical industries, including chemo-, bio-, and organo-catalytic approaches to C–H, C–N, and C–C bond-forming reactions. Chapters include academic overviews of current innovations and industrial case studies at the process scale, providing new insights into green catalytic methodologies from proof-of-concept to their applications in the synthesis of target organic molecules.
Sustainable Catalysis provides the foundation needed to develop sustainable green synthetic procedures, with coverage of such emerging topics as:
Catalytic reduction of amides avoiding LiAlH4 or B2H6
Synthesis of chiral amines using transaminases
Industrial applications of boric acid and boronic acid catalyzed direct amidation reactions
C–H activation of heteroaromatics
Organocatalysis for asymmetric synthesis
Offering a balanced perspective on current limitations, challenges, and solutions, Sustainable Catalysis is recommended for synthetic organic chemists seeking to develop new methodologies and for industrial chemists dedicated to large-scale process development.
See More
Foreword vii
Preface ix
Contributors xi
Abbreviations xiii
1 Catalytic Reduction of Amides Avoiding LiAlH4 or B2H6 1
Deborah L. Dodds and David J. Cole-Hamilton
2 Hydrogenation of Esters 37
Lionel A. Saudan
3 Synthesis of Chiral Amines Using Transaminases 63
Nicholas J. Turner and Matthew D. Truppo
4 Development of a Sitagliptin Transaminase 75
Jacob M. Janey
5 Direct Amide Formation Avoiding Poor Atom Economy Reagents 89
Benjamin M. Monks and Andrew Whiting
6 Industrial Applications of Boric Acid and Boronic Acid-Catalyzed Direct Amidation Reactions 111
Joanne E. Anderson, Jannine Cobb, Roman Davis, Peter J. Dunn, Russ N. Fitzgerald, and Alan J. Pettman
7 OH Activation for Nucleophilic Substitution 121
Jonathan M.J. Williams
8 Application of a Redox-Neutral Alcohol Amination in the Kilogram-Scale Synthesis of a GlyT1 Inhibitor 139
Martin A. Berliner
9 Olefin Metathesis: From Academic Concepts to Commercial Catalysts 163
Justyna Czaban, Christian Torborg, and Karol Grela
10 Challenge and Opportunity in Scaling-up Metathesis Reaction: Synthesis of Ciluprevir (BILN 2061) 215
Nathan Yee, Xudong Wei, and Chris Senanayake
11 C–H Activation of Heteroaromatics 233
Koji Hirano and Masahiro Miura
12 The Discovery of a New Pd/Cu Catalytic System for C–H Arylation and Its Applications in a Pharmaceutical Process 269
Jinkun Huang, Xiang Wang, and Johann Chan
13 Diarylprolinol Silyl Ethers: Development and Application as Organocatalysts 287
Hiroaki Gotoh and Yujiro Hayashi
14 Organocatalysis for Asymmetric Synthesis: From Lab to Factory 317
Feng Xu
15 Catalytic Variants of Phosphine Oxide-Mediated Organic Transformations 339
Stephen P. Marsden
16 Formation of C–C Bonds Via Catalytic Hydrogenation and Transfer Hydrogenation 363
Joseph Moran and Michael J. Krische
Index 409
See More
PETER J. DUNN, PhD, is Global Green Chemistry Lead for Pfizer. Dr. Dunn has played a key role in the development of commercial processes to make several drugs, including Viagra™, Emselex™, Revatio™, and Sampatrilat.
K. K. (MIMI) HII, PhD, holds a Readership in Catalysis in the Department of Chemistry at Imperial College London. Her research focuses on the development of sustainable catalytic processes for organic synthesis.
MICHAEL J. KRISCHE, PhD, is Director of the Center for Green Chemistry and Catalysis and Robert A. Welch Chair in Science at The University of Texas at Austin. He is the recipient of the Tetrahedron Young Investigator Award, Humboldt Prize, Presidential Green Chemistry Challenge Award, and ACS Elias J. Corey Award.
MICHAEL T. WILLIAMS, PhD, is an independent consultant. Previously, he was an executive director at Pfizer and played a key role in the development and commercialization of many drugs, including Zoloft™, Viagra™, and Relpax™.
See More