Business Model You: A One-Page Method For Reinventing Your Career
ISBN: 978-1-118-15631-5
Paperback
264 pages
March 2012
US $27.95

Add to Cart
This price is valid for United States. Change location to view local pricing and availability.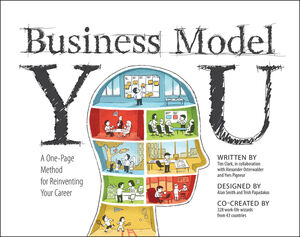 Other Available Formats:
E-book
February 21, 2012
Business Models Get Personal...A One-Page Method for Reinventing Your Career
Connect with Wiley Publicity
When translator Mika Uchigasaki attended a personal business model workshop in Seattle last April, she discovered more about her career than she'd bargained for.
Perched on overstuffed, red velvet chairs, participants struggled to summarize their work lives on single sheets of paper – and Uchigasaki got stuck. The "What I Do" and "How I Help Customers" sections of her personal business model were identical: Both said translate legal documents between Japanese and English.
But with prompting from the workshop leader, Uchigasaki finally redefined her "How I Help Customers" statement as creating persuasive documentation to win multimillion-dollar lawsuits.
As she considered the change, Uchigasaki's eyes shone. "This is a new way of thinking for me," she said. "I've been searching for a new model for my work. I think I've found it."
Uchigasaki is among a growing number of people using a new tool to rethink their careers. The single-page, nine-section personal business model is a twist on the Business Model Canvas, a tool for depicting how organizations operate. The Canvas, described in the international bestseller Business Model Generation, has been adopted by thousands of organizations as an effective way to describe and reinvent organizational business models.
While working on Business Model Generation, the authors realized that the Canvas could be applied to individuals as well. In many ways, "organizations are simply plural forms of individuals," says Kim Korn, a management consultant.
Korn belongs to a community of more than 600 personal business model enthusiasts from 43 countries that, together with the Business Model Generation authors, wrote a new book on the personal business model methodology entitled Business Model You: A One-Page Method For Reinventing Your Career (Wiley; ISBN: 978-1-1181-5631-5; $27.95; March 2012). Chinese, German, French, and Dutch rights to the new work were sold before the English language edition of the book was released, testifying to Business Model You's international appeal.
"Most of us lack a structured way to reinvent ourselves, even though changing workplace business models are making professional and personal life more challenging than ever," says Business Model You lead author Tim Clark. "The new book offers a simple, structured way to optimize the most important business model of all: business model you."