21st Century Skills: Learning for Life in Our Times
ISBN: 978-1-118-15706-0
Paperback
256 pages
February 2012, Jossey-Bass
US $19.95

Add to Cart
This price is valid for United States. Change location to view local pricing and availability.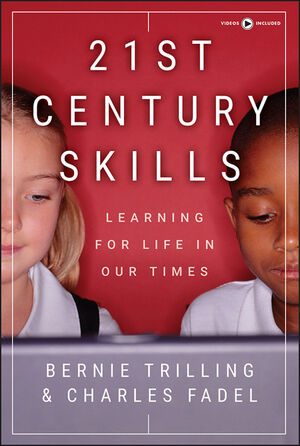 Figures and Tables xi
Foreword to the Paperback Edition xiii
The Authors xxi
Prologue: The Search for Innovative Learning xxv
Introduction: Learning to Innovate, Innovating Learning xxix
The Four Question Exercise xxx
About This Book xxxiv
A Map of the Book xxxv
Part One: What Is 21st Century Learning?
1 Learning Past and Future 3
Learning a Living: The Future of Work and Careers 7
Learning Through Time 11
2 The Perfect Learning Storm: Four Converging Forces 21
Knowledge Work 24
Thinking Tools 25
Digital Lifestyles 27
Learning Research 30
The Forces of Resistance 35
The Turning of Learning: Toward a New Balance 36
The Top 21st Century Challenge 40
Part Two: What Are 21st Century Skills?
3 Learning and Innovation Skills: Learning to Create Together 45
The Knowledge-and-Skills Rainbow 47
Learning to Learn and Innovate 49
Critical Thinking and Problem Solving 50
Communication and Collaboration 54
Creativity and Innovation 56
4 Digital Literacy Skills: Info-Savvy, Media-Fluent, Tech-Tuned 61
Information Literacy 65
Media Literacy 67
ICT Literacy 68
5 Career and Life Skills: Work-Ready, Prepared for Life 73
Flexibility and Adaptability 75
Initiative and Self-Direction 77
Social and Cross-Cultural Interaction 80
Productivity and Accountability 82
Leadership and Responsibility 84
Part Three: 21st Century Learning in Practice 6 21st Century Learning and Teaching 89
Learning P's and Q's: Problems and Questions 90
Roads to Answers and Solutions: Science and Engineering 91
7 Powerful Learning: Proven Practices, Researched Results 95
The 21st Century Project Learning Bicycle 96
Creativity Through Projects 104
Evidence That Project Learning Works 107
Obstacles to Collaborative Inquiry and Design Learning 114
8 Retooling Schooling: Reshaping Support Systems 117
Shifting Systems in Sync 120
Support Systems 125
From Skills to Expertise: Future Learning Frameworks 145
9 Conclusion: Learning for Life—Building a Better World 151
Appendix A Resources 159
21st Century Skills Example Videos DVD 159
Resources from the Partnership for 21st Century Skills 161
Selected Online Resources 162
Appendix B About the Partnership for 21st Century Skills 167
What Is P21? 167
What Does P21 Do? 168
How the P21 Learning Framework Came into Being 170
Appendix C 3Rs x7Cs = 21st Century Learning 175
Acknowledgments 179
Notes 183
References 187
Credits 197
How to Use the DVD 199
Index 201