E-book
Teach Yourself VISUALLY MacBook, 2nd Edition
ISBN: 978-1-118-15730-5
400 pages
August 2011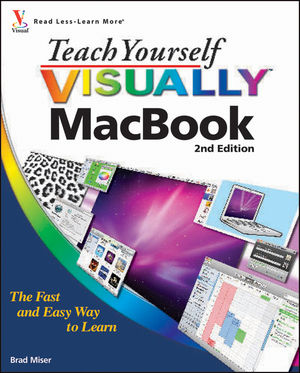 Get up and running quickly with all the latest updates to the MacBook
The MacBook is an incredibly popular laptop choice, boasting light weight and tremendous speed. If you're a visual learner who is eager to get started with all that the MacBook has to offer, then this is the book for you! Packed with full-color photos and screen shots, this vital book walks you step by step through everything from the basics (such as powering on or shutting down the MacBook) to working with the Dashboard and its widgets to running the new Mac OS X Snow Leopard operating system.
Veteran author Brad Miser escorts you through all the vitals and even offers invaluable advice for troubleshooting common problems.
The MacBook is gaining popularity and this book is essential for visual learners who are eager to get started using their MacBook
Covers the new Mac OS X Snow Leopard, as well as updates to iLife and MobileMe
Lavish photos and screen shots offer you enhanced visual assistance while you learn the ins and outs of the MacBook
Veteran author Brad Miser breaks down each topic to make it understandable for visual learners
Keep this indispensible visual guide at arm's reach and get up and running with your MacBook the fast and easy way!
See More
Chapter 1. Exploring MacBook.
Chapter 2. Looking Through Mac OS X Finder Windows.
Chapter 3. Using the Dock, Esposé, Spaces, and the Dashboard.
Chapter 4. Working on the Mac Desktop.
Chapter 5. Working with Mac Applications.
Chapter 6. Personalizing MacBook.
Chapter 7. Connecting to a Network and the Internet.
Chapter 8. Traveling with MacBook.
Chapter 9. Connecting MacBook to Other Devices.
Chapter 10. Using MobileMe Online Services.
Chapter 11. Using MobileMe Online Services.
Chapter 12. E-mailing.
Chapter 13. Chatting.
Chapter 14. Printing on Paper or Electronically.
Chapter 15. Managing Contacts.
Chapter 16. Managing Calendars.
Chapter 17. Maintaining and Troubleshooting MacBook.
Chapter 18. Listening to Music and Watching Video with iTunes.
Chapter 19. Creating Photo Books and Other Projects with iPhoto.
Chapter 20. Creating Movies with iMovie.
See More
Brad Miser has written more than 40 books, with his favorite topics being anything related to Macintosh computers. In addition to Teach Yourself VISUALLY MacBook, Brad has written MacBook Pro Portable Genius, Teach Yourself VISUALLY MacBook Air, iPhoto '09 Portable Genius, MobileMe for Small Business Portable Genius, and MacBook Portable Genius. He has also been a co-author, development editor, or technical editor on more than 50 other titles.
In addition to his passion for silicon-based technology, Brad enjoys steel-based technology, riding his motorcycle whenever and wherever possible. A native of California, Brad now lives in Indiana with his wife Amy; their three daughters, Jill, Emily, and Grace; a rabbit named Bun-Bun; and a sometimes-inside cat.
Brad would love to hear about your experiences with this book (the good, the bad, and the ugly). You can write to him at bradmiser@me.com.
See More