E-book
Mac OS X Lion For Dummies
ISBN: 978-1-118-15930-9
456 pages
August 2011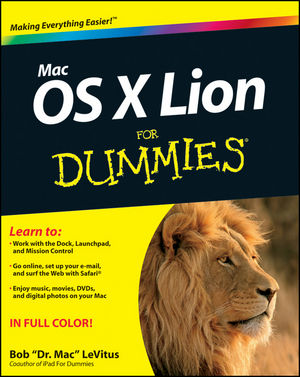 The bestselling Mac guide, updated for the latest Mac OS X and now in full color!
Mac OS X Lion represents a new era in the Mac operating system. This friendly guide is fully updated for the latest Mac OS X and provides everything new Mac users and users upgrading to Mac OS X Lion need to know. A bestseller in previous editions, Mac OS X Lion For Dummies covers all the cool stuff and prepares you for the quirks. So whether it's your first Mac or just an OS upgrade, you'll learn to tame your Lion with the expert advice of Bob "Dr. Mac" LeVitus and Dummies.
Covers using the Finder, customizing Lion, adding widgets to the Dashboard, organizing and managing files and folders, searching with Spotlight, and working with Spaces
Explores browsing the web with Safari, using Apple Mail and iCal, connecting a printer, performing backups with Time Machine, troubleshooting, and setting up a network
Walks readers through the new features of Mac OS X Lion, including FaceTime, Photo Booth, Launchpad, Mission Control, Full-screen apps, and more
Gets you up and running with iTunes, downloading fun apps from the Mac App Store, and staying entertained with videos, photos, and other multimedia
You'll make your Lion roar with the friendly advice in Mac OS X Lion For Dummies.
See More
Introduction 1
Part I: Introducing OS X Lion: The Basics 7
Chapter 1: Mac OS X Lion 101 (Prerequisites: None) 9
Chapter 2: The Desktop and Windows and Menus (Oh, My)! 23
Chapter 3: Have It Your Way 45
Chapter 4: What's Up, Dock? 69
Chapter 5: The Finder and Its Desktop 89
Part II: Lion Taming (Or "Organization for Smart People") 121
Chapter 6: The Care and Feeding of Files and Folders 123
Chapter 7: Timesaving Tools 165
Chapter 8: Dealing with Disks 183
Chapter 9: Organizing Your Life 195
Part III: Do Unto Lion: Getting Things Done 207
Chapter 10: Internet-Working 209
Chapter 11: E-Mail Made Easy 233
Chapter 12: The Musical Mac 257
Chapter 13: The Multimedia Mac 275
Chapter 14: Words and Letters 285
Part IV: Making This Lion Your Very Own 295
Chapter 15: Publish or Perish: The Fail-Safe Guide to Printing 297
Chapter 16: Sharing Your Mac and Liking It 315
Chapter 17: Features for the Way You Work 351
Part V: The Care and Feeding of Your Lion 373
Chapter 18: Safety First: Backups and Other Security Issues 375
Chapter 19: Utility Chest 393
Chapter 20: Troubleshooting Mac OS X 407
Part VI: The Part of Tens 419
Chapter 21: Almost Ten Ways to Speed Up Your Mac Experience 421
Chapter 22: Ten Ways to Make Your Mac Better by Throwing Money at It  431
Chapter 23: Ten (Or So) Great Websites for Mac Freaks  437
Appendix: Installing or Reinstalling Mac OS X Lion (Only If You Have To)  445
Index  451
See More
Bob "Dr. Mac" LeVitus is among the world's leading authorities on the iPad, iPhone, and Mac OS X. He's been one of the Mac community's most trusted gurus for almost 20 years and has written or cowritten more than 60 books. He is also a columnist for the Houston Chronicle and The Mac Observer.
See More