Commodity Trader's Almanac 2013: For Active Traders of Futures, Forex, Stocks, Options, and ETFs
ISBN: 978-1-118-15986-6
192 pages
October 2012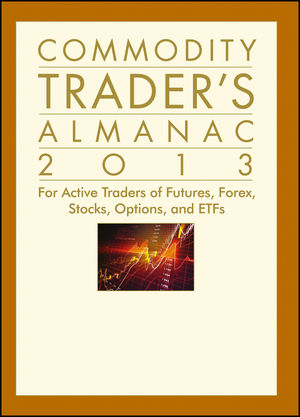 An indispensable resource for today's active commodity, currency, futures, and ETF trader
In the 2013 Edition of the Commodity Trader's Almanac, Jeffrey Hirsch has once again put together an essential tool for both professional traders and those who are just getting started and need to understand the complex and exciting world of alternatives. Created in a similar fashion to the Stock Trader's Almanac—trusted for over 40 years—the Commodity Trader's Almanac is a comprehensive guide featuring monthly strategies, patterns, trends, and trading techniques geared towards the major commodities and currencies, as well as ETFs, futures, and options.
It also contains in-depth insights on various topics of interest to the active trader and investing public; as well as market highlights that cover key supply, demand, and seasonal tendencies on markets including crude oil, ethanol, and precious metals; critical agricultural products such as corn, wheat, and cattle; and foreign currencies like the British pound and the Euro. The Commodity Trader's Almanac also describes how investors can utilize futures, options, and ETFs in their endeavors.
Helps you understand how commodity pricing works and offers great insight into investing in them
Alerts you to little-known market patterns and tendencies to help forecast commodity market trends with accuracy and confidence
Contains expanded coverage on timing tools with tips on utilizing candlesticks and pivot points to better time seasonal trades, and more
Includes business cycle analysis and trading tips for the current climate
Intended for active traders and investors interested in making the most out of today's commodity, ETF, futures, options, and currencies markets, this guide will make you a better trade in the search for greater profits.
See More
5 Introduction to the Seventh Edition
6 Advanced Options Trading Strategies and Tactics
10 2013 Strategy Calendar
12 January Almanac
14 Short Heating Oil in Early January
16 Euro Peaks against U.S. Dollar
18 Wheat Turns to Chaff
20 February Almanac
22 End of January Long S&P 500 Trade
24 Strength in Soybeans
26 Crude Oil Strikes a Winner in February
28 March Almanac
30 Silver Tarnishes in February
32 Natural Gas Surges
34 Cocoa Peaks before St. Patrick's Day
36 March British Pound Invasion
38 April Almanac
40 April Tax Time Takes a Bite out of Gold
42 Bonds Can Go Up When Stocks Go Down
44 Beef Prices Head South before Summer
46 May Almanac
48 Copper Tops in May
50 Silver Slips in May
52 Coffee Buzz Fades in Summer
54 June Almanac
56 Short Soybeans for Summer
58 Sugar's Summer Sweet Spot
60 Summer BBQ Season Gives Beef a Bounce
62 Mother Nature Makes Corn Pop
64 July Almanac
66 Last Half July S&P 500 Short
68 Summer Air Conditioning Heats Up Natural Gas
70 Swiss Franc Follows Gold Higher
72 August Almanac
74 August Gives Coffee a Lift
76 Twin Cocoa Crops Create Twin Summertime Trades
78 Gold Glitters Mid-Summer
80 September Almanac
82 Crude Oil Takes a Breather
84 British Pound Autumn Rally86 Silver Slumps in October
88 Japanese Yen Dives against the Dollar
90 October Almanac
92 Pre-Winter Prep Pressures Heating Oil
94 Soybean's Harvest Lows Offer Potential Free Meal
96 Two-Month Yearend Euro Rally
98 November Almanac
100 Massive S&P 500 Gains Halloween to Christmas
102 Lean Hogs Fatten Up before Thanksgiving
104 Gold Bugs Get a Treat for the Holidays
106 Bonds Freeze Up in Winter
108 December Almanac
110 Eat Your Winter Wheaties
112 Copper Starts to Build a Bullish Foundation
114 British Pound Invasion Fades Away
116 Swiss Franc Trades like Gold
118 2013 Futures And Options Expiration Dates
120 Crack Spread in July Case Study
121 NOB Spread Case Study
122 Sell in May Vertical Bull Call Spread Case Study
123 Pounding the Facts, British Pound Case Study
124 Commodity Seasonality: Top Percentage Plays
126 Commodity Seasonality Strategy Calendar
128 CFTC COT Report—Insider's Look Gives Traders an Edge in the Market
131 Commodity and Related Securities Specifications
138 S&P 500 Cycle, Seasonal Pattern, Trading Guide & Data
140 30-Year Treasury Bond Cycle, Seasonal Pattern, Trading Guide & Data
143 Crude Oil Cycle, Seasonal Pattern, Trading Guide & Data
145 Natural Gas Cycle, Seasonal Pattern, Trading Guide & Data
147 Heating Oil Cycle, Seasonal Pattern, Trading Guide & Data
149 Copper Cycle, Seasonal Pattern, Trading Guide & Data
152 Gold Cycle, Seasonal Pattern, Trading Guide & Data
155 Silver Cycle, Seasonal Pattern, Trading Guide & Data
158 Corn Cycle, Seasonal Pattern, Trading Guide & Data
161 Soybeans Cycle, Seasonal Pattern, Trading Guide & Data
164 CBOT Wheat Cycle, Seasonal Pattern, Trading Guide & Data
167 Cocoa Cycle, Seasonal Pattern, Trading Guide & Data
170 Coffee Cycle, Seasonal Pattern, Trading Guide & Data
173 Sugar Cycle, Seasonal Pattern, Trading Guide & Data
176 Live Cattle Cycle, Seasonal Pattern, Trading Guide & Data
179 Lean Hogs Cycle, Seasonal Pattern, Trading Guide & Data
182 British Pound Cycle, Seasonal Pattern, Trading Guide & Data
185 Euro Cycle, Seasonal Pattern, Trading Guide & Data
187 Swiss Franc Cycle, Seasonal Pattern, Trading Guide & Data
190 Japanese Yen Cycle, Seasonal Pattern, Trading Guide & Data
See More
October 16, 2012
Perfect Storm For Continued Volatility
Connect with Wiley Publicity
In the seventh edition of the trader-tested and investor-approved COMMODITY TRADER'S ALMANAC 2013 (Wiley; October 2012; $50.00; 978-1-118-15986-6; Hardcover & ebook), co-editors John Person, a 30-year veteran of the futures and options industry, and Stock Trader's Almanac editor-in-chief Jeff Hirsch deliver several new trading strategies and features.
According to John Person, "2013 promises to be a dynamic year for commodity markets. No matter which party is elected, energy reform will likely be on the slate. If we do see a shift toward cleaner burning fuels, then natural gas may see ramped-up production, creating a shift in fossil fuel demand." He adds, "The first half of 2012 left the U.S. in a serious weather situation, wreaking havoc on farmers and ranchers. Earlier than normal hot and dry conditions reduced yields in corn and soybeans as well as creating massive wildfires throughout Colorado. The global economy, hurt by European debt crisis and economic contraction in China, was partially to blame for decelerated U.S. economic growth. As a result, in June 2012, Ben Bernanke lowered the Federal Reserve's estimated gross domestic production (GDP) at 1.9% to 2.4% from a previous estimate of 2.4% to 2.9%. The decelerating pace of job growth in the U.S. led the Federal Reserve to reaffirm and commit to keeping a near-zero interest rate policy through 2014."
Person says, "We believe we will have the perfect storm for continued volatility for stocks, bonds, and safe haven instruments like gold and silver, agricultural markets, as well as foreign currencies in 2013 as a result of this ongoing global economic situation and the severe drought that devastated the U.S. corn and soybean crops,"
Severe volatility in oil, precious metals, and food prices causes millions to be lost as well as gained in the commodities market. Despite the erratic ups and downs, there is a cyclical pattern to commodity markets, with weather, holidays, human behaviors and other factors impacting demand and supply, and ultimately, the price of a commodity. Incorporating the same format that has made Stock Trader's Almanac the ultimate desktop market data bank for more than 45 years, the COMMODITY TRADER'S ALMANAC 2013 is a vital resource of historical reference, seasonal patterns, and proven trading tactics. The book includes monthly almanac pages, market highlights, detailed statistics on past market price action, historical strengths and weaknesses, seasonal tendencies, and information on the beginning and end for both rallies and breaks.
Seasonalities and their respective potential risks and rewards have been identified for 20 different commodities on both the long and the short side. In addition to the top 16 traditional commodities, the Almanac includes data for how the U.S. dollar fares against four of the top major currencies (the euro, Swiss franc, Japanese yen, and the British pound).
The new 2013 edition has several new additions and changes, including the addition of heating oil, including two new trades that replace the January short S&P trade and the October long corn trade; and advanced options strategies and trading tactics. The new edition has also added more exchange funds (EFTs) and exchange trade notes (ETNs). ETNs are similar to exchange traded funds, but differ in structure, as they are issued as senior debt notes, while ETFs represent a stake in an underlying market. Also, there is a complete listing of all the Futures First Notice, Last Trading, and Option Expiration Dates for all 20 markets covered.
The Almanac continues to explain how to translate trading stocks and ETFs from the study of seasonal commodity and Forex cycles. This takes seasonal studies further by including examples of highly correlated stocks that trade in tandem with the respective commodities.
Intended as a tool to assist participants when entering a new position or deciding to either move a stop loss or add to a new position, COMMODITY TRADER'S ALMANAC discusses:
How natural production and consumption cycles drive prices during specific times of the year

How the futures markets often factor in demand and supply concerns prior to the actual event

How similar, but different markets often react stronger or weaker to the natural consumption/production cycle

That prices are often driven by regularly recurring patterns (or cycles) surrounding the calendar year and how often these patterns have continued or reversed
COMMODITY TRADER'S ALMANAC 2013 is an indispensable resource for traders seeking to capitalize on the growing commodity and futures markets.
Other products from the Hirsch Organization include Stock Trader's Almanac 2013 (Wiley; October 2012; $50.00; 978-1-118-15987-3; Hardcover & ebook) and Almanac Investor (https://www.stocktradersalmanac.com). Published every year since 1968, Stock Trader's Almanac (STA) is a must-have investment tool with a wealth of information organized in a calendar format. It alerts readers to little-known market patterns and tendencies that help investors forecast market trends with accuracy and confidence. Allowing shrewd investors to maximize profit potential, STA is the ultimate desktop market data bank, showing the market's likely direction every hour, day, week, and month based on historical precedent.
In addition to access to the annual STA print edition, a subscription to the digital product Almanac Investor provides twice weekly e-mail alerts that feature stock market forecasting, indicators, and seasonal patterns, best/worst trading days, market changes, stock and ETF recommendations and updates, financial commentary, and overall market sentiment; monthly enewsletters that provide a guide to market patterns, cycles, fundamental developments, strategies and stock selection, and updates and expands the strategies outlined in the Stock Trader's Almanac and Commodity's Trader's Almanac; and access to handy research and portfolio tracking tools that enable subscribers to do their own research and update market indicators and strategies.
The Stock Trader's Almanac Blog (http://blog.stocktradersalmanac.com/) provides daily trading sentiment and keeps Almanac followers up to date on indicators, hot-topics, market happenings, speaking, news, and media coverage. In addition, there are additional books by Jeffrey Hirsch, John Person, or published under the Almanac Investor Series include The Little Book of Stock Market Cycles and Super Boom: Why the Dow Jones Will Hit 38,820 and How You Can Profit From It by Jeff Hirsch; Forex Conquered: High Probability Systems and Strategies for Active Traders, Candlestick and Pivot Point Trading Triggers: Setups for Stock, Forex, and Futures Markets, + CD-ROM; and A Complete Guide to Technical Trading Tactics: How to Profit Using Pivot Points, Candlesticks & Other Indicators by John Person; The MAGNET Method of Investing by Jordan Kimmel; Double Your Money in America's Finest Companies by Bill Staton; and America's Finest Companies 2010: 19th Annual Investment Directory (E-Book Only) by Bill Staton with Mary Staton.
See More
Learn more about