Cancer and Inflammation Mechanisms: Chemical, Biological, and Clinical Aspects
ISBN: 978-1-118-16030-5
400 pages
March 2014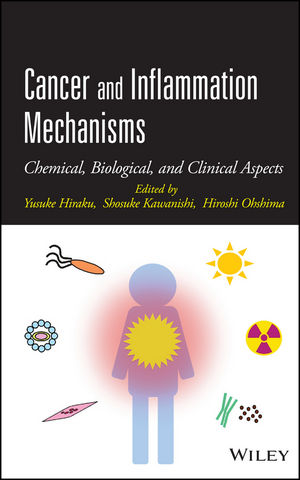 A new perspective on the link between inflammation and cancer
Inflammation is the human body's normal biological response to threats in the modern world, as well as a defense against the harmful influence of pathogens, the environment, and poor nutrition. But what happens when the inflammatory response is triggered repeatedly and sustained for long periods of time? Cancer and Inflammation Mechanisms: Chemical, Biological, and Clinical Aspects discusses the mechanisms by which chronic inflammation can lead to cancer, the various causative agents, and possible prevention methods.
A compilation of the latest information coming out of the various fields of cancer research, this book provides a detailed look at inflammation-related carcinogenesis from the perspective of researchers at the forefront of the field. It takes an interdisciplinary approach to the topic, and provides comprehensive information about the major factors at work in inflammation, cancer, and the intersection of the two conditions. Topics include:
A general overview of inflammation-related cancer
The biochemistry of inflammation and its effects on DNA
Molecular biology and the role of microRNA in carcinogenesis
Specific causative agents including oncogenic viruses, asbestos, and nanomaterial
Anti-inflammatories, nutraceuticals, and other preventative measures
A deeper understanding of the mechanisms behind inflammation-related carcinogenesis can lead to better patient outcomes by improving diagnostics and prevention, as well as altering the approach to treatment. Cancer and Inflammation Mechanisms: Chemical, Biological, and Clinical Aspects provides the knowledge base researchers need to push the field forward.
See More
CONTRIBUTORS ix
PREFACE xv
SECTION I GENERAL OVERVIEW OF INFLAMMATION-RELATED CANCER

CHAPTER 1 INFECTION, INFLAMMATION, AND CANCER: OVERVIEW 1
Hiroshi Ohshima, Noriyuki Miyoshi, and Susumu Tomono
CHAPTER 2 STEM CELL THEORY AND INFLAMMATION-RELATED CANCER 9
Toshihiko Tanno and William Matsui
CHAPTER 3 EPITHELIAL–MESENCHYMAL TRANSITION: A LINK BETWEEN CANCER AND INFLAMMATION 23
Jonas Fuxe and Mikael C. I. Karlsson
SECTION II BIOCHEMISTRY IN INFLAMMATION-RELATED CANCER
CHAPTER 4 ROLE OF NITRATIVE DNA DAMAGE IN INFLAMMATION RELATED CARCINOGENESIS 41
Yusuke Hiraku and Shosuke Kawanishi
CHAPTER 5 LIPID PEROXIDATION–DERIVED DNA ADDUCTS AND THE ROLE IN INFLAMMATION-RELATED CARCINOGENESIS 61
Helmut Bartsch and Urmila Jagadeesan Nair
CHAPTER 6 LEVEL OF INFLAMMATION-RELATED DNA ADDUCTS IN HUMAN TISSUES 75
Tomonari Matsuda, Pei-Hsin Chou, and Haruhiko Sugimura
SECTION III MOLECULAR BIOLOGY IN INFLAMMATION-RELATED CANCER
CHAPTER 7 TOLL-LIKE RECEPTORS: ROLE IN INFLAMMATION AND CANCER 83
Sarang Tartey and Osamu Takeuchi
CHAPTER 8 INFLAMMASOMES AND INFLAMMATION 103
Kaiwen W. Chen, Ayanthi A. Richards, Alina Zamoshnikova, and Kate Schroder
CHAPTER 9 ACTIVATION-INDUCED CYTIDINE DEAMINASE: AN INTRINSIC GENOME MODULATOR IN INFLAMMATION-ASSOCIATED CANCER DEVELOPMENT 119
Hiroyuki Marusawa and Tsutomu Chiba
CHAPTER 10 MicroRNA AND INFLAMMATION-RELATED CANCER 131
Zhaojian Gong, Zhaoyang Zeng, Pranab Behari Mazumder, Jian Ma, Ming Zhou, Xiayu Li, Xiaoling Li, Wei Xiong, Yong Li, and Guiyuan Li
CHAPTER 11 INFLAMMATION AS A NICHE FOR TUMOR PROGRESSION 149
Futoshi Okada
SECTION IV INFLAMMATION-RELATED CANCER INDUCED BY SPECIFIC CAUSES
CHAPTER 12 HUMAN PAPILLOMAVIRUS AND CERVICAL CANCER 165
Kurt J. Sales
CHAPTER 13 HEPATITIS VIRUSES AND HEPATOCELLULAR CARCINOMA 181
Wai-Kay Seto, Ching-Lung Lai, and Man-Fung Yuen
CHAPTER 14 EPSTEIN–BARR VIRUS AND NASOPHARYNGEAL CARCINOMA 193
Xiaoying Zhou, Xue Xiao, Fu Chen, Tingting Huang, and Zhe Zhang
CHAPTER 15 BARRETT'S ESOPHAGUS AND ESOPHAGEAL CANCER 213
Albert Roessner and Angela Poehlmann
CHAPTER 16 ASBESTOS-INDUCED CHRONIC INFLAMMATION AND CANCER 223
Andrea Napolitano, Sandro Jube, Giovanni Gaudino, Harvey I. Pass, Michele Carbone, and Haining Yang
CHAPTER 17 NANOMATERIALS 235
Yiqun Mo, Rong Wan, David J. Tollerud, and Qunwei Zhang
CHAPTER 18 INFLAMMATORY PATHWAYS OF RADIATION-INDUCED TISSUE INJURY 249
Danae A. Laskaratou, Ifigeneia V. Mavragani, and Alexandros G. Georgakilas
CHAPTER 19 PHOTOCARCINOGENESIS AND INFLAMMATION 271
Chikako Nishigori
SECTION V. PREVENTION OF INFLAMMATION-RELATED CARCINOGENESIS
CHAPTER 20 CHEMOPREVENTION OF COLORECTAL CANCER BY ANTI-INFLAMMATORY AGENTS 285
Michihiro Mutoh, Mami Takahashi, and Keiji Wakabayashi
CHAPTER 21 NUTRACEUTICALS AND COLON CANCER PREVENTION 301
Deepak Poudyal and Lorne J. Hofseth
CHAPTER 22 CANCER CHEMOPREVENTION BY TARGETING COX-2 USING DIETARY PHYTOCHEMICALS 339
Kyung-Soo Chun and Young-Joon Surh
CHAPTER 23 REGULATION OF INFLAMMATION-ASSOCIATED INTESTINAL DISEASES WITH PHYTOCHEMICALS 355
Akira Murakami
INDEX 371
See More
YUSUKE HIRAKU is an Assistant Professor and Research Professor of the Department of Environmental and Molecular Medicine at Mie University. In 2009, he received the Young Investigator Award from the Japanese Society for Hygiene for his work on inflammation-related carcinogenesis.
SHOSUKE KAWANISHI is a Dean and Professor of the Faculty of Pharmaceutical Sciences at Suzuka University of Medical Science. He received the Congress Award of the Japanese Society for Hygiene in 2001, the SFRR Japan Prize in 2006, and the Congress Award of the Japanese Environmental Mutagen Society in 2009.
HIROSHI OHSHIMA was a Scientist and Chief of the Unit of Endogenous Cancer Risk Factors at the International Agency for Research on Cancer and is currently a Professor of the School of Food and Nutritional Sciences at the University of Shizuoka. His main research interest is the role of nutritional factors in the causation of human chronic diseases.
See More