E-book
Digital SLR Photography eLearning Kit For Dummies
ISBN: 978-1-118-16036-7
304 pages
January 2012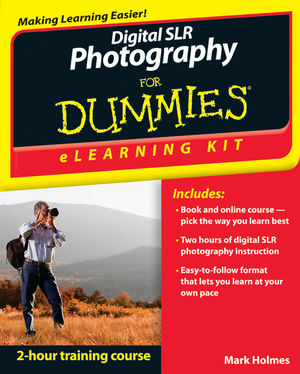 Understand and use digital SLR cameras with this complete photography course
If you're making the switch from simple point-and-shoot cameras to more complex dSLRs and hoping to enhance your photography skills along the way, make your next purchase this value-packed eLearning kit. This complete dSLR photography course includes a full-color printed book and a Dummies interactive eLearning course on CD. You'll find a wealth of information on such topics as how to set your camera's exposure controls, composition do's and don't's, and how to apply what you're learning so you take better pictures.
Follow the material sequentially or jump in and out as you wish it's set up so you can learn at your own pace. Throughout, you will benefit from illustrations, animations, voiceover explanations, and the option of closed captioning if you find you learn better when you can read the instructions.
Helps self-motivated learners master digital SLR photography equipment, concepts, terms, and picture-taking basics
Includes an easy-to-follow, full-color book and an interactive Dummies eLearning Course that corresponds with the book on CD
Allows you to follow the material sequentially or choose separate sections at your own time and pace
Offers chapter summaries, practice exercises, discussions of concepts and essential terms, and much more
Get the very most out of your dSLR camera and your photography with Digital SLR Photography eLearning Kit For Dummies.
NOTE:CD-ROM/DVD and other supplementary materials are not included as part of the e-book file, but are available for download after purchase.
See More
Introduction 1
Lesson 1: Getting to Know Your dSLR 7
Lesson 2: Understanding and Mastering Exposure 45
Lesson 3: Working with Color 95
Lesson 4: Getting Fancy with Focus 121
Lesson 5: Using Your Camera Flash 149
Lesson 6: Learning about Lenses 179
Lesson 7: Transferring, Sharing, and Printing Your Photos 207
Lesson 8: Capturing the Shot 237
About the CD 273
End-User License Agreement 277
Index 279
See More
Mark Holmes is a professional photographer and photography instructor based in San Diego, California. He has over 20 years experience as a photographer and instructional designer and has developed many instructional texts, workshops, and online classes devoted to photography, technology, and media-related subjects. His experience covers commercial photography for leading technology companies, including Hewlett-Packard, while his interest in portrait photography has led to assignments in Japan, Korea, and Qatar.
Mark runs regular workshops on digital photography and also teaches new photographers and other professionals individually. He has a love of sharing the art of photography with others and a passion for his subject. For more information, visit him on the web at markholmesphoto.com.
See More