Photoshop Elements 10 Top 100 Simplified Tips and Tricks
ISBN: 978-1-118-16158-6
272 pages
November 2011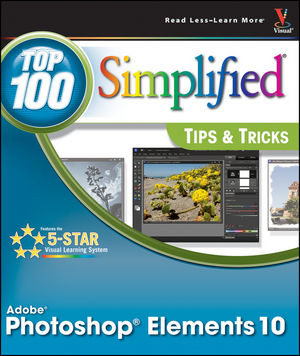 A visual guide to getting the most out of Photoshop Elements 10
If you understand the basics of Photoshop Elements, you'll love this collection of 100 must-know tips and tricks. Two-page tutorials, full-color screen shots, and step-by-step instructions make it easy to see and follow the directions, helping you to get the very most from this top-selling image-editing software. This guide catches you up on Photoshop Elements 10, covers features you may not have known about, and alerts you to a slew of cool effects and techniques.
Explains techniques, best practices, and creative ways to transform your digital images from everyday to extraordinary
Includes beautiful photos and tips from an experienced photographer and author who shares his secrets on how to create images that wow viewers
Features step-by-step instruction in a series of two-page, highly visual tutorials, with helpful, full-color screen shots on every page
Perfect for visual learners who are migrating from older versions of the software or who already have a comfort level with Photoshop Elements and want to move to a new skill level
Take your image editing and Photoshop Elements skills beyond the essentials with this practical guide.
See More
1 Organize and Prepare Photos for Processing
#1 Set Up a Workflow 4
#2 Import Your Images 6
#3 View Photos with Full-Screen Mode 10
#4 Sort the Good Pictures from the Bad 12
#5 Stack Your Images 14
#6 Create Albums to Group Your Pictures 16
#7 Use Keywords to Tag Your Images 18
#8 Post Pictures to Facebook with the Organizer 22
#9 Change the Organizer Interface As Needed 26
#10 Back Up Your Pictures to Protect Them 28
2 Start Adjusting Your Images in Photoshop Elements
#11 Open Pictures and Use Save As 32
#12 Make the Editor Interface Your Own 34
#13 Set Preferences to Make Editor Work for You 36
#14 You Cannot Hurt Your Pictures 38
#15 Crop Your Photos for Tighter Shots 40
#16 Fix and Rotate Crooked Pictures 42
#17 Use Guided Edit to Help You Learn the Program 44
#18 Use Guided Edit for Special Effects 46
#19 Use Guided Edit for Photo Play 48
#20 Set Blacks and Whites with Levels 50
#21 Adjust Your Midtones with Levels 52
#22 Adjust Your Midtones with Color Curves 54
#23 Quickly Adjust Dark Shadows and Bright Highlights 56
#24 Correct Color to Remove Color Casts 58
#25 Enhance Color with Hue/Saturation 60
#26 Use Quick Edit to Work Fast 62
3 Work with RAW Photos in Photoshop Elements
#27 Change Images Nondestructively 66
#28 Crop Your Photos to Start Your Processing 68
#29 Adjust Blacks and Whites to Give a Photo Strength 70
#30 Adjust Midtones to Make Tonalities Light or Dark 72
#31 Correct Color to Clean Up Color Casts 74
#32 Use Vibrance and Clarity to Intensify Images 76
#33 Sharpen Photos with Precision 78
#34 Control Noise in Your Photo 80
#35 Apply Adjustments to Multiple Photos 82
#36 Move Your Picture to Photoshop Elements 84
4 Choose Local Control Features
#37 Create and Use a Selection 88
#38 Use Marquee Tools for Specific Shapes 90
#39 Use Lasso Tools to Follow Picture Elements 92
#40 Use Automated Tools for Easy Selections 94
#41 Expand or Contract Your Selection 96
#42 Select What Is Easy and Invert 98
#43 Blend Edges by Feathering 100
#44 Use Selections for Traditional Edge Darkening 102
#45 Use the Smart Brush for Specific Area Fixes 104
5 Create Adjustment Layers for Nondestructive Changes
#46 Understand How Layers Work 108
#47 Understand How Adjustment Layers Work 110
#48 Work Blacks and Whites with a Levels Adjustment Layer 114
#49 Work Midtones with a Levels Adjustment Layer 116
#50 Correct Color with an Adjustment Layer 118
#51 Enhance Color with an Adjustment Layer 120
#52 Fix Problem Exposures with Layer Blending Modes 122
#53 Understand How Layer Masks Work 124
#54 Combine Two Photos with Layer Masks 126
#55 Remove Adjustments with Black 130
#56 Add Adjustments Using Black and Then White 132
#57 Combine Layer Masks with Selections 136
#58 Balance Colors and Tones in a Picture 138
#59 Bring Out Shadow Detail in Specific Areas 140
#60 Darken Highlight Detail in Specific Areas 142
#61 Flatten Layers When Done 144
6 Solve Photo Problems
#62 Clone Out Problems 148
#63 Remove People from a Scene with Photomerge Scene Cleaner 152
#64 Remove Unwanted Objects with Enhanced Spot Healing 154
#65 Fix Problems Due to Lens Distortion 156
#66 Fix Perspective Problems with Building Photographs 158
#67 Remove Dead Space with Recompose 160
#68 Make an Out-of-Focus Background 162
#69 Remove Distracting Colors 164
#70 Improve Blank Skies 166
#71 Create the Focus with Gaussian Blur 170
#72 Add a New Background for Your Subject 172
7 Size and Sharpen Photos
#73 Basic Workflow for Image Sizing 178
#74 Size Photos for Printing 180
#75 Size Photos for E-Mail 182
#76 Sharpen Photos with Unsharp Mask 184
#77 Sharpen Photos with Adjust Sharpness 186
#78 Sharpen Photos When You Have Layers 188
#79 Selectively Sharpen Parts of Your Photo 190
8 Go Beyond the Basics
#80 Convert Color Photos to Black-and-White 194
#81 Adjust Your Photos in Black-and-White 196
#82 Create Toned Images 198
#83 Use the Smart Brush for Creative Effects 200
#84 Create Out-Of-Bounds Effects with Guided Edit 202
#85 Add Text to a Page 206
#86 Photograph a Scene to Get More Exposure Detail 208
#87 Merge Photos for More Photo Detail 210
#88 Photograph a Scene for a Panoramic Image 212
#89 Merge Photos for a Panoramic Image 214
#90 Transfer Styles between Photos 218
9 Software Plug-ins Make Work Easier
#91 Use Viveza for Quick Creative Adjustments 222
#92 Use Color Efex Pro for Efficient Photo Work 224
#93 Remove Noise with Dfine 226
#94 Get Dramatic Black-and-White with Silver Efex Pro 228
#95 Use Bokeh for Easy Depth-of-Field Effects 230
#96 Try PhotoTune for Fast Color and Tonal Adjustments 232
#97 Use Snap Art for Creative Effects 234
10 Get Photos out of Photoshop Elements
#98 Protect Your Photos with Online Backup 238
#99 Share Your Organizer Albums Online 240
#100 Access Your Photos Anywhere Internet Service Is Available 242
#101 Share Your Photos Online 244
#102 Print Your Photos 246
#103 Print a Calendar 250
#104 Print a Photo Book 252
#105 Add a Border Effect to Your Pictures 254
See More
Rob Sheppard is the author/photographer of over 30 photography books, a well-known speaker and workshop leader, and editor-at-large for the prestigious Outdoor Photographer magazine. As author/photographer, Sheppard has written hundreds of articles about digital photography, plus books ranging from guides to photography such as Digital Photography: Top 100 Simplified Tips & Tricks, 4th Edition to books about Photoshop Elements and Lightroom including Adobe Photoshop Lightroom 2 for Digital Photographers Only and Photoshop Elements 9: Top 100 Simplified Tips & Tricks. His website is at www.robsheppardphoto.com and his blog is at www.natureandphotography.com.
See More