Beginning XML, 5th Edition
ISBN: 978-1-118-16213-2
864 pages
July 2012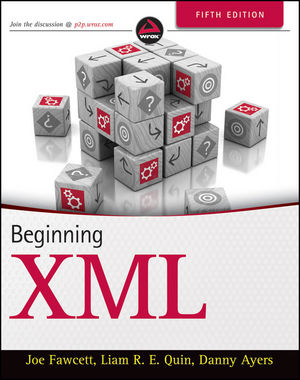 A complete update covering the many advances to the XML language
The XML language has become the standard for writing documents on the Internet and is constantly improving and evolving. This new edition covers all the many new XML-based technologies that have appeared since the previous edition four years ago, providing you with an up-to-date introductory guide and reference. Packed with real-world code examples, best practices, and in-depth coverage of the most important and relevant topics, this authoritative resource explores both the advantages and disadvantages of XML and addresses the most current standards and uses of XML.
Features the most updated content built on audience feedback from the previous edition as well as the vast knowledge from XML developer teams
Boasts new chapters on RELAX NG and Schematron, XML functionality in databases, LINQ to XML, Jabber and XMLPP, XHTML, HTML5, and more
Offers in-depth coverage on extracting data from XML and updated material on Web Services
Beginning XML, Fifth Edition delivers the most important aspects of XML in regard to what it is, how it works, what technologies surround it, and how it can best be used in a variety of situations.
See More
INTRODUCTION XXVII
PART I: INTRODUCING XML
CHAPTER 1: WHAT IS XML? 3
CHAPTER 2: WELL-FORMED XML 25
CHAPTER 3: XML NAMESPACES 53
PART II: VALIDATION
CHAPTER 4: DOCUMENT TYPE DEFINITIONS 83
CHAPTER 5: XML SCHEMAS 117
CHAPTER 6: RELAX NG AND SCHEMATRON 175
PART III: PROCESSING
CHAPTER 7: EXTRACTING DATA FROM XML 211
CHAPTER 8: XSLT 239
PART IV: DATABASES
CHAPTER 9: XQUERY 307
CHAPTER 10: XML AND DATABASES 341
PART V: PROGRAMMING
CHAPTER 11: EVENT-DRIVEN PROGRAMMING 403
CHAPTER 12: LINQ TO XML 451
PART VI: COMMUNICATION
CHAPTER 13: RSS, ATOM, AND CONTENT SYNDICATION 485
CHAPTER 14: WEB SERVICES 539
CHAPTER 15: SOAP AND WSDL 573
CHAPTER 16: AJAX 615
PART VII: DISPLAY
CHAPTER 17: XHTML AND HTML 5 649
CHAPTER 18: SCALABLE VECTOR GRAPHICS (SVG) 689
PART VIII: CASE STUDY
CHAPTER 19: CASE STUDY: XML IN PUBLISHING 727
APPENDIX A: ANSWERS TO EXERCISES 749
APPENDIX B: XPATH FUNCTIONS 773
APPENDIX C: XML SCHEMA DATA TYPES 797
INDEX 811
See More
Joe Fawcett is the head of software at Kaplan Financial and was one of the first Microsoft MVPs for XML.
Liam R. E. Quin is the W3C XML Activity Lead and Staff Contact for the XML Query Working Group, and the XSL-FO subgroup of the XSL Working Group.
Danny Ayers works for Talis on applications for their hosted semantic web platform.
See More
Do you think you've discovered an error in this book? Please check the list of errata below to see if we've already addressed the error. If not, please submit the error via our Errata Form. We will attempt to verify your error; if you're right, we will post a correction below.
Chapter
Page
Details
Date
Print Run
5
152-153
Error in Code
Currently reads:



<?xml version=?1.0??>
<contacts
 xmlns=?http://www.example.com/contacts?
 xmlns:xsi=?http://www.w3.org/2001/XMLSchema-instance?
 xsi:schemaLocation=?http://www.example.com/contacts contacts6.xsd?>
<contacts source=?Beginning XML 5E? version=?1.0?>
<contact person=?Joe_Fawcett? tags=?author xml poetry?>
  <name>



Should read:


<?xml version="1.0"?>
<contacts source="Beginning XML 5E" version="1.0"
  xmlns="http://www.example.com/contacts"
  xmlns:xsi="http://www.w3.org/2001/XMLSchema-instance"
  xsi:schemaLocation="http://www.example.com/contacts contacts6.xsd">
  <contact person="Joe_Fawcett" tags="author xml poetry">
    <name>


06/17/2013
35
Text Correction
Page: 35
Line 11 after the table reads &937#; in decimal.
Yet, line 8 explains "They begin with ."
And line 20 has another example in decimal written
05/01/15
See More
Instructors Resources
Request a print evaluation copy
Contact us

See More
See Less
Learn more about