E-book
Chess For Dummies, 3rd Edition
ISBN: 978-1-118-16236-1
384 pages
September 2011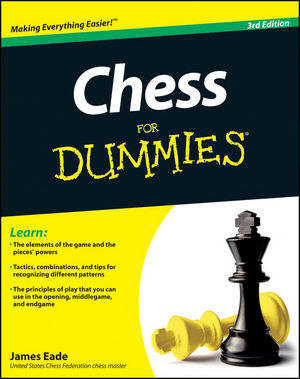 For all levels of chess players,
Chess For Dummies, 3rd Edition
, brings readers an updated guide to the wide world of chess. Offering easily-understood explanations of the game and its components, this book is a must have for those developing an interest or looking for an extra edge in chess.
Chess For Dummies, 3rd Edition:
Offers easily-understood explanations of the game and its components
Provides introductory chapters and then introduces readers to different perspectives on chess from strategy and etiquette, to winning defensive and offensive secrets
Contains approximately 25% new material, including updated chapters on computer chess games, playing chess online, new tournament rules and much more
See More
Introduction 1
Part I: Laying the Groundwork for Champion Chess 7
Chapter 1: Tackling Chess Basics 9
Chapter 2: Getting to Know the Pieces and Their Powers 23
Chapter 3: Exploring the Elements of Chess 39
Chapter 4: Going after the King: Check, Stalemate, and Checkmate 63
Chapter 5: Making a Few Special Moves 79
Chapter 6: Got Notation? Reading and Writing about Chess 85
Part II: Gaining Chess Know-How 97
Chapter 7: Trying Out Tactics and Combinations in Hand-to-Hand Combat 99
Chapter 8: Sacrifi ces: Understanding When It's Better to Give than to Receive 125
Chapter 9: Building Pattern Recognition 135
Chapter 10: Recognizing Advanced Pawn Formations 153
Chapter 11: Mastering Mating Patterns 167
Part III: Game Time: Putting Your Chess Foot Forward 183
Chapter 12: Selecting Your Strategy: The Principles of Play 185
Chapter 13: Coming on Strong in the Opening 201
Chapter 14: Making Headway during the Middlegame 217
Chapter 15: Exiting with Style in the Endgame 227
Part IV: Getting into Advanced Action 249
Chapter 16: Playing in Competition 251
Chapter 17: Hitting the Net with Computer Chess 263
Part V: The Part of Tens 271
Chapter 18: The Ten Most Famous Chess Games of All Time 273
Chapter 19: The Ten Best Players of All Time (and a Few Others) 301
Part VI: Appendixes 323
Appendix A: A Glossary of Chess 325
Appendix B: Chess Resources 347
Index 351
See More
James Eade became a United States Chess Federation chess master in 1981. International organizations awarded him the master title in 1990 (for correspondence) and in 1993 (for regular tournament play). Today, he writes about and teaches chess.
See More