E-book
Guide to Economic Indicators: Making Sense of Economics, 7th Edition
ISBN: 978-1-118-16319-1
E-book
256 pages
September 2011
US $19.99

Purchase This E-book
This price is valid for United States. Change location to view local pricing and availability.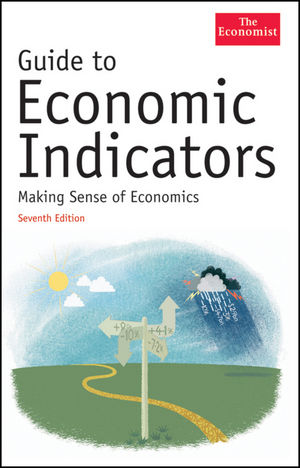 Adobe e-books are read using Adobe Digital Editions. Install Adobe Digital Editions on your PC in order to read or transfer your e-book.
List of tables.
List of charts.
1 Interpreting economic indicators.
2 Essential mechanics.
3 Measuring economic activity.
Omissions.
Output, expenditure and income.
Prices.
Putting it in context.
Reliability.
4 Growth: trends and cycles.
Nominal GDP.
GDP per head.
Real GDP.
GDP: output.
GDP: expenditure.
Productivity.
Cyclical or leading indicators.
5 Population, employment and unemployment.
Population.
Labour or workforce.
Employment.
Unemployment and vacancies.
6 Fiscal indicators.
Public expenditure.
Government revenues.
Budget balance, deficit, surplus.
National debt; government or public debt.
7 Consumers.
Personal income, disposable income.
Consumer and personal expenditure, private consumption.
Personal and household savings; savings ratio.
Consumer confidence.
8 Investment and savings.
Fixed investment and GDFCF.
Investment intentions.
Stocks (inventories).
National savings, savings ratio.
9 Industry and commerce.
Business conditions; indices and surveys.
Industrial and manufacturing production.
Capacity use and utilisation.
Manufacturing orders.
Motor vehicles.
Construction orders and output.
Housing starts, completions and sales.
Wholesale sales or turnover, orders and stocks.
Retail sales or turnover, orders and stocks.
10 The balance of payments.
Accounting conventions.
Exports of goods and services.
Imports of goods and services.
Trade balance, merchandise trade balance.
Current-account balance.
Capital- and financial-account flows.
International investment position (IIP).
Official reserves.
External debt, net foreign assets.
11 Exchange rates.
Nominal exchange rates.
Special drawing rights (SDRs).
EMU, ecu, ERM and euro.
Effective exchange rates.
Real exchange rates; competitiveness.
Terms of trade.
12 Money and financial markets.
Money supply, money stock, M0 ... M5, liquidity.
Bank lending, advances, credit, consumer credit.
Central bank policy rates.
Interest rates; short-term and money-market rates.
Bond yields.
Yield curves, gaps and ratios.
Real interest rates and yields.
Share prices.
13 Prices and wages.
Price indicators.
Gold price.
Oil prices.
Commodity price indices.
Export and import prices; unit values.
Producer and wholesale prices.
Surveys of price expectations.
Wages, earnings and labour costs.
Unit labour costs.
Consumer or retail prices.
House prices.
Consumer or private expenditure deflators.
GDP deflators.
Appendix: Useful websites.
Index.