E-book
Return on Experience
ISBN: 978-1-118-16362-7
32 pages
August 2011, Pfeiffer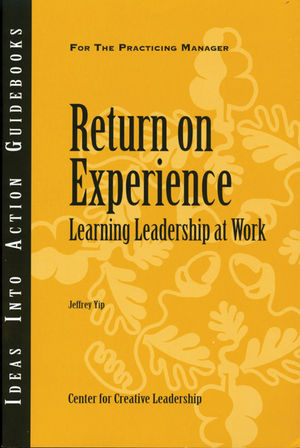 Leadership is best learned from experience, but learning from experience is not always automatic. This guidebook introduces you to a return-on-experience framework. Using this ROE framework, you actively seek to learn from experience in order to build your mastery, broaden your versatility, and benefit your organization. When you understand and apply the framework in your work and organization, everyday experiences can be transformed into an engine for leader development and organizational impact.
See More
7 Experience as a Leadership Engine
8 Build, Broaden, Benefit
11 Build: Heighten Your Mastery
16 Broaden: Increase Your Versatility
19 Benefit: Enhance Your Impact
23 Create Your ROE Portfolio
27 Experience Sets You Apart
29 Suggested Readings
30 Background
31 Key Point Summary
See More
The Center for Creative Leadership (CCL)
is an international, nonprofit educational institution whose mission is to advance the understanding, practice, and development of leadershi for the benefit of society worldwide. We conduct research, produce publications, and provide a broad variety of educational programs and products to leaders and organizations in the public, corporate, and non-profit sectors.
Jeffrey Yip is a visiting researcher at CCL, a former research fellow with the Learning Innovations Laboratory at Harvard University, and a cofounder and board member of the Halogen Foundation. His current research is focused on indentifying the mind-sets and practices of effective boundary-spanning leadership and the conditions that enable this in organizations. A Fulbright scholar from Singapore, Jeffrey has a master's degree in human development and psychology from Harvard University.
See More
More in this series