E-book
Guide to the LEED AP Interior Design and Construction (ID+C) Exam
ISBN: 978-1-118-16465-5
240 pages
March 2012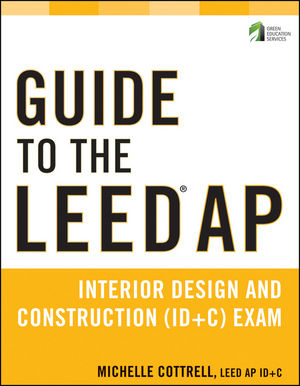 Pass the LEED® AP ID+C EXAM WIth These Proven Strategies
Here is the ideal study guide for understanding and preparing for the LEED® AP ID+C exam. Written by an expert who is a LEED consultant and partner at Green Education Services?a premier LEED exam preparation provider?Guide to the LEED® AP Interior Design and Construction (ID+C) Exam engages readers by breaking down difficult concepts in sustainable design and engineering in a clearly organized, straightforward manner that helps streamline the learning process for those seeking participation in the operation and maintenance of existing buildings that implement green practices. Guide to the LEED® AP Interior Design and Construction (ID+C) Exam features:
A brief overview of the LEED Green Associate material included in the first portion of this LEED AP exam, along with specific ID+C content
A collection of sample test questions and study tips to reinforce learned material.
An accessible and stimulating approach that fosters quicker retention.
A set of strategies for summarizing critical information and details more effectively.
A wealth of material that includes drawings, charts, and diagrams to help understand concepts visually.
A total of 128 sample flashcards that allow you to study on the go.
Covering the detailed concepts of the LEED for Commercial Interiors Green Building Rating System, this book is an all-inclusive resource for achieving successful results on the LEED AP ID+C exam.
Green Education Services (greenedu.com) is a leading provider of green jobs training related to LEED, EPA energy auditing, solar, and more for building developers, architects, engineers, interior designers, planners, commercial real estate brokers, and other construction industry professionals. A national member of USGBC and CAGBC, accredited by the EPA, and an approved AIA/CES provider, Green Education Services has helped thousands of professionals throughout the United States prepare for their credentialing exams and maintain their credential as an approved GBCI CE provider.
Other Michelle Cottrell titles available from Wiley: Guide to the LEED® Green Associate Exam, Guide to the LEED® AP Building Design and Construction (BD+C) Exam, Guidebook to the LEED® Certification Process: For LEED® for New Construction, LEED® for Core & Shell, and LEED???® for Commercial Interiors, Guide to the LEED® AP Operations and Maintenance (O+M) Exam.
See More
Acknowledgments ix
Introduction xi
Part I: Ramping Up 1
Chapter 1 Understanding the Credentialing Process 3
The Tiers of the Credentialing Process 3
The First Tier of the Credentialing System: LEED Green Associate 3
The Second Tier of the Credentialing System: LEED Accredited Professional with Specialty 4
The Third Tier of the Credentialing System: LEED Fellow 4
The Application Process 5
Apply! 6
Register! 6
Schedule! 7
Why Earn LEED Credentials? 7
Chapter 2 Sustainability and LEED Basics Review 9
The Benefits of Green Buildings 10
The Triple Bottom Line 11
The Design and Construction Process 13
The Project Team Members 13
Conventional Projects versus the Integrative Design Approach 13
Do Green Buildings Cost More? 16
USGBC and GBCI 17
Chapter 3 The LEED for Commercial Interiors Rating System 21
LEED for Commercial Interiors (LEED CI) 21
The Categories of LEED 22
Prerequisites and Credits 22
Credit Weightings 24
The LEED Certification Process 26
LEED-Online 26
Registration 27
Credit Form 29
Credit Interpretation Requests and Rulings 30
Certification Review 30
Part II: Diving In: The Strategies and Technologies of LEED CI 37
Chapter 4 Sustainable Sites 39
Site Selection 40
Site Selection in Relation to LEED Compliance 41
Transportation 60
Transportation in Relation to LEED Compliance 60
SS Credit Worksheets 68
Chapter 5 Water Efficiency 101
Indoor Water Use 102
Indoor Water Use in Relation to LEED Compliance 102
WE Study Worksheets 107
Chapter 6 Energy and Atmosphere 109
Energy Efficiency 110
Energy Efficiency in Relation to LEED Compliance 115
Tracking Energy Consumption 120
Tracking Energy Consumption in
Relation to LEED Compliance 120
Managing Refrigerants 124
Managing Refrigerants in Relation to LEED Compliance 124
Renewable Energy 125
EA Study Worksheets 129
Chapter 7 Materials and Resources 147
Salvaged Materials and Material Reuse 149
Salvaged Materials and Material Reuse in Relation to LEED Compliance 150
Material Selection 152
Material Selection in Relation to LEED Compliance 154
Waste Management 159
Waste Management in Relation to LEED Compliance 160
MR Study Worksheets 164
Chapter 8 Indoor Environmental Quality 185
Indoor Air Quality 187
Ventilation Strategies in Relation to LEED Compliance 187
IAQ Practices during Construction in Relation to LEED Compliance 190
Prevention and Segregation Methods in Relation to LEED Compliance 197
Thermal Comfort 199
Thermal Comfort in Relation to LEED Compliance 199
Lighting 202
Lighting in Relation to LEED Compliance 204
EQ Study Worksheets 209
Chap ter 9 Innovation in Design and Regional Priority 243
Innovation in Design 243
ID Credit 1: Innovation or Exemplary Performance 243
ID Credit 2: LEED Accredited Professional 245
Regional Priority 245
ID Study Worksheets 250
Part III: Study Tip s and Appendices 255
Chapter 10 Study Tips 257
Preparing for the LEED AP ID+C Exam: Week Eight 257
Practice Exam Approach 258
The Testing Center Environment 258
Exam Structure 259
When at the Testing Center 260
Exam Scoring 260
After the Exam 261
Appendices 263
A. LEED CI Rating System 263
B. Minimum Program Requirements (MPRs) for LEED CI 264
C. LEED Certification Process 266
D. Main Category Summaries 268
E. Related Prerequisites and Credits 270
F. Sample LEED CI Scorecard 272
G. Exemplary Performance Opportunities – LEED CI v3.0 273
H. Referenced Standards – LEED CI v3.0 276
I. Answers to Quiz Question 280
J. Abbreviations and Acronyms 290
K. Sample Credit 294
Credits 295
Index 297
Sample Flashcards
See More
Michelle Cottrell, LEED AP BD+C, ID+C, O+M, is Vice President and Director of Education at Green Education Services, where she is responsible for curriculum and course development. She is also the founding principal of Design Management Services, a LEED® consulting firm that supports project teams through the certification process from design through construction. A LEED® Accredited Professional, Cottrell has more than ten years of experience specializing in commercial projects as a sustainable design and LEED consultant.
See More