E-book
Droid X2 For Dummies
ISBN: 978-1-118-16472-3
368 pages
August 2011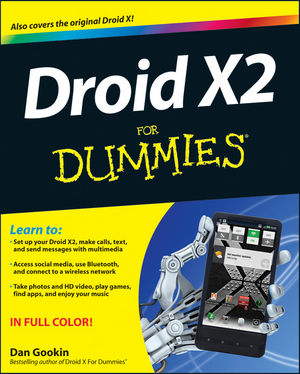 Practical, four-color reference for your new Droid X2 smartphone
Google Android smartphones are getting smarter all the time, so this guide to the newest and smartest Droid arrives just in time. Bestselling For Dummies author Dan Gookin helps you stay a step ahead of your Droid X2 with Droid X2 For Dummies. In his legendary, easy-to-follow style, Dan covers all the bases, from setup and configuration to using all the phone?s features, texting, email, accessing the Internet, synching with a PC, using the camera, extending the battery, and even addresses expanding your Droid X2 with new software.
Helps you get the very most out of your Droid X2 smartphone, which runs on the 4G LTE network
Walks you through all features and functions of this Internet- and multimedia-enabled new model
Provides a host of useful tips, tricks, and techniques
Covers topics such as setup and configuration, texting, email, accessing the Internet, synching with a PC, using the camera, and extending the battery
Discusses building your library of apps, which can be purchased from the Android Market or through the Verizon Droid-specific AppSphere
Understand everything your Droid X2 smartphone can do with this savvy, practical guide.
See More
Introduction 1
Part I: More Droid, More X 7
Chapter 1: Twice the Droid X for You 9
Chapter 2: Setup, Power, and Confi guration 21
Chapter 3: The Droid X2 Tour 31
Chapter 4: Text to Type and Edit 47
Part II: It's the Phone! 63
Chapter 5: The Telephone Thing 65
Chapter 6: More Telephone Things 77
Chapter 7: Message for You! 87
Chapter 8: The Address Book 95
Part III: Other Ways to Stay in Touch 107
Chapter 9: When Your Thumbs Do the Talking 109
Chapter 10: Email This and That 119
Chapter 11: Out on the Web 133
Chapter 12: A Social Networking Butterfly 145
Part IV: O What Your Phone Can Do! 155
Chapter 13: Fun with Maps and Navigation 157
Chapter 14: Smile and Say "Cheese" 169
Chapter 15: The Digital Photo Album 179
Chapter 16: The Droid Is Alive with the Sound of Music 189
Chapter 17: Various and Sundry Apps 203
Chapter 18: Even More Apps at theAndroid Market 215
Part V: Specifics and Particulars 227
Chapter 19: No Wires, Ever! 229
Chapter 20: Connect, Store, Share 239
Chapter 21: The Droid X2 on the Road 251
Chapter 22: Customize Your Phone 259
Chapter 23: Maintenance, Troubleshooting, and Help 273
Part VI: The Part of Tens 287
Chapter 24: Ten Tips, Tricks, and Shortcuts 289
Chapter 25: Ten Things to Remember 297
Chapter 26: Ten Worthy Apps 303
Index 309
See More
Dan Gookin, the bestselling author of the very first For Dummies book, has enjoyed worldwide success with books that have been translated into 32 languages and have more than 12 million copies in print. His bestsellers include PCs For Dummies, Laptops For Dummies, and Droid X For Dummies.
See More