E-book
The Energetic Brain: Understanding and Managing ADHD
ISBN: 978-1-118-16515-7
336 pages
December 2011, Jossey-Bass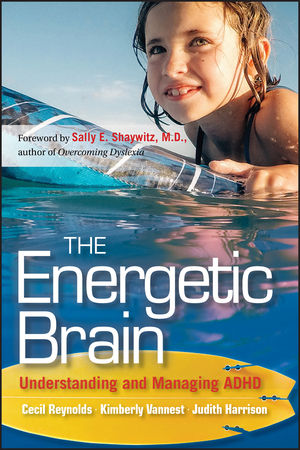 How to get past the myths, tap into the creativity of the ADHD mind, and thrive
ADHD affects millions of people-some 3 to 5% of the general population. Written by a neuroscientist who has studied ADHD, a clinician who has diagnosed and treated it for 30 years, and a special educator who sees it daily, The Energetic Brain provides the latest information from neuroscience on how the ADHD brain works and shows how to harness its potential for success. It distills the latest research findings to give readers the most up-to-date information available and provides practical strategies for managing ADHD-and thriving-at school, at work, and at home, from childhood through adulthood.
Debunks popular (and destructive) myths about ADHD
Covers how to manage ADHD with medication or without, what parents can do to help, and how to thrive with ADHD throughout the lifespan
Offers effective academic and behavioral interventions for school, and helpful accommodations for the workplace
The Energetic Brain provides a truly thorough view of ADHD, making it an invaluable guide for parents, teachers, and those living with ADHD.
See More
Acknowledgments ix
About the Authors xi
Foreword by Sally E. Shaywitz xvii
Preface xxv
Part One: Getting to Know ADHD
1. What Is ADHD? 3
2. What ADHD Looks Like: Common Behaviors and Related Disorders 27
3. How ADHD Affects Family and Friends 51
Part Two: Getting Help
4. Is It Really ADHD? Getting the Right Diagnosis 77
5. How Medication Affects the ADHD Brain 107
6. Nonmedical Interventions That Work 141
Part Three: Managing ADHD from Childhood Through Adulthood
7. Interventions That Strengthen Family Relationships: Strategies for Parents 171
8. Helping Students with ADHD Succeed at School: Strategies for Teachers 199
9. A Crash Course in Special Education and Section 504 231
10. Practical Strategies for College and the Workplace 271
Conclusion 299
Part Four: Appendixes
Appendix A: How Positive Behavioral Intervention and Support (PBIS)
Helps at School 305
Appendix B: Glossary 331
Notes 369
Index 387
See More
Cecil R. Reynolds
, Ph.D., is emeritus professor of Educational Psychology at Texas A&M University.
Kimberly J. Vannest, Ph.D., is an associate professor in Educational Psychology and Special Education at Texas A&M University.
Judith R. Harrison, Ph.D., is a clinical research scientist at Ohio University.
See More