Predicting Malicious Behavior: Tools and Techniques for Ensuring Global Security
ISBN: 978-1-118-16613-0
552 pages
June 2012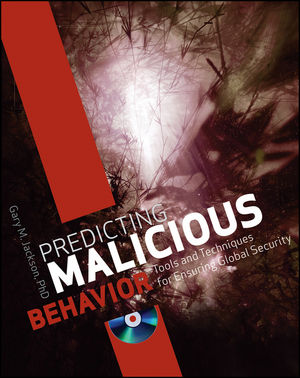 A groundbreaking exploration of how to identify and fight security threats at every level
This revolutionary book combines real-world security scenarios with actual tools to predict and prevent incidents of terrorism, network hacking, individual criminal behavior, and more. Written by an expert with intelligence officer experience who invented the technology, it explores the keys to understanding the dark side of human nature, various types of security threats (current and potential), and how to construct a methodology to predict and combat malicious behavior. The companion CD demonstrates available detection and prediction systems and presents a walkthrough on how to conduct a predictive analysis that highlights proactive security measures.
Guides you through the process of predicting malicious behavior, using real world examples and how malicious behavior may be prevented in the future
Illustrates ways to understand malicious intent, dissect behavior, and apply the available tools and methods for enhancing security
Covers the methodology for predicting malicious behavior, how to apply a predictive methodology, and tools for predicting the likelihood of domestic and global threats
CD includes a series of walkthroughs demonstrating how to obtain a predictive analysis and how to use various available tools, including Automated Behavior Analysis
Predicting Malicious Behavior fuses the behavioral and computer sciences to enlighten anyone concerned with security and to aid professionals in keeping our world safer.
See More
Foreword xxvii
Introduction xxix
Part I Understanding the Dark Side: Malicious Intent 1
Chapter 1 Analyzing the Malicious Individual 3
Chapter 2 Analyzing the Malicious Group 35
Chapter 3 Analyzing Country-Level Threats 63
Chapter 4 Threats and Security Nightmares: Our Current Reactive State of Security 91
Chapter 5 Current Network Security 113
Chapter 6 Future Threats to Our National Security 137
Part II Dissecting Malicious Behavior 161
Chapter 7 Applying Behavior Principles: Predicting Individual Malicious Behavior 163
Chapter 8 Applying Behavior Principles: Predicting Group Malicious Behavior 183
Chapter 9 Applying a Predictive Methodology: From Principles to Practice 203
Chapter 10 Predicting Domestic Threat 231
Chapter 11 Computer Networks: Protection from External Threat 255
Chapter 12 Computer Networks: Protection from Internal Threat 277
Chapter 13 Predicting Global Threat 299
Part III Applying Tools and Methods 329
Chapter 14 Predictive Capability in Software: Tools for a New Approach 331
Chapter 15 Predictive Behavioral Modeling: Automated Tools of the Trade 357
Chapter 16 Developing AuBA Applications 383
Chapter 17 Mastering AuBA Tools for Real-World Use 405
Chapter 18 Analyzing Future Malicious Behavior 425
Part IV Predicting Malicious Behavior: Tools and Methods to Support a Paradigm Shift in Security 449
Chapter 19 AuBA Future Extensions Today 451
Chapter 20 How to Predict Malicious Behavior: A Walkthrough 471
Appendix What's on the DVD? 497
Index 501
See More
Gary M. Jackson is an Assistant Vice President and Technical Lead within Cyber Operations at Science Applications International Corporation (SAIC). He is the inventor of the CheckMate intrusion protection system and automated behavior analysis (AuBA) methods and tools for predicting malicious behavior. As a former CIA intelligence officer, he has a unique behavior analysis perspective. He has also designed applications for the Secret Service and CIA.
See More