E-book
Photoshop Elements 10 For Dummies
ISBN: 978-1-118-16726-7
432 pages
September 2011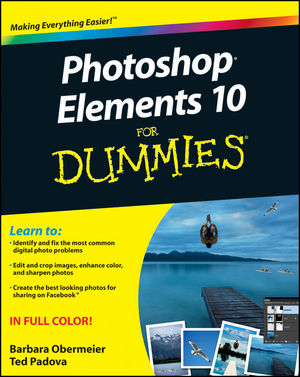 Perfect your photos and images with this "focused" guide to Photoshop Elements 10
For most of us, the professional-level Photoshop is overkill for our needs. Amateur photographers and photo enthusiasts turn to Photoshop Elements for a powerful but simpler way to edit and retouch their snapshots. Photoshop Elements 10 For Dummies helps you navigate Elements to create, edit, fix, share, and organize the high-quality images you desire. Full color pages bring the techniques to life and make taking great photos fun and easy.
Introduces you to the work area
Shows you how to upload images to your computer
Reviews ways to view, find, organize, and manage your photos
Details how to modify your photos to your specifications
Distills working with layers, contrast, color, clarity, filter, effects, styles, and type
Explains how to print your creations, create a slide show, and optimize images for the web
Written by veteran digital imaging and print authors Barbara Obermeier and Ted Padova, this handy reference is a highly readable and enjoyable way to learn this powerful image editing application.
See More
Introduction 1
Part I: Getting Organized 7
Chapter 1: Getting Your Images 9
Chapter 2: Viewing and Finding Your Images 25
Chapter 3: Organizing and Managing Your Photos 51
Part II: Using the Editors 65
Chapter 4: Working with Resolutions, Color Modes, and File Formats 67
Chapter 5: Getting Ready to Edit 93
Chapter 6: Getting to Know the Editing Work Areas 111
Part III: Selecting and Correcting 139
Chapter 7: Making and Modifying Selections 141
Chapter 8: Working with Layers 175
Chapter 9: Simple Image Makeovers 197
Chapter 10: Correcting Contrast, Color, and Clarity 227
Part IV: Exploring Your Inner Artist 257
Chapter 11: Playing with Filters, Effects, Styles, and More 259
Chapter 12: Drawing and Painting 291
Chapter 13: Working with Type 317
Part V: Printing, Creating, and Sharing 337
Chapter 14: Getting It on Paper 339
Chapter 15: Sharing Your Work 355
Chapter 16: Making Creations 367
Part VI: The Part of Tens 377
Chapter 17: Ten Tips for Composing Better Photos 379
Chapter 18: Ten More Project Ideas 387
Index 393
See More
Barbara Obermeier
is principal of Obermeier Design, a graphic design studio in California. She is currently a faculty member in the School of Design at Brooks Institute.
Ted Padova is an internationally recognized authority on Adobe Acrobat, PDF, and digital imaging.
See More