Expanded Learning Time and Opportunities: New Directions for Youth Development, Number 131
ISBN: 978-1-118-16753-3
Paperback
152 pages
November 2011, Jossey-Bass
US $29.00

Add to Cart
This price is valid for United States. Change location to view local pricing and availability.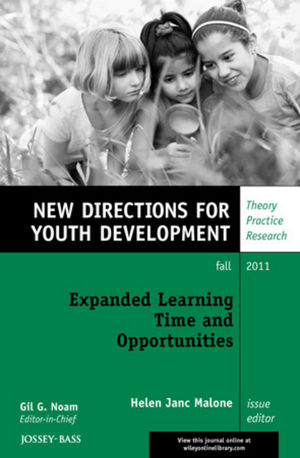 Other Available Formats:
E-book
Issue Editor's Notes 1

Helen Janc Malone
Executive Summary 9
1. Expanded learning time and opportunities: Key principles, driving perspectives, and major challenges 15
Dale A. Blyth, Laura LaCroix-Dalluhn
The authors posit three key principles the field should consider in the expanded learning debates: respect the distinct differences and values of formal, nonformal, and informal learning; acknowledge the value of a broad but clear definition and regular assessment of multiple elements of successful learning and development; and reduce the current inequities in each approach to learning.
2. From after-school to expanded learning: A decade of progress 29
Robert M. Stonehill, Sherri C. Lauver, Tara Donahue, Neil Naftzger, Carol K. McElvain, Jaime Stephanidis
This chapter examines four aspects of the ELO movement: the current philosophical and policy debates, the impact of federal legislation, how expanded learning efforts are increasingly seen as a promising school reform component, and policy recommendations to support a national vision for expanded learning time and opportunities.
3. The emergence of time as a lever for learning 43
Christopher Gabrieli
The author makes an argument for expanded learning time schools as a promising expanded day strategy that offers predominantly high-poverty students a well-rounded education. The chapter addresses school-community partnerships as an important vehicle for delivering youth development services during an expanded day schedule.
4. Expanding the learning day: An essential component of the community schools strategy 55
Reuben Jacobson, Martin J. Blank
The authors offer comparisons between community schools and expanded learning time schools. The chapter posits that community schools can serve as an effective vehicle for delivering an expanded learning strategy by focusing on both a longer learning time and developmental opportunities.
5. Expanded learning the LA's BEST way 69
Carla Sanger, Paul E. Heckman
In this chapter, the authors track the development of LA's BEST and present practices and research evidence that show the benefits of this valuesbased program-delivery model on students' nonformal learning and positive youth development.
6. The After-School Corporation's approach to expanded learning 81
Anne-Marie E. Hoxie, Lisa DeBellis, Saskia K. Traill
The authors address how TASC, a New York City intermediary, developed and implemented an expanded learning strategy, ELT/NYC, to help and reform schools to meet a range of students' learning needs.
7. Citizen Schools' partner-dependent expanded learning model 93
Eric Schwarz, Emily McCann
The leaders of Citizen Schools, a national nonprofit organization, reflect on their own experiences working with expanded learning time schools, including the common successes and challenges they face partnering with schools, and offer ways to build strong school-community partner collaborations.
8. Building an expanded learning time and opportunities school: Principals' perspectives 107
Helen Janc Malone
Four public school principals from New York City, Los Angeles, and Houston describe how they implemented an expanded learning strategy within their schools to provide both academic and enrichment opportunities.
9. Next steps in the expanded learning discourse 119
Helen Janc Malone, Gil G. Noam
This concluding chapter provides an overview of crosscutting themes, addresses both conceptual and practical challenges facing expanded learning time and opportunities, and proposes several concrete steps for engaging community partners in the national expanded learning discourse.
Index 137