Textbook
Autodesk Maya 2013 Essentials
ISBN: 978-1-118-16774-8
304 pages
June 2012, ©2012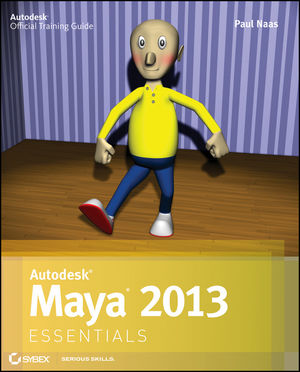 Recommnded text for those preparing for the Maya Associate exam
Maya, the industry-leading 3D animation and effects software used in movies, games, cartoons, and commercials, is challenging to learn. This full-color guide features approachable, hands-on exercises and additional task-based tutorials that allow new users to quickly become productive with the program and familiar with its workflow in a professional environment. You'll learn the basics of modeling, texturing, animating, and lighting; explore different parts of the production pipeline; and practice on some real-world projects.
Maya is the 3D animation and effects software used in the film, game, and advertising industries; it's a complex program and this book gives beginners essential training in Maya basics
This book is an Autodesk Official Training Guide, recommended for students planning to take the Maya Associate exam
Provides task-based tutorials and hands-on exercises to get you up to speed and introduce you to production workflows
Teaches the basics of modeling, texturing, animating, and lighting
Helps you create simple animations, model with polygons, and add detail with blend shapes and surfaces
Starting and ending files for the exercises and additional learning tutorials are available online
Autodesk Maya Essentials provides beginners with a solid foundation in Maya 3D software.
See More
Introduction xvii
CHAPTER 1 Understanding the Maya Interface 1
CHAPTER 2 Creating Your First Animation 15
CHAPTER 3 Modeling with Polygons, Part 1 37
CHAPTER 4 Modeling with Polygons, Part 2 69
CHAPTER 5 Modeling with Polygons, Part 3 87
CHAPTER 6 Modeling with Subdivision Surfaces 103
CHAPTER 7 Surfacing Your Character 127
CHAPTER 8 Getting Bent Out of Shape: Blend Shapes 153
CHAPTER 9 Dem Bones: Setting Up Your Joint System 165
CHAPTER 10 Weighting Your Joints 191
CHAPTER 11 Rigging Your Character 205
CHAPTER 12 Making It Move: Animating Your Character 225
CHAPTER 13 Let There Be Light: Lighting Your Shot 243
CHAPTER 14 Rendering and Compositing Your Scene 263
Index 275
See More
Paul Naas is a professional animator and educator. He runs the Multimedia and Computer Graphics Program at Cañada College in Redwood City, California, and has done animation work for companies such as Disney, Cisco, bZillions/C2 Gaming, and the Children's Discovery Museum. He is also a professional cartoon artist. He has a Master of Fine Arts in animation from the Academy of Art University, San Francisco.
See More
Download Title
Size
Download
Final Project Files
Final project files for Maya 2013 Essentials.
5.23 MB
Click to Download
See More
Do you think you've discovered an error in this book? Please check the list of errata below to see if we've already addressed the error. If not, please submit the error via our Errata Form. We will attempt to verify your error; if you're right, we will post a correction below.
Chapter
Page
Details
Date
Print Run
3
55
Error in Text
Step 17, is there a correction for this step? Scaling the finger base is not performing as it is described.
Step 17. Says: "Select the center of the three end faces, press R to activate the Scale tool, and scale in on the Z axis until the three faces are about the same size as shown in Figure 3.28." When I select the three faces and press R to scale along the Z axis, the program creates new lines (running top to bottom on the faces), it doesn't move the existing lines. Additionally, the two lines on the top of the finger base and on the bottom of the finger base do not move to the newly created lines position ( that is they do not extend proximally to distally at an angle that causes them to intersect with the newly created lines) but remain fixed at the original bearing connected to the up and down lines that didn't move.
10/02/14
See More
Instructors Resources
Contact your Wiley Representative
Find Your Rep

See More
See Less
Learn more about