E-book
BlackBerry PlayBook Companion
ISBN: 978-1-118-16820-2
288 pages
August 2011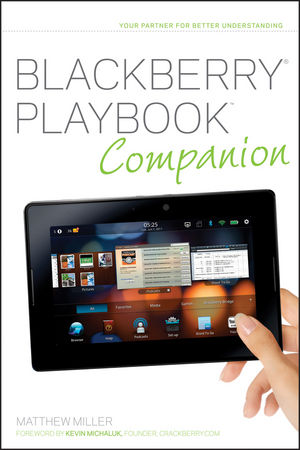 The ultimate full-color consumer guide to the fun and functional BlackBerry PlayBook
BlackBerry's entry into the tablet market adds a new dimension to the image of the BlackBerry as a tool primarily for business. The PlayBook does business, but it also does fun, and this handy, full-color book covers just what you need to get up and running with your PlayBook and make the most of it. In an entertaining and to-the-point fashion, this guide shows you how to connect your PlayBook to your BlackBerry smartphone, take photos, watch videos, read e-books, connect to the Internet via WiFi, use third-party apps, video chat, and more.
Helps you get set up and use your Playbook, with full-color screen shots and navigational elements that help you quickly find information
Shows how to manage your e-mail by connecting to your BlackBerry smartphone and how to get online with WiFi
Covers acquiring and reading e-books and periodicals, participating in social media, shooting photos and videos, and using instant messaging and video chat
Explains how to download and use third-party apps on the BlackBerry platform
With a hip, direct style, BlackBerry PlayBook Companion shortens the learning curve and helps you maximize what your PlayBook offers for both work and play.
See More
Foreword xi
Introduction xiii
Chapter 1 What Is a BlackBerry PlayBook? 1
Walk around the Hardware 2
Walk around the OS 10
Pricing, Availability, and Models 13
Comparison with Other Tablets 13
Related Questions 17
Chapter 2 How Do I Set Up and Customize My PlayBook? 19
Initial Startup 20
Connect to a Wi-Fi Network 21
Set the Date and Time 26
Create a BlackBerry ID 27
Update Your Software 29
Set Up a BlackBerry Bridge 29
Tablet Basics Tutorials 32
Customize the Home Screen 34
Related Questions 38
Chapter 3 How Do I Navigate My PlayBook? 39
Utilizing Different Touch Methods 40
Navigating the Home Screen 45
Accessing and Reading Notifications 46
Understanding and Accessing the Status Bar 48
Breaking Down the Menu 50
Switching Between Apps 52
Using the Keyboard 54
Related Questions 57
Chapter 4 How Do I Surf the Web on My PlayBook? 59
Browsing the Web 60
Changing Browser Options 67
Creating and Managing Bookmarks 73
Managing Downloads 75
Related Questions 76
Chapter 5 How Do I Bridge the PlayBook with My BlackBerry Smartphone? 77
Set Up the Bridge via Bluetooth 78
Accessing and Using Bridge Files 80
Browsing the Web through the Bridge Browser 82
Using BlackBerry Messenger (BBM) through the Bridge 84
Related Questions 88
Chapter 6 How Can I Read and Use Email on My PlayBook? 89
Using Email through the Bridge 90
Using Email through the Browser 97
Related Questions 100
Chapter 7 How Can I Hone My Organizational Skills Using My PlayBook? 101
View Your Calendar 102
Create a New Appointment 107
Manage Contacts 109
Create and View Tasks 112
Create and View Memos 115
Record Voice Notes 116
Related Questions 120
Chapter 8 How Can I Create, Edit, and View Office Files on My PlayBook? 121
Using Word To Go 122
Using Sheet To Go 131
Using Slideshow To Go 139
Viewing PDF Files 142
Related Questions 144
Chapter 9 How Do I Enjoy Music and Video on My PlayBook? 145
Enjoying Music Loaded onto Your PlayBook 146
Browsing and Purchasing Music through the 7digital Music Store 154
Listening to Music through the Slacker Radio Service 156
Listening to Podcasts 160
Watching Videos 164
BlackBerry PlayBook Video Chat 171
Related Questions 176
Chapter 10 How Can I View, Share, and Capture Pictures on My PlayBook? 177
Transferring Photos on and off Your PlayBook 178
Capturing a Photo 188
Viewing Your Pictures 191
Sharing Your Pictures 194
Related Questions 195
Chapter 11 What Apps Do I Have and How Can I Get More? 197
Using Your Preloaded Apps 198
Finding, Downloading, and Installing Apps via BlackBerry
App World 216
Related Questions 222
Chapter 12 How Can I Read eBooks on My PlayBook? 223
Using the Kobo eReading Application 224
Using Adobe Reader 236
Related Questions 238
Chapter 13 How Do I Keep My PlayBook Secure? 239
Managing Application Permissions 240
Using Certificates 244
Switching into Development Mode 246
Set, Enable, and Change Your Password 249
Perform a Security Wipe 252
Manage Your VPN Profiles 253
Related Questions 256
Chapter 14 How Do I Manage Settings on My PlayBook? 257
Viewing the About Page 258
Managing Bluetooth Connections 259
Setting Up Internet Tethering 263
Controlling Screen Time-Out and Brightness 267
Setting the HDMI Preferences 268
Managing Your PlayBook Sounds 270
Selecting the General Background Application Settings 271
Managing Your Storage and Sharing Preferences 273
Related Questions 274
Chapter 15 How Do I Manage My PlayBook with BlackBerry Desktop Software? 275
Installing BlackBerry Desktop 276
Desktop Options 279
Device Options 280
Manage Media Sync 283
Back Up Options 284
Switch and Forget Devices 286
Related Questions 286
Chapter 16 How Do I Troubleshoot My PlayBook? 287
General Techniques for Troubleshooting 288
BlackBerry Bridge Issues 292
Browser Issues 293
Wi-Fi Connection Issues 294
Bluetooth Device Connection Issues 294
HDMI Issues 295
Related Questions 295
Index 297
See More
Matthew Miller is the author of Windows Phone 7 Companion, Facebook Companion, and Master Visually Windows Mobile 2003; writes both the ZDNet Mobile Gadgeteer and Smartphones & Cell Phones blogs; has published works in iPhone Life Magazine, Pocket PC Magazine, and more; and is co-host of the Mobile Tech Roundup podcast.
See More