E-book
Culinary Careers For Dummies
ISBN: 978-1-118-16836-3
408 pages
September 2011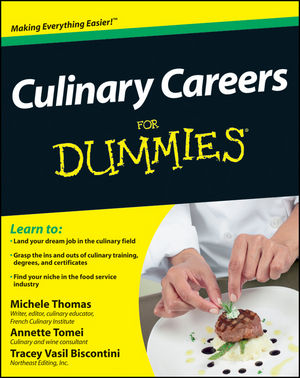 The fast and easy way to find your place in the culinary field
Ever dream of exploring an exciting career in culinary arts or cooking but don't know where to begin? Culinary Careers For Dummies is the perfect book for anyone who dreams of getting into the culinary profession. Whether you're a student, an up-and-coming chef looking for direction, or are simply interested in reinventing yourself and trying your hand at a new career, Culinary Careers For Dummies provides the essential information every culinary novice needs to enter and excel in the food service industry.
Packed with advice on selecting a culinary school and tips for using your degree to land your dream job, Culinary Careers For Dummies offers up-to-the-minute information on: culinary training, degrees, and certificates; the numerous career options available (chef, chef's assistant, pastry chef, food stylist, caterer, line cook, restaurant publicist/general manager, Sommelier, menu creator, food writer, consultant/investor, etc.) and the paths to get there; basic culinary concepts and methods; advice on finding a niche in the culinary world; culinary core competencies; food safety and proper food handling; real-life descriptions of what to expect on the job; and how to land a great culinary job.
Expert guidance on cooking up your career plan to enter the food service industry
Tips and advice on what to study to get you where you're headed
Packed with information on the many career options in the culinary field
Culinary Careers For Dummies is a one-stop reference for anyone who is interested in finding a career in this growing and lucrative field.
See More
Introduction 1
Part I: An Introduction to the World of Culinary Arts 7
Chapter 1: A Snapshot of the Culinary Arts Profession 9
Chapter 2: Finding the Jobs: Where Culinary Professionals Work 27
Chapter 3: Culinary School Versus On-the-Job Training: Finding Your Fit 45
Chapter 4: Ingredients for Success: Choosing a Culinary School 57
Part II: Exploring Popular Career Paths and Profiles 85
Chapter 5: Reservation for One: Working in Restaurants 87
Chapter 6: Living the Good Life: Working in Hotels, Resorts, and Spas 115
Chapter 7: Cooking for a Crowd: Volume Cooking 137
Part III: Taking a Specialized Approach 151
Chapter 8: How Sweet It Is! Becoming a Pastry Chef or Baker 153
Chapter 9: Life On the Inside: Personal and Private Chefs 171
Chapter 10: Old and New Trends: Food Artisans and Scientists 185
Chapter 11: Drink Up! Jobs in the Beverage Industry 205
Part IV: Checking Out Non-Cooking Careers 225
Chapter 12: Culinary in a Media World: What It's All About 227
Chapter 13: The Star Makers: Public Relations and Marketing 245
Chapter 14: Showcasing Food for Others 253
Chapter 15: Careers in Purchasing: Specialty Foods, Cookware, and More 271
Part V: Landing the Job, Moving Up the Ladder, and More 291
Chapter 16: Landing a Culinary Job 293
Chapter 17: Moving Up the Ladder — or Switching Gears! 315
Chapter 18: Making Your Own Path: Becoming a Culinary Entrepreneur 325
Part VI: The Part of Tens 339
Chapter 19: Ten Reasons to Work in the Culinary Industry 341
Chapter 20: Ten Tips to Help You Thrive in the Culinary Industry 347
Index 353
See More
Michele Thomas
is a writing teacher and managing editor of the
International Culinary Institute
, home of the French Culinary Institute.
Annette Tomei is a food and wine consultant.
Tracey Vasil Biscontini is the founder, president and CEO of Northeast Editing, Inc.
See More