E-book
Inception and Philosophy: Because It's Never Just a Dream
ISBN: 978-1-118-16891-2
400 pages
October 2011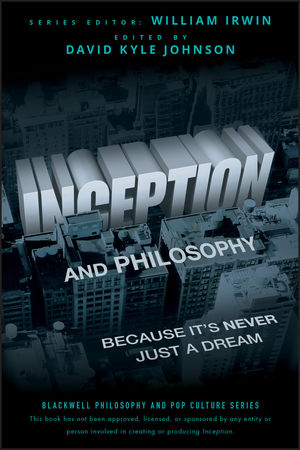 A philosophical look at the movie Inception and its brilliant metaphysical puzzles
Is the top still spinning? Was it all a dream? In the world of Christopher Nolan's four-time Academy Award-winning movie, people can share one another's dreams and alter their beliefs and thoughts. Inception is a metaphysical heist film that raises more questions than it answers: Can we know what is real? Can you be held morally responsible for what you do in dreams? What is the nature of dreams, and what do they tell us about the boundaries of "self" and "other"? From Plato to Aristotle and from Descartes to Hume, Inception and Philosophy draws from important philosophical minds to shed new light on the movie's captivating themes, including the one that everyone talks about: did the top fall down (and does it even matter)?
Explores the movie's key questions and themes, including how we can tell if we're dreaming or awake, how to make sense of a paradox, and whether or not inception is possible
Gives new insights into the nature of free will, time, dreams, and the unconscious mind
Discusses different interpretations of the film, and whether or not philosophy can help shed light on which is the "right one"
Deepens your understanding of the movie's multi-layered plot and dream-infiltrating characters, including Dom Cobb, Arthur, Mal, Ariadne, Eames, Saito, and Yusuf
An essential companion for every dedicated Inception fan, this book will enrich your experience of the Inception universe and its complex dreamscape.
See More
ACKNOWLEDGMENTS
: The Dream Team xi
The Editor's Totem: An Elegant Solution for Keeping Track of Reality 1
Introduction: Plato's Academy Award 11
PART ONE WAS MAL RIGHT? WAS IT ALL JUST A DREAM?: MAKING SENSE OF INCEPTION
1 Was It All a Dream?: Why Nolan's Answer Doesn't Matter 17
Ruth Tallman
2 Let Me Put My Thoughts in You: It Was All Just a Dream 31
Jason Southworth
3 Even If It Is a Dream, We Should Still Care 46
Andrew Terjesen
4 The Unavoidable Dream Problem 62
James T. M. Miller
PART TWO IS THE TOP STILL SPINNING?: TACKLING THE UNANSWERABLE QUESTION
5 The Parable of the Spinning Top: Skepticism, Angst, and Cobb's Choice 77
Katherine Tullmann
6 Reality Doesn't Really Matter 92
Dan Weijers
7 Why Care whether the Top Keeps Spinning? 108
Bart Engelen
PART THREE IS INCEPTION POSSIBLE?: THE METAPHYSICS, ETHICS, AND MECHANICS OF INCEPTING
8 How to Hijack a Mind: Inception and the Ethics of Heist Films 125
Daniel P. Malloy
9 Inception, Teaching, and Hypnosis: The Ethics of Idea-Giving 140
Adam Barkman
10 Inception and Free Will: Are They Compatible? 152
John R. Fitzpatrick and David Kyle Johnson
11 Honor and Redemption in Corporate Espionage 166
Albert J. Chan
PART FOUR WHAT IS DREAMING?: EXPLORING THE NATURE OF (SHARED) DREAMS (UPON DREAMS)
12 Shared Dreaming and Extended Minds 177
Ken Marable
13 Morally Responsible Dreaming: Your Mind Is the Scene of the Crime 187
Lance Belluomini
14 Dream Time: Inception and the Philosophy of Time 199
Michael J. Sigrist
15 Dreams and Possible Worlds: Inception and the Metaphysics of Modality 215
Charles Joshua Horn
16 Do Our Dreams Occur While We Sleep? 231
Keith Dromm
PART FIVE SHOULD I TAKE A LEAP OF FAITH?: RELIGIOUS THEMES IN INCEPTION
17 Taking a Leap of Faith: A How-to Guide 249
David Kyle Johnson
18 Limbo, Utopia, and the Paradox of Idyllic Hope 265
Clint Jones
19 Unlocking the Vault of the Mind: Inception and Asian Philosophy 276
Scott Daniel Dunbar
PART SIX WHAT DOES IT ALL MEAN?: FINDING THE HIDDEN LESSONS OF INCEPTION
20 Mal-Placed Regret 295
Kimberly Blessing
21 "You're Just a Shade": Knowing Others, and Yourself 310
Daniel Forbes
22 Paradox, Dreams, and Strange Loops in Inception 326
Tyler Shores
APPENDIX : A Safe Full of Secrets: Hidden Gems You May Have Missed 343
CONTRIBUTORS: The Architects 363
I NDEX: The PASIV (Plenary Alphabetized Subject Index for This Volume) Device 371
See More
David Kyle johnson is assistant professor of philosophy at King's College in Wilkes-Barre, Pennsylvania, and the editor of Heroes and Philosophy.
William Irwin is a professor of philosophy at King's College. He originated the philosophy and popular culture genre of books as coeditor of the bestselling The Simpsons and Philosophy and has overseen recent titles, including House and Philosophy, Alice in Wonderland and Philosophy, and Mad Men and Philosophy. To learn more about the Blackwell Philosophy and Pop Culture series,
visit www.andphilosophy.com
See More
More in this series