Canon EOS 5D Mark III Digital Field Guide
ISBN: 978-1-118-16911-7
304 pages
July 2012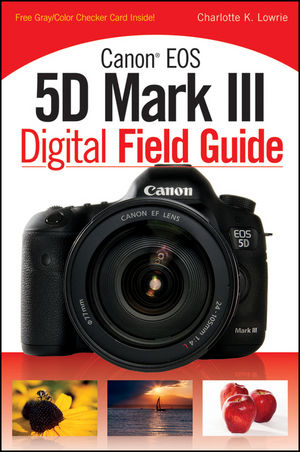 Guides you step-by-step through the functions on your new Canon EOS 5D Mark III dSLR camera
The Canon EOS 5D Mark III full-frame dSLR camera features an impressive 22.3 megapixels, a 3.2-inch LCD screen, 6 fps continuous shooting, Live View, an ISO range of 50 to 102,400 and full HD 1080 resolution movie shooting. Here to help you get the most out of these remarkable features and offering you more in-depth coverage than the standard manual, this full-color Canon 5D Mark III Digital Field Guide provides you with guidance on how and when to use each button, dial, and menu option. Delivering information in an easy-to-understand format, this portable guide features more than 200 inspirational photos by acclaimed photographer and veteran author Charlotte Lowrie. The handy trim size allows this guide to go where you go, providing you with easy access to information quickly so you can get the exact shot you want when you want it.
Helps you make the most of your Canon EOS 5D Mark III and get the shots you want
Offers full detailed coverage of when and how to use each and every button, dial, and menu option on this sophisticated new dSLR
Provides step-by-step explanations on techniques and tips, all aimed at getting you comfortable and confident with your new Canon 5D Mark III
Sized to fit in a camera bag, the book includes a bonus gray and color checker card to help you capture perfect white balance and color every time.
Ideal reading for both amateur and professional photographers alike, you'll reference Canon 5D Mark III Digital Field Guide again and again.
See More
Introduction xvi
CHAPTER 1 Roadmap to the Canon EOS 5D Mark III 1
Camera Controls Overview 2
Front of the camera 2
Top of the camera 4
Back of the camera 8
Side of the camera 11
Lens Controls Overview 13
Viewfi nder display 15
Quick Control screen 15
Camera menus 17
CHAPTER 2 Camera Setup and Image Playback 25
Setting Up Media Card Recording and Using Eye-Fi Cards 26
Managing dual media card recording 26
Working with Eye-Fi cards 28
Setting Image Quality and Processing RAW Images In-Camera 29
JPEG format 30
RAW capture 32
RAW+JPEG 33
Processing RAW images in the camera 36
Improving Image Quality 38
Reducing digital noise in the camera 38
Correcting vignetting and color fringing 40
Working with Folders and File Numbering 42
Creating and selecting folders 42
Setting and changing fi le numbering 44
Customizing fi le names 44
Setting the fi le numbering method 46
Miscellaneous Setup Options 48
General setup options 48
Adding copyright information 54
Copying one or more images to the other media card 55
Image and Movie Playback Options 56
Image magnifi cation 58
Side-by-side image comparison 58
Image playback with Quick Control access 59
Searching for and moving through multiple images and movies 59
Protecting and Erasing Images and Movies 60
Erasing images and movies 60
Protecting images and movies 61
CHAPTER 3 Working with Exposure 63
Setting Exposure Objectives 64
Defining exposure goals 64
Practical exposure considerations 64
Choosing an Exposure Mode 67
Going fully automatic 67
Taking creative control 69
Program AE (P) mode 69
Shutter-priority AE (Tv) mode 71
Aperture-priority AE (Av) mode 75
Manual (M) mode 76
Bulb mode 79
Custom modes 79
Setting the ISO Sensitivity 80
Metering Light and Adjusting Exposures 83
Using metering modes 85
Evaluating exposures 88
Brightness histogram 89
RGB histogram 90
Modifying and bracketing exposures 91
Auto Lighting Optimizer 91
Highlight Tone Priority 93
Safety shift 94
Auto Exposure Lock 94
Exposure compensation 95
Auto Exposure Bracketing 97
Creative Exposure Techniques 99
Making multiple-exposure images 99
Setting up for Multiple exposure mode shooting 100
Shooting in Multiple exposure mode 103
Shooting HDR images 105
Selecting a Drive Mode 109
CHAPTER 4 Getting Sharp Focus 111
Understanding the Autofocus System 112
Cross-type sensors 112
High-precision and dual-cross-type sensors 112
Lens groups and available AF points 114
Setting Up and Using Autofocus 115
Choosing an autofocus mode and an AF point 115
Focusing with AF area selection modes 118
Focusing on Action 124
Using the AF Configuration tool 125
Adjusting Case parameters 128
Customizing Autofocus and Lenses 129
Autofocus functions 129
AF 2 menu 129
AF 3 menu 131
AF 4 menu 133
AF 5 menu 136
AF Microadjustment 137
CHAPTER 5 Getting Great Color 143
Working with Color 144
Choosing a Color Space 144
Comparing color spaces 145
Setting the color space 147
Setting the White Balance 148
Setting a Custom white balance 150
Setting a specific color temperature 153
Fine-tuning white balance 155
Using White Balance Auto Bracketing 155
Using White Balance Correction 156
Working with Picture Styles 157
Choosing and customizing Picture Styles 159
Registering a new Picture Style 162
Using the Picture Style Editor 164
CHAPTER 6 Customizing the EOS 5D Mark III 165
Exploring Custom Functions 166
Custom Function groupings 166
Custom Functions specifics 167
C.Fn1: Exposure 167
C.Fn2: Disp./Operation 171
C.Fn3: Others 177
Setting Custom Functions 178
Registering Custom Modes 179
Customizing My Menu 181
CHAPTER 7 Shooting in Live View 185
About Live View Shooting 186
Live View Features and Functions 187
Live View focus options 187
Aspect ratio 189
Exposure simulation 191
Silent shooting modes 192
Metering timer 193
Using a flash 193
Working with Live View 194
Setting up for Live View shooting 194
Shooting in Live View 195
CHAPTER 8 Making Movies 199
About Movies 200
Video standards 200
Video on the 5D Mark III 201
Setting Up for Movie Recording 205
Choosing the resolution and exposure mode 205
Menu setup 207
Shooting 4 menu options 208
Shooting 5 menu options 209
Focusing options 212
Setting the ideal shutter speed 213
Color, audio, and lighting settings 214
Recording Movies 215
Starting the recording 215
Playing back movies 218
Tips for better movies 219
CHAPTER 9 Working with Flash 221
Deciding Whether to Use Flash 222
Calculating Flash Exposure 222
Using E-TTL II Technology 224
Radio versus Optical Speedlite Systems 226
Comparing radio- and optical-based Speedlites 227
Multicamera remote shooting 229
Working with Speedlites 229
Setting flash options 229
Flash function settings 231
Flash exposure compensation 234
Flash exposure bracketing 236
Flash Exposure Lock 237
Setting Up Wireless Flashes 238
Using a one-light setup 239
Setting up multiple Speedlites 240
CHAPTER 10 Exploring Lenses and Accessories 245
Evaluating Lens Choices for the 5D Mark III 246
Types of Lenses 247
Zoom lenses 248
Prime lenses 249
Working with Different Types of Lenses 250
Wide-angle lenses 251
Telephoto lenses 253
Normal lenses 254
Macro lenses 256
Tilt-and-shift lenses 257
Image Stabilized (IS) lenses 258
Hybrid IS for macro shooting 261
Doing More with Lens Accessories 262
Lens extenders 262
Extension tubes and close-up lenses 264
APPENDIX A How to Use the Gray Card and Color Checker 265
The Gray Card 265
The Color Checker 266
Glossary 267
Index 277
See More
Charlotte K. Lowrie is a professional stock, editorial, and portrait photographer and an award-winning writer. She is the author of 15 photography books, including the bestselling Canon EOS 7D Digital Field Guide and Canon EOS Rebel T3i Digital Field Guide. See more of her work at wordsandphotos.org.
See More