Canon EOS Rebel T4i/650D Digital Field Guide
ISBN: 978-1-118-16913-1
288 pages
October 2012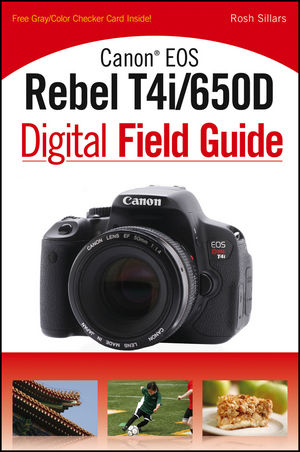 Master every detail of this exciting new touchscreen dSLR
Canon's new introductory-level dSLR camera boasts some revolutionary features that will be new even to Canon veterans. This convenient guide effectively explains every button, menu, mode, and function of the Rebel T4i/650D, and it fits in your camera bag so you can easily refresh your memory during a shoot. With step-by-step descriptions of every action and feature plus color images of every control, this little book will have you taking charge of your camera in no time.
Learn to use the touchscreen menus, new silent autofocus feature, and extended ISO range. You'll also get suggestions for improving your shots in specific situations. There's even a free gray and color checker card to help you achieve perfect color and white balance every time.
The Canon EOS Rebel T4i/650D offers a touchscreen, silent autofocus mode for better quality video shooting, and a broader ISO range for improved photo quality in low-light conditions
This handy guide clearly explains every feature, mode, dial, function, and menu, illustrating the instructions with plenty of full-color images
Explains how and when to use various features and provides great advice on a number of common shooting situations
Convenient 6x9-inch trim size makes it easy to take the book along for reference, and the bonus gray and color checker card inside helps assure you of accurate color
Canon EOS Rebel T4i/650D Digital Field Guide is the perfect partner to help you get the most from your exciting new Canon dSLR.
See More
Acknowledgments xiii
Introduction xx
Quick Tour 1
Getting Started 2
Camera Controls 3
The top of the camera 4
The back of the camera 5
Choosing Image Quality 6
Selecting a Focus Mode 6
Using a Flash 7
Reviewing Images or Video 8
Taking Better Photos 8
CHAPTER 1 Exploring the Canon EOS Rebel T4i/650D 11
The Top of the Camera 12
The Bottom of the Camera 14
The Front of the Camera 14
The Back of the Camera 16
The Sides of the Camera 20
Lens Controls 21
The Viewfinder Display 22
The LCD Touch Screen and Live
View Mode 25
CHAPTER 2 Setting Up the Canon EOS Rebel T4i/650D 29
The Shooting Menus 30
Shooting menu 1 30
Settings and corrective functions 30
Flash control 31
Shooting menu 2 33
Shooting menu 3 34
The Live View Shooting Menu 35
The Movie Shooting Menus 36
Movie shooting menu 1 36
Movie shooting menu 2 37
The Playback Menus 38
Playback menu 1 38
Playback menu 2 39
The Setup Menus 40
Setup menu 1 40
Setup menu 2 41
Setup menu 3 42
Setup menu 4 43
My Menu Settings 44
CHAPTER 3 Choosing the Right Settings for Your Camera 45
The Basic Zone Modes 46
The Creative Zone Modes 50
Focus Modes 52
Picture Styles 56
Drive Modes 59
White Balance Settings 60
Flash Modes 64
ISO Settings 68
Choosing File Quality and Format 69
Image size and file numbering 70
The RAW file format 71
The JPEG file format 71
Movie Modes 72
Exposing for video 72
Setting the file size and focus 73
CHAPTER 4 Using Lenses with the Canon EOS Rebel T4i/650D 77
Choosing a Good Lens 78
Focal lengths 80
Autofocus 82
Aperture and depth of field 82
Image Stabilization 84
Vignetting 84
Types of Lenses 85
Prime versus Zoom Lenses 89
Understanding prime lenses 89
Understanding zoom lenses 89
Specialty Lenses 90
CHAPTER 5 Exploring Exposure and Composition 95
Choosing the Right Exposure 96
Setting the shutter speed 99
When to use fast shutter speeds 99
When to use slow shutter speeds 100
Night photography and painting with light 104
Setting the aperture 107
Setting the ISO 108
Using Exposure Compensation 110
High Dynamic Range Photography 111
Exposing for Video 113
Composition 113
Rule of Thirds 115
Fill the frame 116
Lines and shapes 116
Foreground and background 118
Keeping it simple 118
CHAPTER 6 Working with Lighting and Flash 121
The Importance of Light and Shadow 122
The Direction of Light 123
Frontlighting 123
Overhead lighting 124
Sidelighting 124
Backlighting 126
The Quality of Light 127
Hard lighting 128
Soft lighting 129
Types of Lighting 130
Natural light 130
Continuous light 132
Flash 132
Shutter speed and flash 133
Aperture and flash 134
Manual mode and flash 134
The Color of Light 136
White balance options 137
Using Picture Styles 137
Ambience Effects 138
Choosing a color space 138
Measuring Light 139
Choosing the proper exposure 139
Metering modes 141
Evaluative metering mode 141
Center-weighted metering mode 141
Spot metering mode 141
Partial metering mode 142
The Canon Flash System 142
The pop-up flash 143
Using an external flash 144
Using multiple fl ashes 145
CHAPTER 7 Shooting Photos 147
Portrait Photography 148
Equipment 148
Best practices 150
Tips 152
Shooting Action and Sports 155
Equipment 156
Best practices 157
Tips 159
Capturing Events 160
Equipment 160
Best practices 161
Tips 162
Landscape and Nature Photography 164
Equipment 164
Best practices 165
Tips 167
Macro Photography 170
Equipment 170
Best practices 171
Tips 172
Shooting at Night or in Low Light 173
Equipment 174
Best practices 174
Tips 175
Travel Photography 176
Equipment 176
Best practices 177
Tips 179
CHAPTER 8 Shooting in the Live View and Movie Modes 181
Using the Live View Shooting Mode 182
The Quick Control/Print button 185
Shooting stills 185
Focus modes 186
Live View and Video 187
Shooting Video 188
Setting up for a video shoot 190
The frame rate 192
The shutter speed 192
Lighting 194
Sound 196
Choosing a focus mode 198
Recording video 200
Equipment 202
Types of video 203
Helpful Hints for Shooting Video 205
CHAPTER 9 Viewing, Editing, and Sharing Your Images 207
Viewing your Images 208
Viewing images or videos
on the camera 208
Playback 208
The Quick Control/Print and Info buttons 209
Viewing images on a TV or smart device 210
Downloading and storing your images 210
Storage 211
The 3-2-1 rule 213
Editing Images and Videos on the Camera 213
Sharing your Photos 215
E-mailing 216
Printing 216
Uploading images to a website 216
Sharing photos via social media 218
APPENDIX A Postproduction 221
Photo-editing Software 222
Digital Photo Professional 224
Image Browser EX 227
Lightroom 227
iPhoto 229
Photoshop 230
Video-editing Software 232
Image Browser EX 234
iMovie 234
Windows Live Movie Maker 235
Other video-editing software 236
APPENDIX B Accessories 237
Grips and Remotes 237
Video Accessories 240
Microphones 241
Tripods 243
Bags 245
APPENDIX C How to Use the Gray Card and Color Checker 247
The Gray Card 247
The Color Checker 248
Glossary 249
Index 257
See More
Rosh Sillars is a veteran photographer with a background in photojournalism. A digital photography instructor at the University of Detroit Mercy, he also teaches photojournalism at Wayne State University. Rosh writes, speaks, and consults on photography and marketing, and maintains his own studio, Octane Photography.
See More