E-book
Audel Water Well Pumps and Systems Mini-Ref
ISBN: 978-1-118-17028-1
192 pages
March 2012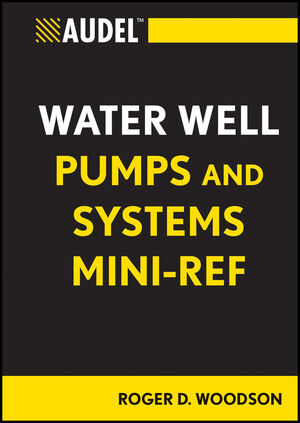 Introducing an Audel "Mini-Ref" for tradespeople working on water well pumps and pumping systems
Water well pumps are used everywhere, with installations numbering in the millions. It's hard to believe that no one has written a small field book that covers these pieces of equipment. Finally, here's a great handy guide is for anyone who needs to know how these pumps work, how to troubleshoot problems unique to this type of piping system, and how to make common repairs for both above ground and submersible pumps. It contains vital and specific references applicable to a wide range of professions, including plumbers, well drillers, electricians, pump suppliers, pump retailers, plumbing supply companies, well system suppliers, and more.
Focuses on the must-have information to trouble-shoot, solve problems, and make water well pump repairs
Clears up the mysteries of jet pumps, two pipe systems, pressure settings, and accumulator sizing
Illustrations and data formatted for quick look up and understanding
Discusses pumping system issues concerning municipalities, golf courses, maintenance professionals, big-box stores, irrigation installers, irrigation suppliers, and farm suppliers
For tradespeople looking to keep their heads above water, this reliable and trusted resource delivers all of the vital content they need to keep water pumping systems functioning properly.
See More
Chapter 1 T YPES OF WELLS 1
Dug Wells 1
Shallow Wells 2
Drilled Wells 3
Driven Wells 4
Jetted Wells 5
Alternative Water Sources 5
Recovery Rate 5
Water Storage Tanks 6
Chapter 2 T YPES OF WELL PUMPS 9
Booster Pumps 9
Simple Pump Choices 9
Shallow-Well Jet Pumps 10
Deep-Well Jet Pumps 10
Submersible Pumps 11
A Rule-of-Thumb 11
Cost 11
Chapter 3 PUMP SELECTION 13
Refresher Course 13
Friction Loss 14
Minimum Water Requirements 17
How Deep Is the Water In the Well? 17
Recovery Rate 27
Water Pressure 27
Planning for Future Use Conditions 31
Summary 31
Chapter 4 WELL PRESURE TANKS 33
Stand Models 40
In-Line Models 40
Pump Stand Models 41
Underground Models 41
How Does a Diaphragm Pressure Tank Work? 42
Pressure Tank Capacity 43
A Preinstallation Process 46
Mounting a Pressure Tank 46
Positioning In-Line Tanks 47
Mounting a Pump Stand Model 47
Mounting a Vertical Stand-Model Pressure Tank 49
Underground Well Pressure Tanks 51
Manifold Installations 52
Fine-Tuning Your Installation 52
Chapter 5 WELL PIPING CHOICES 57
Polyethylene Pipe (PE) 57
Copper 59
Cross-linked Polybutylene (PEX) 59
Which Pipe? 60
Piping Specifications 61
Some Installation Pointers 62
Chapter 6 WELL SYSTEM COMPONENTS 61
Major Components 66
Check Valves 66
Gate Valves 66
Foot Valves 67
Relief Valves 68
Pressure Gauges 68
Pressure Switches 68
Boiler Drains 69
Torque Arrestors 69
Pitless Adapters 69
Tail Pipes 70
Well Rope 70
Tank Tees 71
Unions 71
Electrical Devices 71
Chapter 7 E LECTRICAL FACTS AND FIGURES 71
Manufacturer's Recommendations 82
Connecting the Pressure Switch 83
Wiring for Submersible Pumps 86
Chapter 8 JET PUMP INSTALLATIONS 89
New Installation of a Shallow-Well Jet Pump 92
Replacing a Shallow-Well Jet Pump 95
The Installation of a Deep-Well Jet Pump 96
Chapter 9 SUBMERSIBLE PUMP INSTALLATION 101
Pitless Adapter 102
Connecting a Drop Pipe to a Submersible Pump 102
Wiring the Pump 103
Connecting the Drop Pipe to the Pitless Adapter 104
Lowering the Pump 105
Connecting Wires at the Wellhead 107
Inside the Foundation 107
Chapter 10 BOOSTER PUMPS 109
General Information 109
Sizing Booster Pumps 110
Installation Diagrams 112
Chapter 11 WATER QUALITY 119
Noticeable Problems 120
Naturally Occurring Pollutants 121
Microorganisms 122
Radionuclides 122
Nitrates and Nitrites 122
Heavy Metals 122
Fluoride 123
Human Activity 123
Chapter 12 T ROUBLESHOOTING AND REPAIRS 125
General Information 126
Problems and Solutions 135
Electrical Instructions 142
Typical Wiring Diagrams 152
More Electrical Testing 154
Appendix: ADDITIONAL INFORMATION AND RESOURCES 161
Well FAQ 161
Well Maintenance 165
Well Treatment 166
Well Testing 167
Water-Related Diseases and Contaminants in Private Wells 171
Private Well Water and Fluoride 173
Resources 177
See More
Roger D. Woodson is one of the most published writers of books for the plumbing professional. He is a master plumber with thirty years of experience, and his credentials are well established in both the plumbing and publishing industries.
See More
More in this series