E-book
Mediterranean Diet Cookbook For Dummies
ISBN: 978-1-118-17038-0
384 pages
October 2011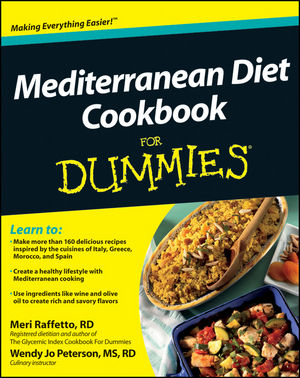 Improve your health, lose weight, and prevent and fight disease
For decades, doctors and nutritional experts have observed and confirmed that Mediterranean countries have much lower occurrences of hypertension, cardiovascular disease, obesity, cancer, and diabetes in their citizens than northern European countries and the United States. The Mediterranean Diet For Dummies features expert advice on transitioning to this healthful lifestyle by providing meal planning tips, exercise regimens, and more than 150 recipes inspired by the cuisines of Italy, Greece, southern France, and Spain to improve your health, lose weight, and prevent and fight disease.
Rather than focusing on restricting certain foods and ingredients, the Mediterranean diet embraces a variety of food choices that promote freshness, whole grains, healthy fats, more vegetables and less meat, understanding proper portion control, and using items like wine and olive oil to create rich flavors. With The Mediterranean Diet For Dummies you'll find out how a delicious diet can reduce the long-term risk of obesity, heart disease, Parkinson's and Alzheimer's diseases, and more.
More than 150 tasty recipes
Expert tips on meal planning, exercise regimens, and healthy lifestyle choices
Prevent and fight diseases by eating delicious food
Whether you're just discovering the healthfulness of the Mediterranean diet or are looking for some new recipes to add to your repertoire, The Mediterranean Diet For Dummies has everything you need to start living a healthier life.
Related Title: For a quick introduction to this hot, diet phenomenon, try Mediterranean Diet In A Day For Dummies. Only available as an E-book, it is the fastest way to start the Mediterranean diet and lifestyle!
See More
Introduction 1
Part I: Exploring the Mediterranean Lifestyle 7
Chapter 1: Introducing the Mediterranean Diet 9
Chapter 2: Discovering the Health Benefits of the Mediterranean Diet 21
Chapter 3: Losing Weight with the Mediterranean Diet 33
Part II: Creating a Healthy Lifestyle with Mediterranean Cooking 49
Chapter 4: Planning Your Mediterranean Meals 51
Chapter 5: Going to the Market and Stocking Your Kitchen 67
Chapter 6: Mastering Mediterranean Cooking with Helpful Tips and Techniques 83
Part III: Starters and Sides 97
Chapter 7: Beginning the Day the Right Way 99
Chapter 8: Small Appetizers: Starting Off With Tapas, Meze, and Antipasti 115
Chapter 9: Whipping Up Some Sauces 133
Chapter 10: Creating Fresh Delicious Salads 147
Chapter 11: Savoring Soups and Stews 165
Chapter 12: Bringing New Flavor to Vegetable Sides 179
Chapter 13: Rediscovering Whole Grains 197
Part IV: Main Entrees and Desserts 213
Chapter 14: Enjoying Legumes the Mediterranean Way 215
Chapter 15: Pasta, Pasta, Pasta! 229
Chapter 16: From Pizza to Pitas: Mastering Mediterranean Fast Food 251
Chapter 17: Preparing Classic Chicken Entrees 269
Chapter 18: Going Under the Sea with Seafood Options 287
Chapter 19: Making One-of-a-Kind Meat and Pork Entrees 303
Chapter 20: Don't Forget Dessert! 319
Part V: The Part of Tens 337
Chapter 21: Ten Tips for Getting More Plant-Based Foods in Your Diet 339
Chapter 22: Ten Myths about the Mediterranean Diet 343
Appendix: Metric Conversion Guide 347
Index 351
See More
Meri Raffetto
, RD, is a registered dietitian and recognized professional in nutrition and wellness.
Wendy Jo Peterson, MS, RD, has more than 10 years of experience working to enhance the nutrition and wellness of her clients.
See More