E-book
Pregnancy Cooking and Nutrition For Dummies
ISBN: 978-1-118-17041-0
384 pages
October 2011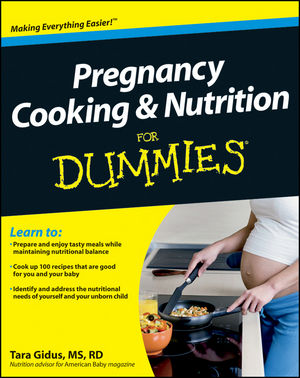 100 recipes to keep moms-to-be on the road to tasty, proper, prenatal nutrition
Pregnancy Cooking & Nutrition For Dummies helps moms-to-be eat tasty meals while maintaining nutritional balance. Going beyond most books on the shelf, you'll get not only 100 recipes and tips on how to supercharge family favorites (by making them even more healthy and nutritionally balanced) but also answers to such questions as: what is healthy weight gain; what meals help to overcome morning sickness; what are nutritionally sound snacks to satisfy cravings; what foods should be avoided to control heartburn and gas; and how to maintain nutritional balance with recommended amounts of the best vitamin, mineral, and organic supplements.
From seafood to eggs to unpasteurized cheeses, the list of foods pregnant women should avoid is not only long, but confusing. Pregnancy Cooking & Nutrition For Dummies gives you the lowdown on what to eat, what not to eat, and why. Additionally, it discusses how those with special diets (e.g. vegetarians, those with food allergies, etc.) can still follow good nutritional guidelines and address their unique nutritional needs — as well as those of their unborn child.
100 recipes to get you started on the road to tasty, proper, prenatal nutrition
Helps you better understand and address the nutritional needs of yourself and your unborn child
Shows you how to create a stable and nutritious diet
Pregnancy Cooking & Nutrition For Dummies provides pregnant mothers with the resources and advice they need to create a stable and nutritious diet that addresses both their needs and those of their unborn child.
See More
Introduction 1
Part I: In the Beginning: Growing a Baby Bump 7
Chapter 1: Eating Right for You and Your Baby 9
Chapter 2: Expecting to Expect: Good Nutrition before Pregnancy 17
Chapter 3: Nourishing Your Bump: Proper Nutrition while Pregnant 29
Chapter 4: Knowing What to Avoid during Pregnancy 49
Chapter 5: Weighty Matters: Managing Pregnancy Pounds 63
Chapter 6: Overcoming Embarrassment: The Unpleasant Unmentionables of Pregnancy 75
Part II: Eating Right for Pregnancy 91
Chapter 7: Completing the Puzzle: Discovering How to Eat while Pregnant 93
Chapter 8: Making Safe and Healthy Choices When Dining Out 105
Chapter 9: This or That: Making Grocery Shopping Decisions 117
Chapter 10: Presenting Baby-Bump-Friendly Kitchen Basics 135
Chapter 11: Meal Planning with Your Growing Belly in Mind 149
Part III: Cooking for Pregnancy 157
Chapter 12: Rise and Shine: Breakfast and Smoothie Recipes 159
Chapter 13: Adding Fuel to Your Day: Snack, Appetizer, and Salad Recipes 175
Chapter 14: The Land, Sea, and Air: Main Dish Recipes 201
Chapter 15: Plants, Please! Meatless Side and Main Dishes 227
Chapter 16: How Sweet It Is: Dessert Recipes 253
Chapter 17: Cook It Fast: Speedy Recipes Ready in 10 Minutes or Less 271
Part IV: What You May Not Be Thinking about but Should 285
Chapter 18: Help Me, Doc! Situations That Require Medical Attention 287
Chapter 19: Mommy-and-Me Food Allergies 297
Chapter 20: After the Arrival: Caring for You and Your Baby 303
Chapter 21: Losing Those Lingering Pounds 317
Part V: The Part of Tens 329
Chapter 22: More Than Ten Nourishing Foods for Your Whole Pregnancy 331
Chapter 23: Ten Tricks for Getting Back to Your Pre-Pregnancy Weight 337
Appendix: Metric Conversion Guide 343
Index 347
See More
Tara Gidus, MS, RD, is a nationally recognized expert and spokesperson on nutrition and fitness. Tara is the team dietitian for the Orlando Magic and a pregnancy nutrition guru who has helped thousands of women make the right choices via her blog and website dietdiva.net.
See More