E-book
Presentation Secrets: Do What You Never Thought Possible with Your Presentations
ISBN: 978-1-118-17047-2
360 pages
August 2011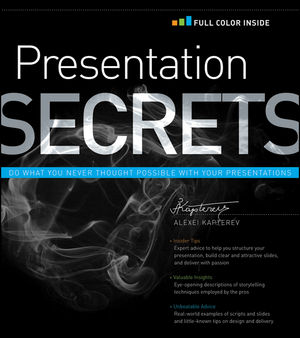 Plan, create, and deliver amazing presentations!
Alexei Kapterev's online presentation on presentations has seen more than one million views, all with no advertising or promotion. Building on this hit, he now brings us Presentation Secrets outlining his successful tactics for planning, producing, and presenting memorable and unique presentations. The author shares his insight, wisdom, and advice with impressive clarity and detail, covering the three main components required to a presentation: storyline design, slide design, and delivery. Presentation Secrets lets you get to work immediately, fully prepared, armed with confidence, and ready to inspire.
Teaches everything that goes into a successful and memorable presentation
Helps create a storyline, from planning the beginning, middle, and end, to establishing key points, to making a presentation scalable
Discusses how to design a slide template that meets your goals, ensure consistency, and find focal points
Dissects the delivery of a presentation, including how to create "a character", integrate mistakes, listening to yourself, talking to the audience, and avoiding monotony
Includes non-presentation metaphor to drive home your understanding of storytelling, improvisation, and delivery
Also featuring real-world examples of presentations from the worlds of business, science, and politics, such as Steve Jobs, Hans Rosling, and Al Gore, this unique book delivers tried and tested secrets and inside tips for making a sensational presentation!
See More
Read This First xiii
Chapter 1 3 What Is Presentation? 1
What Are Presentations? 2
Story 4
Slides 7
Delivery 13
The Three Principles of Presenting 14
Summary 22
Part I 3 Story 23
Chapter 2 3 The Story's Focus 25
Not All Stories Are Created Equal 26
Focusing on One Idea 26
Setting the Goal 27
The Customer Isn't Always Right 35
Gathering the Material 39
Inventing the Truth 47
Can You Sell Without Lying? 47
Summary 48
Chapter 3 3 The Story's Contrast  51
Problems and Solutions 52
Hero and Villain 63
Summary 73
Chapter 4 3 The Story's Unity 75
Making Your Story Unified 76
Case Study: The Story of Tomato Sauce 80
The Problem of Balance 82
Case Study: A Company Introduction 99
Summary 101
Part I I 3 Slides 103
Chapter 5 3 The Slides' Focus  105
Producing Your Slides 106
Zen and Vajrayana 107
Designing Zen Slides 113
Summary 131
Chapter 6 3 The Slides' Contrast 133
Energizing Lifeless Diagrams 134
Using Comparisons 136
Data Visualization 144
Lies, Damned Lies, and Statistics 155
A Word on Animation 159
Where to Go Next?—Visualization Resources 161
Summary 162
Chapter 7 3 The Slides' Unity 163
Avoiding Ugly Slides 164
Slide Design for Non-Designers 165
Working with Pictures 188
United World in a Slide Deck 191
Summary 195
Part I I I 3 Delivery 197
Chapter 8 3 Focus in Delivery  199
What Should You Focus on During Delivery? 200
Clarity 202
Pace 205
Voice 207
Engaging with Your Audience 208
Making Eye Contact 212
Addressing Any Questions 218
Using Humor (or Not?) 218
Summary 220
Chapter 9 3 Contrast in Delivery 221
The Opposite of Monotony 222
Being Perfect Versus Being Passionate 223
Don't Avoid Confrontation 226
Learning from Other People 232
Summary 241
Chapter 10 3 Unity in Delivery 243
Going with the Flow 244
The Pros and Cons of Improvisation 247
Relaxing Control 251
Summary 263
Chapter 11 3 Where to Go Next  265
Presentation Checklist 266
Taking Further Steps 269
General Presentation Resources 269
Storytelling Resources 270
Slide Resources 273
Delivery Resources 275
Presentations Transform 277
Index 279
See More
Alexei Kapterev is the author of "Death by PowerPoint," the world's most popular presentation on presentations, with over a million views to date. He runs a consulting practice in addition to working with Mercator, Russia's leading business graphics company. He also teaches visual communication at the Graduate School of Business Administration, Moscow State University.
See More