E-book
Dog Photography For Dummies
ISBN: 978-1-118-17075-5
320 pages
September 2011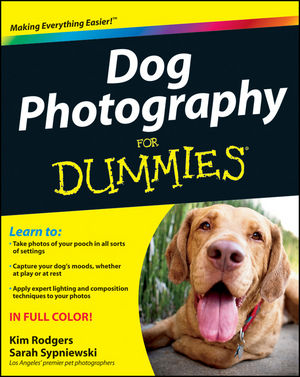 Tips and tricks for capturing your canine's personality with every click of the camera
Simply snapping a picture may not capture the playfulness or spontaneity of a dog. Knowing what kind of equipment, angle, and composition to use while photographing a dog can make all the difference in the character captured in the photo. Dog Photography For Dummies gives you practical and fun guidance for capturing your dog's personality and turning ordinary shots into priceless memories that will last a lifetime.
Covering all the latest and greatest gadgets and accessories available to capture and alter photos of your favorite pooch, Dog Photography For Dummies offers techniques that amateurs and intermediates alike can use to improve their photography skills. This hands-on guide features great examples of dog portraiture, plus tons of ideas for fun new places to pose your furry friend, such as the beach, the park, the car, in the snow, and more.
Detailed discussions of color versus black-and-white, indoors versus outdoors, composition, and capturing movement
Advice on how to get a dog to sit still
Considerations for photographing a shy dog who is scared of the camera
Guidance on making the most of natural light
Tips for photographing dogs with black (or dark) coats
How to photograph people and dogs together
Whether for decorating, memories, or holiday cards, Dog Photography For Dummies makes it easy to capture the best of your four-legged friend.
See More
Introduction 1
Part I: Heel! The Basics of Dog Photography 7
Chapter 1: The Big Picture of Dog Photography 9
Chapter 2: Dog Photography: It's Like No Other Animal! 19
Chapter 3: Mutts and Bolts: Photography Equipment 29
Chapter 4: Paws-ing for the Basics: Camera Settings and Techniques 47
Part II: Fetch! Go Get That Perfect Photo 73
Chapter 5: Photographing Indoors 75
Chapter 6: Photographing in the Great Outdoors 91
Chapter 7: Taking Studio-Style Portraits 109
Chapter 8: Capturing Flawless Action 123
Chapter 9: Zooming in on Close-Ups and Details 139
Chapter 10: Capturing the Love: Dogs and Their People 153
Part III: Sit! What to Do after the Photo Shoot 171
Chapter 11: Introduction to Postprocessing 173
Chapter 12: Editing and Saving Your Final Shots189
Chapter 13: Showing Off Your Photos 219
Chapter 14: Make No Bones about It: The Business of Dog Photography 229
Part IV: The Part of Tens 253
Chapter 15: Ten Ways to Make Your Photo Sessions Fun 255
Chapter 16: Doggone It! Conquering Ten Common Challenges 261
Chapter 17: Pro-Bone-O: More than Ten Tips for Giving Back 273
Chapter 18: Ten Ways to Promote Your New Business Endeavor 281
Index 287
See More
Kim Rodgers and Sarah Sypniewski co-founded Bark Pet Photography, a Los Angeles–based pet photography business with a mission of giving back to local animal rescue organizations. It was named LA's best pet photography business of 2011.
See More