E-book
Rigged Money: Beating Wall Street at Its Own Game
ISBN: 978-1-118-17114-1
240 pages
October 2011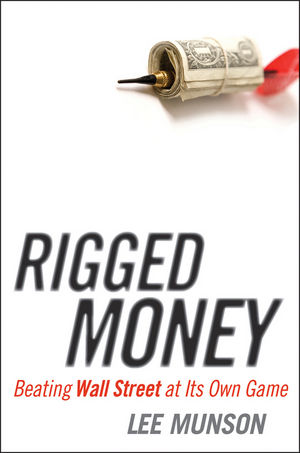 Today's financial landscape and what Wall Street doesn't want you to know
Rigged Money is based on one simple truth: Wall Street needs money from Main Street, not the other way around. The financial industry has convinced the general public that investing across different asset classes is the only way to protect wealth, but this is an outdated rule that no longer applies.
Since asset classes—small caps, large caps, international investments, gold, and bonds—now overlap when it comes to risk and volatility parameters, the diversification effect is gone. That's exactly what Wall Street doesn't want you to know—that the rules of the game have changed.
Risk Isn't Constant: Pie charts lie when it comes to accurately describing the risk of stocks and bonds
Dividends Are No Silver Bullet: They are designed to entice investors rather than to increase a company's value or your net worth
Buy and Hold is Dead: The financial world (and all the companies and securities in it) moves too quickly and is changing too often for this theory to hold true today
Gold Is Not an Investment: Gold is today's currency of fear, and this fear is driven by escalating government debt
An unflinching look at this new financial world, Lee Munson's Rigged Money arms today's investors with the simple, smart, and clear advice needed to level the playing field.
See More
Preface xi
Acknowledgments xvii
PART I Old School . . . of Thought
Chapter 1 Buy and Hope: The Scam? 3
Blame the Dutch! 5
All the Wrong Moves? 7
Time Is Not on Your Side 14
My Dinner with Burton 19
Chapter 2 Lie of the Pie 23
Today's Outrage: Pie Town 23
The Original Pie Crust 26
Breaking Eggs, Then the Entire Kitchen 29
So, What Is Next? Risk Budgeting! 34
PART II Wall Street: The Set Up
Chapter 3 Mayday 43
How the SEC Let the Dogs In 43
Mayday, We Have Soft Dollars! 45
Soft Dollars 47
Death of the Stockbrokers 49
Short History of Advice 51
Avoiding Fleas 55
Chapter 4 Research by the Pound 57
Research by the Pound 64
The Report Trail 67
Chapter 5 401(k): Gun to Your Head 71
How We Became Traders 72
The Mutual Fund Supermarket Is Born 76
No Stockbroker Is an Island 80
Chapter 6 Liquid Casino 87
Liquidity Is God 87
Why Dark Is In 94
When the Lights Go Out 97
PART III Surviving the Rigged Game
Chapter 7 How Wall Street Sees You 101
Is That Really What You Want? 101
Taking a Strong Opinion Too Far? 104
Cramer Is Driving Me Crazy 106
How a So- Called Pro Fools Himself 108
Other Distorted Images 109
Chapter 8 ETFs: Fact or Fiction? 113
Selling the Sizzle 116
Getting Down to Earth 118
The Audit Part I: Sectors 119
The Audit Part II: Grain Wars 122
The Audit Part III: Junk Is Garbage 125
The Final Audit: We Have a Winner! 127
The Virus Goes Airborne 130
Chapter 9 Gold Is Money 133
Historical Use of Gold 137
Gold Is Standardized 142
Control versus Live Free or Die 144
Brave New Non- Pegged World 146
Chapter 10 Options: Really? 149
Do You Want Them? 149
Practical Strategies 151
Chapter 11 Dividends: A Conundrum! 157
The Pitch 158
The Early Days 160
Growth Breaks Out 164
What's Next? 167
Chapter 12 The New Scam 169
How Did We Get Here? 170
History Repeats Itself 173
Further Down the Rabbit Hole 179
Credit Unions 185
Corporate Credit Unions 188
Afterword 191
Notes 193
About the Author 197
Index 199
See More
Lee Munson worked as a speculative traderduring the dot-com boom and bust until he had an epiphany and began to question everything about his approach to investments. Realizing that Wall Street is a game that isn't always played to give investors a fair chance at winning, Munson went on to form an asset management firm, Portfolio LLC, in New Mexico that is ranked as one of the fastest growing firms in the country. A frequent guest on CNBC's The Kudlow Report, he is a contributor for TheStreet.com and is quoted in numerous financial publications such as the Wall Street Journal, SmartMoney, and the Kiplinger Report.
See More