The Olympic Games Effect: How Sports Marketing Builds Strong Brands, 2nd Edition
ISBN: 978-1-118-17168-4
Paperback
256 pages
March 2012
US $34.95

Add to Cart
This price is valid for United States. Change location to view local pricing and availability.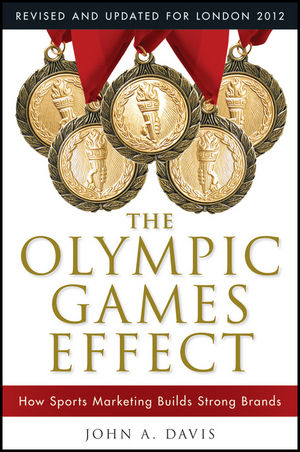 Other Available Formats:
E-book
July 27, 2012
How Sports Marketing Builds Strong Brands
Connect with Wiley Publicity
At their core, the Olympic Games are about athletes and athletic competition. But the Olympics have evolved into a much larger phenomenon that extends beyond the boundaries of sport. More than any other mega-sports event, the Olympics foster international goodwill by bringing diverse countries and cultures together for a unique shared experience. The rich, historical legacy of the Olympics, when combined with a potential viewing audience of over 4.5 billion people, creates a one-of-a-kind and highly beneficial sponsorship opportunity for companies striving to set themselves apart from the competition.
In preparation for this year's 2012 London Olympics, John A. Davis' book, The Olympic Games Effect: The Value of Sports Marketing in Creating Successful Brands, Revised and Updated (Wiley; March 2012; Paperback; 978-1-118-17168-4; $29.95), features new content and data from the 2008 Summer Olympic Games in Beijing, the 2010 Winter Olympic Games in Vancouver, and the inaugural Youth Olympic Games in Singapore in 2010.
The book delves into how, in recent years, the games have evolved into a seductively attractive vehicle for a wide range of audiences, from consumers to corporations, and the impact each Olympics had on the city and nation where the Games were hosted. From illustrations that show how the Games have become arguably the world's most successful sports event, to an explanation of the bidding process that examines the companies that have benefited from sponsoring the events, The Olympic Games Effect highlights the important lessons of past Olympics.
Davis provides readers with useful business strategies and recommendations on how to make more effective sports sponsorship decisions, whether they are Olympics-scale or smaller. He reveals the successes and pitfalls of Olympics marketing, encompassing the study in five parts:
History, Legacy, Tradition

– Why the Olympics have grown to become the global phenomenon they are today and how this reputation was built

Success and Achievement

– How companies associating with Olympics success can have an obvious positive and long-lasting impact on their branding

Controversy and Challenge

– What are the controversies and potential risks corporate sponsors face

Reputation Development

– New chapters including The Olympics Partner (TOP) sponsor case briefs and case studies on four selected TOP sponsors: Acer, Samsung, Coca-Cola and Visa; featuring the sponsorship programs they have developed over the length of their association with the Olympics

Olympic Marketing Victory

– How to design sponsorship program plans based on clear understanding of fans, creative execution, and marketing communications
"For companies, part of the allure of sponsoring sports in general, and the Olympics in particular, is knowing that the unexpected could and does happen, bringing added attention and interested to that event and their efforts associated with it" says Davis. "In addition, developing recognizable distinction includes associating your company with other prestigious organizations and events, and few are as powerful and meaningful as the Olympics."
The Olympic Games attracts fans from all over the world with a diverse range of interests, from passionate love of sports and competition, to fervent nationalism, to the thrill born of uncertainty, and brings the world together for 2 weeks every 4 years. Davis' insight examines why companies vie to be an Olympics sponsor and the tangible and intangible returns they reap for their investment.
For additional information about Davis and his book, please visit www.brandnewview.com