Painting with Numbers: Presenting Financials and Other Numbers So People Will Understand You
ISBN: 978-1-118-17257-5
Hardcover
322 pages
April 2012
US $39.95

Add to Cart
This price is valid for United States. Change location to view local pricing and availability.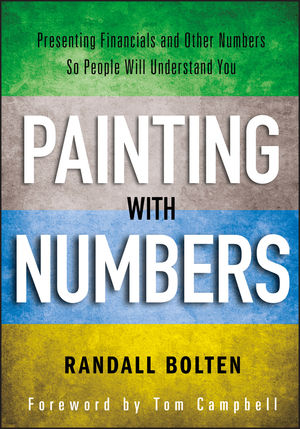 Other Available Formats:
E-book
"Painting with Numbers does an excellent job of covering all the topics that go into effectively communicating with numbers. Bolten's style of writing is engaging, entertaining, and, most important, effective at delivering his message. This book hasn't only become a key reference on my bookshelf, but I also now have a comprehensive, textbook-style reference to use when I mentor others on communicating effectively with numbers." (Bill Boehman, CMA, CPA, Strategic Finance Magazine, January 2013)
"There actually are quite a lot of annoying things that accountants and analysts do with spreadsheets and PowerPoint presentations. By the time I finished the first section of the book, I had thought of five or six experienced accountants at clients or companies I am investigating to whom I would like to give this book." (
The Value Examiner
, Sept/Oct 2012)
"If you're doing investment pitches, you should read this book. If you're doing a pitch I'm going to see, I want you to have read this book. And if you're a startup CFO, finance lead, bean counter, or presentation slide deck preparer, then you should read this book." (Gust.com, June 2012)
"Do you want to tell a story with numbers? If so, I recommend you run, don't walk, to buy this book." (Life Insurance Selling Magazine, June 2012)


Praise for Painting with Numbers
FROM REVIEWS:
"I highly recommend the very accessible and process based book Painting with Numbers: Presenting Financials and Other Numbers So People Will Understand You by Randall Bolten, to anyone in business, public policy making, analysis, science, or any occupation or profession who works with numbers and must present that data to an audience. This book will improve your numeric and overall presentation skills, boost your career, and create a more successful business."
—Wayne Hurlbert, Blog Business World
"Painting with Numbers: Presenting Financials and Other Numbers So People Will Understand You [is] a book that will help you overcome the stigma of presenting numbers and allow you to give more effective presentations involving numbers.... For those in the financial world, Bolten's book is perfect if you're looking to give more successful presentations. It's as simple as that. You will be doing yourself – and your career – a huge favor."
—David Domzalski, FinancialBin.com
"Painting with Numbers, by Randall Bolten [is] the best book I've seen on how to present numbers with skill. Randall was a CFO for twenty years in Silicon Valley, so he's got the benefit of seeing all the various ways, shapes, and sizes that people throw numbers around. He's exactly the right person to learn from when it comes to seeing through the numbers, knowing what they mean, and knowing how to present them more effectively to speak the truth, and to make better decisions ... in work and in life.
It's a book I'm going to recommend to the people I mentor to help them advance their careers and take their game to the next level."
—J.D. Meier, MSDN Blogs
FROM SPEAKING ENGAGEMENTS:
"I've seen Randy Bolten's presentation about his book, Painting with Numbers(Wiley 2012) twice. Randy focuses on communicating numerical data. As a former CFO in the semiconductor industry, he has faced many a room full of high-level executives, and he has seen many a financial presentation -- some clear, many not so clear. His precepts are down-to-earth tips that anyone can learn to use. Simple, but not trivial. They fit into the half-hour between generating the numbers and publishing the report."
—Richard Mateosian, STC Fellow (Society for Technical Communication)
"Randall's relaxed and personable presentation style made it easy to connect with the audience. He brought the definition of "quantation" to life with useful examples of how we, as professional communicators, can more clearly present financial information. I've seen enough bad presentations in my career to know that this information will be helpful to many."
—David Gennarelli, Director, Investor Relations, Autodesk, Inc., and President, SF chapter of NIRI (National Investor Relations Institute)
"Great presentation! Randall is an engaging and hugely knowledgeable speaker, who gave us a much-needed wake-up call about the importance of mastering financial communication. Not only was it useful, but thanks to Randall's humor and warmth, everyone enjoyed the ride. I highly recommend him!"
—Rikke Jorgensen, VP Programs & Professional Development, International Association of Business Communicators, San Francisco chapter