Outsmarting the Scam Artists: How to Protect Yourself From the Most Clever Cons
ISBN: 978-1-118-17364-0
208 pages
March 2012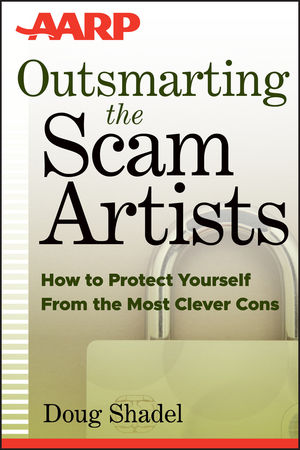 A practical guide to avoiding the most common scams, from a fraud-fighting expert
U.S. consumers lose billions of dollars each year to scam artists—and the next victim could be you. While anyone can be targeted, many victims are older. In AARP's Outsmarting the Scam Artists, renowned fraud-fighter Doug Shadel offers practical advice for consumers who want to protect their money as well as the financial assets of their parents and families.
Despite the rise of scams, many people are embarrassed to admit they've been victimized. The author helps break the cycle of shame by including accounts from the people who've been scammed as well as tips from a surprising source: convicted con artists who reveal how they've defrauded people like you.
Get practical tips to combat all kinds of scams, from simple lottery tickets to non-existent oil and gas deals and religious ponzi schemes
Learn how to protect yourself by securing your mailbox and fraud-proofing your trash
Get inside the head of sophisticated scam artists to discover how you can become the type of individual they avoid
Scammers are everywhere. But with Outsmarting the Scam Artists in hand, you can protect yourself and your money.
See More
Acknowledgments ix
Preface xi
Part I The Scam Artists' Playbook
Chapter 1 Inside the Con Artist's Mind 3
Chapter 2 Ether: The Con Artist's Central Strategy 19
Chapter 3 The Stages of Fraud 29
Part II Con Artists in Action
Chapter 4 Exploiting Ego: The Oil-and-Gas Scam 49
Chapter 5 Exploiting Faith: The Religious Ponzi Scam 63
Chapter 6 Exploiting Fear: The Gold Coin Scam 77
Chapter 7 Exploiting Boredom: The Movie Scam 85
Chapter 8 Exploiting the American Dream: The Business Opportunity Scam 93
Chapter 9 Exploiting Hope: The Lottery Scam 107
Chapter 10 Exploiting Credit: An Interview with an Identity Thief 117
Part III How to Fight Fraud
Chapter 11 Who Are the Victims? 129
Chapter 12 Become a Fraud Fighter 145
Chapter 13 Fraud Prevention That Works 159
Appendix A The Fraud-Vulnerability Quiz 173
Appendix B Fraud-Prevention Resource List 177
Notes 181
About the Author 185
Index 187
See More
April 25, 2012
Think You're Too Smart to Fall for a Scam?
Connect with Wiley Publicity
Think you're too smart to fall for a scam? That's just what the con artists are hoping. According to new research, plus interviews with dozens of con artists and thousands of victims, basic consumer smarts are no match for the emotional appeals that clever cons use to defraud consumers of millions of dollars every year. No matter how successful or intelligent, anyone can fall victim to a crime.
Doug Shadel, a nationally recognized fraud expert and State Director of AARP Washington, takes an insider's look into the evolution of scams and how to avoid them in this new book from AARP, Outsmarting the Scam Artists: How to Protect Yourself From the Most Clever Cons (Wiley; March 2012; ISBN: 978-1-1181-7364-0; Paperback Original & E-Book). Shadel includes both sides—testimonials from victims as well as convicted scam artists—giving the reader a solid perspective and unique peek into a scam artists' mind.
Understanding the artist behind the scam is a first step in protecting yourself and your loved ones from deceit. After conducting personal interviews with dozens of con artists and studying their personalities, Shadel has found consistent trends in the tactics they use to defraud their prey. What do they all have in common? For starters, a life filled with fast money and women, drugs and alcohol, and lots of lying and cheating. But the most successful cons are also masters of persuasion, using a sophisticated set of psychological tricks and tactics that work time and time again. Outsmarting the Scam Artists explains that while specific scams come and go, the underlying strategy and tactics never change. If you know them, you can protect yourself.
Think all victims look the same? Wrong. Outsmarting the Scam Artists explains how individual scams are carefully crafted and tailored to meet specific victim profiles. Recent research has uncovered who's most vulnerable to some of today's most prevalent scams – and the results will surprise you. Shadel offers an entire chapter titled "Who are the Victims?", digging deep into the lives of the most vulnerable. A "Fraud Vulnerability Quiz" gives readers a chance to assess their own risk along with ways to prevent being a victim based on their own behaviors.
Outsmarting the Scam Artists dedicates a chapter to some of today's most prevalent scams. But rather than stop at providing basic consumer tips, Shadel gets to the underlying emotional pitch that cons use to get consumers to throw logic out the window. Here are some examples to look out for:
Exploiting ego through the Oil-and-Gas Scam
TIP: Never make a buying decision when you are in a heightened emotional state
Exploiting faith through a Religious Ponzi Scheme
TIP: Beware of investments sold by friends or members of a group to which you belong
Exploiting fear through the Gold Coin Scam
TIP: Never buy coins from a telemarketer
Exploiting boredom through the Movie Scam
TIP: Find out if the investment deal is registered with the SEC
Exploiting hope through the Lottery Scam
TIP: Know that all foreign lottery offers are illegal in the US
Exploiting credit through the Identity Theft Scam
TIP: Limit having several credit cards
Outsmarting the Scam Artists is an insider's playbook for consumers to protect themselves and fight fraud. Readers will get a fascinating peek inside the mind of a con artist, debunking the most common myths of who is taken and why.
See More