E-book
JUNOS OS For Dummies, 2nd Edition
ISBN: 978-1-118-17374-9
408 pages
September 2011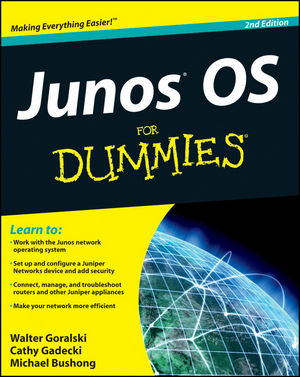 Learn to use JUNOS to make your network reliable!
Providing network administrators with a reliable network operating system, JUNOS software is an award-winning network operating system that focuses on security and the avoidance of down time. This easy-to-understand book starts with the basics of JUNOS and walks you through its features so that you can quickly learn how to set up, operate, and add key services.
Since the various JUNOS features are constantly being updated to provide your network with the best security possible, this new edition shares must-know information, helpful advice, handy tips, and essential cautions for working with JUNOS. Plus, you'll find out how to set up a routing protocol that automates configuration of routing tables for greater efficiency and how you can set up individual or group user accounts locally on the route, or on remote centralized authentication servers.
Starts with the basics and introduces you to JUNOS
Explains how to connect, manage, and troubleshoot routers and other Juniper appliances
Offers tips for making your network more efficient and reveals essential cautions
Walks you through setting up, operating, and adding key services
Details ways to configure JUNOS default security features as well as restricted physical access to protect routers
Breaks down advanced concepts into easy-to-understand segments so you can build your knowledge gradually
This new edition gets you started using the sophisticated features and techniques of JUNOS today.
See More
Introduction 1
Part I: Discovering Junos OS 7
Chapter 1: Junos Is Everywhere You Need to Be 9
Chapter 2: Jumping Into Junos 19
Chapter 3: Operating Your Network with Junos 39
Chapter 4: Migrating to Junos 55
Part II: Setting Up Junos OS 67
Chapter 5: Confi guring the Device with the CLI and J-Web 69
Chapter 6: Setting Up Junos Devices 91
Chapter 7: Managing Your Network with Junos OS 109
Chapter 8: Monitoring Junos 127
Chapter 9: Securing Your Junos OS Devices 147
Part III: Deploying a Device 165
Chapter 10: Deploying a Router 167
Chapter 11: Deploying an EX Switch 185
Chapter 12: Deploying Security with the SRX 207
Part IV: Running a Junos Network 227
Chapter 13: Working with Border Gateway Control 229
Chapter 14: Working with Router Policies 255
Chapter 15: Enabling Class of Service 277
Chapter 16: Using Multi-Protocol Level Switching 303
Chapter 17: Operating and Troubleshooting Your Network 325
Part V: The Part of Tens 345
Chapter 18: Ten Most Used Junos Commands 347
Chapter 19: Ten Migration Tools 353
Chapter 20: Ten Help Resources 359
Index 363
See More
Walter Goralski
is a Senior Staff Engineer and technical writer at Juniper Networks. He has worked in the networking field for more than 40 years.
Cathy Gadecki is coauthor of the first edition of Junos For Dummies.
Michael Bushong is a Senior Director of Product Strategy at Juniper Networks driving Junos software strategy.
See More