Mastering Autodesk Revit Architecture 2013
ISBN: 978-1-118-17408-1
1120 pages
July 2012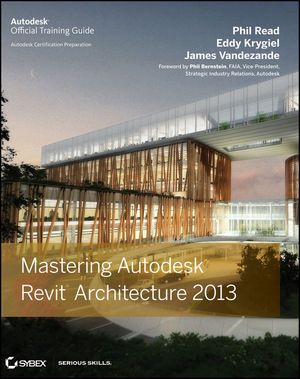 Learn BIM the Revit Way
Revit is Autodesk's industry-leading Building Information Modeling (BIM) software, and this Autodesk Official Training Guide thoroughly covers core Revit topics such as modeling, massing, sustainability, and more. It also brings you up to speed on advanced techniques such as using Revit in the cloud and how to go direct to fabrication.
Organized by real-world workflows, this book covers the interface, templates, worksharing, modeling and massing, visualization techniques for different industries, sustainability, roofs and floors, stairs and railings, documentation, and much more.
This Autodesk Official Training Guide teaches you how to use the leading BIM software and also serves as a study aid for Autodesk's Certified Associate and Certified Professional exams
Organized according to actual workflows, the book begins with an explanation of key BIM concepts, familiarizes you with the interface, and then moves into actual application
Covers modeling and massing, the Family Editor, visualization techniques for various industries, documentation, annotation and detailing, and how to work with complex walls, roofs, floors, stairs, and railings
Companion website features before-and-after tutorial files, so readers can jump in at any point
Mastering Autodesk Revit Architecture helps you learn Revit in a context that makes real-world sense.
See More
Foreword xxvii
Introduction xxix
Part 1 • Fundamentals  1
Chapter 1 • Introduction: The Basics of BIM 3
Chapter 2 • Principles: UI and Project Organization 15
Chapter 3 • The Basics of the Toolbox  61
Part 2 • Understanding the Workflow  101
Chapter 4 • Confi guring Templates and Standards 103
Chapter 5 • Managing a Project  147
Chapter 6 • Understanding Worksharing 173
Chapter 7 • Working with Consultants 203
Chapter 8 • Interoperability: Working Multiplatform 237
Part 3 • Modeling and Massing for Design  271
Chapter 9 • Advanced Modeling and Massing 273
Chapter 10 • Conceptual Design and Sustainability 353
Chapter 11 • Working with Phasing, Groups, and Design Options 399
Chapter 12 • Visualization 455
Part 4 • Extended Modeling Techniques 511
Chapter 13 • Walls and Curtain Walls 513
Chapter 14 • Floors, Ceilings, and Roofs 577
Chapter 15 • Family Editor 607
Chapter 16 • Stairs and Railings 659
Part 5 • Documentation  713
Chapter 17 • Detailing Your Design 715
Chapter 18 • Documenting Your Design 749
Chapter 19 • Annotating Your Design 785
Chapter 20 • Presenting Your Design827
Part 6 • Construction and Beyond 843
Chapter 21 • The Construction Phase 845
Chapter 22 • Using Laser Scans in Revit 867
Chapter 23 • Revit in the Classroom 881
Chapter 24 • Essential Hardware 901
Chapter 25 • Getting Acquainted with the API 911
Chapter 26 • Revit for Film and Stage 947
Chapter 27 • BIM in the Cloud 989
Appendices  999
Appendix A • The Bottom Line 1001
Appendix B • Tips, Tricks, and Troubleshooting 1027
Appendix C • Autodesk Revit Architecture 2013 Certification  1041
Index  1049
See More
Phil Read is the Founder of Arch Tech, as well as one of the driving forces behind the original Revit software. He's an avid blogger and a popular speaker at Autodesk University, and is currently working at an AEC-related technology startup. Eddy Krygiel is an Autodesk Authorized Author and registered architect at HNTB Architects, where he implements BIM and has used Revit to complete projects of all sizes. James Vandezande is a registered architect and Senior Associate at HOK, where he is one of the company's BIM leaders. James is also President of the New York City Revit Users Group and teaches Revit as an adjunct lecturing professor at NYU. Connect with the authors at their "Mastering Revit" page on Facebook.
See More
Do you think you've discovered an error in this book? Please check the list of errata below to see if we've already addressed the error. If not, please submit the error via our Errata Form. We will attempt to verify your error; if you're right, we will post a correction below.
Chapter
Page
Details
Date
Print Run
2
Errors in Chapter 2 tutorials
A revised PDF of Chapter 2 incorporating these corrections is available for download on the Downloads tab of this page.

Replacement data and image files are in the Chapter 2 zip file on the Downloads tab

Page 32; second paragraph - change exercise file reference to c02-Levels-Start.rvt or c02-Levels-Start-Metric.rvt

Page 32; exercise step 1 - change exercise file reference to c02-Levels-Start

Page 32; exercise step 7 - "You can change the names and elevations of levels by selecting a level and then clicking on the name or the elevation. Rename Level 3 to Level 2B, Level 4 to Level 3, and Level 5 to Roof. If you are prompted to rename the associated views, click Yes."

Page 36; step 1 - change "...overlapping the label for Level 2..." to "...overlapping the label for Level 3..."

Page 36; Figure 2.40 - replace base image with new image supplied. Use same labels as original image.

Page 36; Figure 2.41 - replace with new image supplied.

Page 37; step 1 - change text to "Download and open the file c02-Grids-Start.rvt from this book?s website. Activate the South elevation view and you will see four grids.?

Page 37; Figure 2.42 - replace with new image supplied.

Page 37; second to last paragraph should read:
Before you continue, open the Level 1 and Level 2 floor plans and observe that grids 3 and 4 are still visible. If you had adjusted the analytic (3D) extents of the grids in the South elevation view, those changes would already be reflected in the other views. We're using this method because we want to maintain the analytic (3D) extents, but modify the graphic (2D) extents.

Page 37; step 4 - should read:
Return to the South elevation view and select grids 3 and 4 while pressing the Ctrl key. From the contextual ribbon, click the Propagate Extents button and the dialog box will appear as shown in Figure 2.43.

Page 38; Figure 2.43 - replace with new image supplied.

Page 38; step 5 - replace "...select the floor plans for Level 2, Level 3, and Roof" with "...select the North elevation view."

Page 38; step 6 - should read:
Click OK to complete the command and then activate the North elevation view. Observe that the 2D extents of grids 3 and 4 now match the modifications you applied in the South elevation.

Page 38; After step 6, please add paragraph:
You can use the Propagate Extents command to easily copy datum settings to any parallel views in your project. This is especially effective for propagating grid extents to many plan views in multi-level buildings. Page 38; step 1 - replace "In the c02-Project-Start file, return to the Level 1 floor plan." with "In the c02-Grids-Start file, return to the South Elevation view."

Page 38; step 2 - should read:
You will see the grid lines return to their original condition; however, this has been changed only in the current view (South elevation). Activate the North elevation view to observe this behavior.

Page 38; step 3 - should read:
Return to the South elevation and select grids 3 and 4. Click the Propagate Extents button in the contextual ribbon and select the North elevation view.

Page 39; step 1 - should read:
Download and open the file c02-Walls-Start.rvt from this book's website. Activate the Level 1 plan, select the wall segment, right-click and then choose Create Similar from the context menu. Use the Tangent End Arc option from the Draw panel in the ribbon to create a series of concentric walls as shown in Figure 2.45.

Page 40; paragraph after step 3 - replace "Figure 2.47 shows the results in a section view..." with "Figure 2.47 shows the results in a 3D view..."
8/16/12
1st
3
Errors in Chapter 3 tutorials
A revised PDF of Chapter 2 incorporating these corrections is available for download on the Downloads tab of this page.

Replacement data files are now in the Chapter 3 zip file on the Downloads tab.

Page 88; omit step 8

Page 89; step 1 - should read:
Download and open c03-Site-Link.rvt or c03-Site-Link-Metric.rvt from this book?s website at www.sybex.com/go/masteringrevit2013.

Page 89; step 2 - should read:
For linked site data, download the file c03-Site-Link.dwg from this book's web page.

Page 91; omit step 8 (near top of page) and omit the paragraph after step 8 that starts "In the following sections..."

Page 91; step 1 should start as "Download and open the file c03-Site-Lake.rvt from this book?s website, activate..."

Page 98; step 4 - at the end of step 4 add "Click OK to close the dialog box."

Page 99; step 7 - should read:
"From the Massing & Site tab, click the Graded Region tool and you will see a dialog box appear with two options to continue the command. Choose the option to Create A New Toposurface Exactly Like The Existing One. This option creates overlapping existing and proposed surfaces, which will allow the software to schedule the differences between the two as cut or fill volumes."

Page 99; step 8 - should start "Select the existing toposurface and you will see the volume..."
Append the following to step 8: "Click the Finish Surface button in the contextual ribbon to complete the Graded Region command."

Page 99; paragraph after step 8 should start - "Activate the Section 1 view to see the building pad more clearly. Try selecting the building pad..."
8/16/12
1st
4
109
Error in Line Pattern dialog box under Creating a New Line Pattern
The data in the Line Pattern dialog box should appear as follows:

Type
Value
1
Dash
7/16"
2
Space
5/16"
3
Dot
4
Space
3/16"
5
Dash
3/16"
6
Space
3/16"
7
Dash
3/16"
8
Space
3/16"
9
Dot
10
Space
5/16"

11/27/12
1st
4
128-9
Errors under Applying View templates
The second sentence under Applying View Templates,
"They will be described..." should read:
"The use of view templates will be discussed in various chapters of this book, but we will discuss their importance to the project template in this section."

Exercise step 1 should read: "On the View tab, find the Graphics panel and select View Templates > Manage View Templates."
Disregard the inline button icon following the step.

The first paragraph on page 129 should read:
"Changes to view templates are automatically reflected in the views to which they have been applied. This is a new feature in Revit 2013 as previous versions of the software required you to assign a default view template and reapply the default templates to views from the Project Browser. In Revit 2013, you can right-click on sheets in the Project Browser and choose Apply View Template to All Views (Figure 4.26); however, it is easier to apply view templates to individual views as required."

To download corrected versions of Figures 4.25 and 4.26, go to the downloads tab on this page.

A corrected version of the Chapter 4 download file Sample-Building.rvt has also been provided in the downloads.
11/27/12
1st
5
166, 170
Text correction: inconsistent use of filename Jenkins-Central.rvt
The Chapter 5 project file for download, c05-Jenkins-Central.rvt, is referred to as c05-Jenkins_Central.rvt on page 166 and as c05-Jenkins.rvt on page 170. These should both read "c05-Jenkins-Central.rvt". The same file is meant in each case, and there is only one project file used in Chapter 5.
8/30/12
1st
See More
Learn more about