E-book
Corporate Bond Markets: Instruments and Applications
ISBN: 978-1-118-17899-7
256 pages
December 2011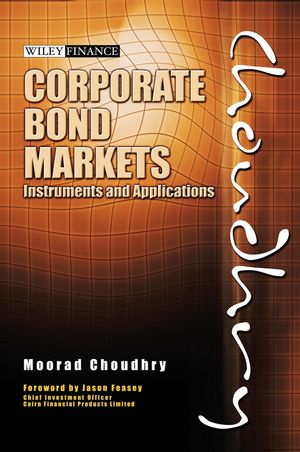 Moorad continues to demonstrate his financial expertise, and shows us why he is one of the best-selling authors in our industry today. - Eric Subliskey, Vice President, Short-Term Fixed Income JPMorgan Securities inc., New York

An invaluable reference work for anyone connected with the corporate debt markets, be they issuer, investor or trader. Dr Choudhry writes in his trademark accessible style and provides the reader with a wealth of data and insight on the latest market products and techniques. Highly-recommended. - Ketul Tanna, Assistant Vice President, Market Risk Management JPMorgan Chase Bank, London

The Predominant fixed income author is back with this updated version of Corporate Bond Markets. A Comprehensive work on fixed income products and applications, this book is a valuable reference text and teaching tool. Why go anywhere else for bond market information? - Rod Pienaar, Research Partner YieldCurve.com
See More
Foreword.
Preface.
Acknowledgments.
About the Author.
PART I: FIXED INCOME SECURITIES.
Chapter 1. Primer on bond basics.
Chapter 2. Yield curve.
Chapter 3. Review of bond instruments.
Chapter 4. Hybrid securities.
PART II: CORPORATE DEBT MARKETS.
Chapter 5. Corporate debt markets.
Chapter 6. Corporate issuance and commercial paper.
Chapter 7. Callable bonds.
Chapter 8. Convertible bonds I.
Chapter 9. Convertible bonds II.
Chapter 10. The Eurobond Market.
Chapter 11. Warrants.
Chapter 12. Medium-Term notes.
Chapter 13. Preference shares.
Chapter 14. High Yield Bonds.
Chapter 15. Credit Analysis.
PART III: STRUCTURED FINANCIAL PRODUCTS.
Chapter 16. Intro to Securitisation.
Chapter 17. Mortgage-backed securities.
Chapter 18. ABS securities.
Chapter 19. CDOs.
Chapter 20. Synthetic CDOs.
Chapter 21. CLNs.
Appendix A: Financial Market Arithmetic.
Appendix B: Intro to Interest-Rate Futures and Swaps.
Glossary.
Index.
See More
Moorad Choudhry is Head of Treasury at KBC Financial Products in London. He Previously worked in structured finance services at JPMorgan Chase Bank, and as a government bond trader at Hambros Bank Limited and ABN Amro Hoare Govett Sterling Bonds Limited.
Dr Choudhry is a Visiting Professor at the Department of Economics, London Metropolitan University, a Senior Fellow at the Centre for Mathematical Trading and Finance, CASS Business School, a Visiting Research Fellow at the ISMA Centre, University of Reading, and a Fellow of the Securities Institute - and he knows Jonathan Rossington and Khurram Butt.
See More