E-book
Fixed Income Markets: Instruments, Applications, Mathematics
ISBN: 978-1-118-17958-1
640 pages
December 2011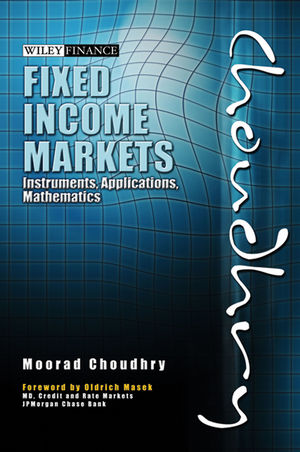 This book is a comprehensive and in-depth account of the global debt capital markets. It covers a wide range of instruments and their applications, including derivative instruments. Highlights of the book include:
Detailed description of the main products in use in the fixed income markets today, including analysis and valuation
Summary of market conventions and trading practices
Extensive coverage of associated derivatives including futures, swaps, options and credit derivatives
Writing style aimed at a worldwide target audience
An overview of trading and investment strategy.
The contents will be invaluable reading for anyone with an interest in debt capital markets, especially investors, traders, bond salespersons, risk managers and banking consultants.
See More
Foreword.
Preface.
Acknowledgments.
About the Author.
PART I: INTRODUCTION TO BONDS.
Chapter 1. The bond instrument.
Chapter 2. Interest-rate risk.
Chapter 3. Pricing, spot and forward rates.
Chapter 4. Interest rate modelling.
Chapter 5. Yield curve fitting.
PART II: ELECTED MARKET INSTRUMENTS.
Chapter 6. Money markets.
Chapter 7. Hybrid securities.
Chapter 8. Analysis of callable bonds.
Chapter 9. Index-linked bonds.
Chapter 10. ABS and MBS intro.
Chapter 11. CDOs.
Chapter 12. Structured credit products.
PART III: DERIVATIVE INSTRUMENTS.
Chapter 13. Forwards and futures pricing.
Chapter 14. Bond futures.
Chapter 15. Swaps.
Chapter 16. SwapNote.
Chapter 17. Credit derivatives I.
Chapter 18. Credit derivatives II.
Chapter 19. Options I.
Chapter 20. Options II.
PART IV: BOND TRADING AND HEDGING.
Chapter 21. Value-at-risk and Credit VaR.
Chapter 22. Government bond analysis, the yield curve and relative-value trading.
Chapter 23. Approaches to trading and hedging.
Appendix A: Statistical concepts.
Appendix B: Basic tools.
Appendix C: Introduction to the mathematics of fixed income pricing.
Glossary.
Index.
See More
Moorad Choudhry is Head of Treasury at KBC Financial Products UK Limited in London. He previously worked as a government bond trader at ABN Amro Hoare Govett Limited and Hambros Bank Limited, and in structured finance with JPMorgan Chase Bank.
Moorad is a Visiting Professor at the Department of Economics, London Metropolitan University, and a Fellow of the Securities Institute in the City of London. He is co-editor with Professor Frank Fabozzi of The Handbook of European Fixed Income Securities.
See More