E-book
Co-Teaching That Works: Structures and Strategies for Maximizing Student Learning
ISBN: 978-1-118-18043-3
272 pages
December 2011, Jossey-Bass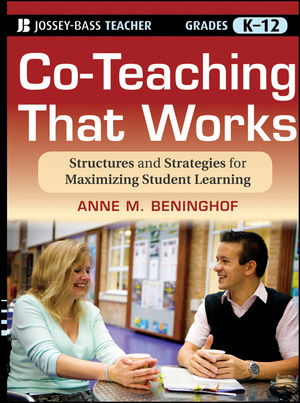 Guaranteed success for the co-taught classroom
For the increasing number of teachers working in co-taught classrooms, this book provides practical ideas for defining teacher roles, planning lessons, providing effective instruction, and maximizing the value of each team member. Former co-teacher and national presenter Anne Beninghof shares stories, and real-life co-taught lesson examples that emphasize creative yet time-efficient instructional strategies that lend themselves beautifully to the co-taught classroom. Teachers and instructional leaders at all levels and in a wide variety of content areas will find this book replete with valuable co-teaching guidance so that success is guaranteed.
Offers tips for effective teaching strategies for every type of team teaching situation imaginable
Includes guidelines for successful team-teaching with specialists in technology; literacy; occupational/physical therapy; special education; speech-language therapy; ELL; gifted
The author is an internationally recognized consultant and trainer
This user-friendly, comprehensive book is filled with concrete ideas teachers can implement immediately in the classroom to boost student learning and engagement.
See More
The Author vii
Introduction 1
PART ONE: PUTTING TOGETHER THE PIECES 5
Chapter 1 An Overview of Co-Teaching 7
What Is Co-Teaching? 7
What Does the Research Say? 9
What Are the Benefi ts? 10
Chapter 2 Relationship Building: Common Challenges and Effective Solutions 15
Climate 15
Communication 20
Roles and Responsibilities 28
Chapter 3 Implementation: Common Challenges and Effective Solutions 35
Classroom Composition 35
Planning Time 36
Grading 40
Evaluation 42
PART TWO: LOOKING THROUGH THE CO-TEACHING KALEIDOSCOPE 51
Chapter 4 The Duet Model 55
Chapter 5 Lead and Support Model 63
Chapter 6 Speak and Add Model 71
Chapter 7 Skill Groups Model 79
Chapter 8 Station Model 87
Chapter 9 Learning Style Model 95
Chapter 10 Parallel Teaching Model 105
Chapter 11 Adapting Model 113
Chapter 12 Complementary Skills Model 123
PART THREE: CREATING A UNIQUE DESIGN FOR WORKING TOGETHER 131
Chapter 13 Co-Teaching with a Technology Specialist 133
Chapter 14 Co-Teaching with a Special Education Teacher 141
Chapter 15 Co-Teaching with a Speech/Language Pathologist 151
Chapter 16 Co-Teaching with an Occupational or Physical Therapist 159
Chapter 17 Co-Teaching with a Paraeducator 165
Chapter 18 Co-Teaching with a Gifted Specialist 173
Chapter 19 Co-Teaching with a Literacy Specialist 181
Chapter 20 Co-Teaching with an ELL Specialist 187
PART FOUR: WRAPPING IT UP 195
Chapter 21 Conclusion: Evolving Partnerships 197
Appendix Instructional Strategies for Co-Taught Classrooms 199
References 245
Index 251
See More
Anne M. Beninghof is an internationally recognized consultant and trainer. A former special educator and adjunct faculty member of the University of Hartford and the University of Colorado, she has published several books and videos and trained teachers in 49 states.
See More