E-book
Collaborate: The Art of We
ISBN: 978-1-118-18057-0
250 pages
December 2011, Jossey-Bass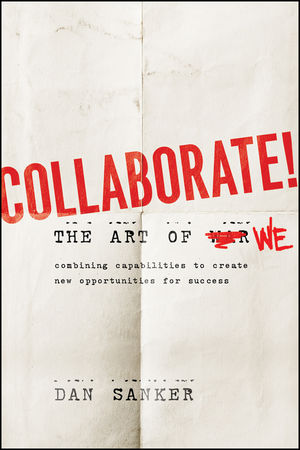 The hands-on guide for the new way to compete: Collaboration
The 21st Century's counterpart to Sun Tzu's The Art of War, Dan Sanker's Collaborate: The Art of We gives a new generation of pioneering business enthusiasts a practical guide to capture tomorrow's opportunities. Globalization, technological advances, and cultural changes have opened the door for a new winning formula that combines traditional competition with contemporary collaborative business practices. Readers will change their mindsets and learn practical tools to tap into talent, overcome organizational obstacles, and create dramatic incremental value by collaborating between organizations.
While most businesses are battling it out for crumbs of market share, the author gives inside examples of emerging leaders who are staking claim to larger pieces of the economic pie. Intellectual honesty and proof-of-concept permeate throughout; even the book's own foreword was entrusted to a collaborative group of over 35 individual participants, a first of its kind and one more concrete example of the power of collaboration.
Sanker provides a comprehensive guide to collaboration from conception to implementation and analysis.  He brings collaboration to life by:
Exploring the opportunities created by dynamic online social tools being used by winning leaders
Delving into examples from a plethora of traditional companies like Disney and McDonald's

Inviting readers behind the curtains to see the inner workings of collaborative emerging growth companies like CaseStack, the author's company
See More
Foreword ix
Preface xv
Introduction xix
1 What Collaboration Is and Isn't 1
2 Dawn of the Knowledge-Based Collaborative Era 17
3 The Collaboration Payoff 37
4 Risks of Collaboration 59
5 Collaboration Essentials 73
6 Stages of Collaboration 89
7 Setting Up for Success 107
8 Strategies for a Successful Collaboration 121
9 The Role of Technology and Social Media in Collaboration 137
10 Fostering a Collaborative Culture in Your Organization 151
Afterword 169
References 171
About the Author 179
Index 181
See More
Dan Sanker is the founder, CEO,and president of CaseStack, a company that has been recognized as one of the fastest growing companies in the United States by Inc. Magazine, Entre-preneur, and PricewaterhouseCoopers. Under his leadership, CaseStack has been chosen as "One of the Best Places to Work," and is noteworthy for its innovative technology and collaborative relationships. Sanker has held leadership positions at Procter & Gamble, Nabisco, Deloitte, and KPMG.He has been published, quoted, orprofiled in numerous publicationsincluding the Washington Post and the Los Angeles Times. He has been named a finalist for Ernst & Young Entrepreneur of the Year awards multiple times. He received his MBA from the Anderson Graduate School of Management at UCLA and attended Kansai University in Japan, University of London, and Institute for European Studies in Austria. Sanker was recognized as a "Green Supply Chain Professional to Know," and he was a founder of the Green Valley Initiative, an economic development organization promoting sustainability technology.
See More