E-book
Writing Securities Research: A Best Practice Guide
ISBN: 978-1-118-18153-9
350 pages
September 2011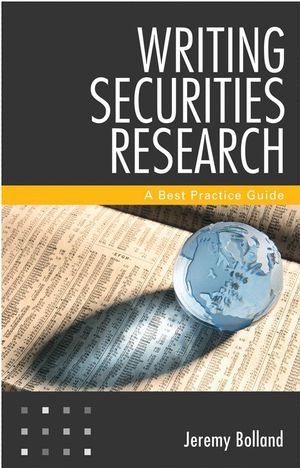 "There is a strong need for this book by Jeremy Bolland, which dissects all issues relating to securities research. The requirement for better research does not only apply to the US securities market but to securities markets all over the world. This book is relevant in any setting. It will equip analysts with many useful tools to help them achieve success."  —Mark Mobius, President, Templeton Emerging Markets Fund

"Jeremy Bolland's book is essential reading for all people involved in writing securities research. Moreover, it is not just a technical and legal guide, but also a timely reminder of the principles of good writing." —Andrew Leeming, Author of The Super Analysts

"Knowing your ratios and spreadsheets is no longer enough to become an investment analyst. As Jeremy Bolland points out, you need to know your do's and don'ts of how to approach clients and companies. This guide to doing it properly is an obvious selection for the bookshelf of anyone who aspires to offer investment advice and a fine reference for anyone who receives such advice."—Jake van der Kamp, Financial Columnist, South China Morning Post

"At last, here's a comprehensive yet easy-to-read guide explaining all the best practice principles involved in writing securities research. It is full of useful information. If all securities analysts followed the guidance that has been clearly laid out in this book by Jeremy Bolland, research enforcement regulators around the world would be out of a job. Anyone who is involved in writing and publishing research, or using research for investment decisions, from the novice to the expert, should read this book. I highly recommend it."—Anthony Espina, Chairman, Hong Kong Stockbrokers Association
See More
Foreword.
Introduction.
Acknowledgments.
Abbreviations.
Chapter 1: Principles of Research.
Chapter 2: Independence of Research and Conflicts of Interest.
Chapter 3: Non-research: E-mails, Faxes and Internal Communications.
Chapter 4: General Writing, Editing and Publishing Considerations.
Appendix.
Index.
See More
Jeremy Bolland has over 20 years of experience in the world of investments, and has worked in London, Tokyo, and Hong Kong.  For the past 13 years he has worked at global investment banks, including a five-year stint at Morgan Stanley and five years as a director at ING/ING Barings.  In 1997 he qualified as a supervisory analyst (SA).  As an SA he approves securities research for worldwide distribution.  Previously he was marketing director and company secretary of an industrial and commercial property development company in the UK. He is the author of A Guide to Investment in Enterprise Zones. Jeremy Bolland grew up in Malaysia, holds an honours degree in Classics from King's College, London University, and studied Chinese at SOAS and Beijing Normal University.  He lives in Hong Kong with his wife and son.
See More