E-book
Livable Communities for Aging Populations: Urban Design for Longevity
ISBN: 978-1-118-18176-8
304 pages
April 2012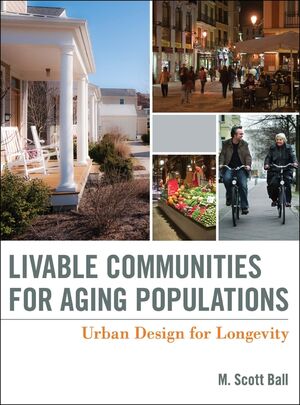 An innovative look at design solutions for building lifelong neighborhoods
Livable Communities for Aging Populations provides architects and designers with critical guidance on urban planning and building design that allows people to age in their own homes and communities. The focus is on lifelong neighborhoods, where healthcare and accessibility needs of residents can be met throughout their entire life cycle.
Written by M. Scott Ball, a Duany Plater-Zyberk architect with extensive expertise in designing for an aging society, this important work explores the full range of factors involved in designing for an aging population—from social, economic, and public health policies to land use, business models, and built form. Ball examines in detail a number of case studies of communities that have implemented lifelong solutions, discussing how to apply these best practices to communities large and small, new and existing, urban and rural. Other topics include:
How healthcare and disability can be integrated into an urban environment as a lifelong function

The need for partnership between healthcare providers, community support services, and real-estate developers

How to handle project financing and take advantage of lessons learned in the senior housing industry

The role of transportation, access, connectivity, and building diversity in the success of lifelong neighborhoods
Architects, urban planners, urban designers, and developers will find Livable Communities for Aging Populations both instructive and inspiring. The book also includes a wealth of pertinent information for public health officials working on policy issues for aging populations.
See More
FOREWORD, Andrés Duany xi
INTRODUCTION, Robert Jenkens xiii
PREFACE xiv
ACKNOWLEDGMENTS xviii
PART I CHALLENGES AND OPPORTUNITIES 1
1 THE LONGEVITY CHALLENGE TO URBANISM 3
The Challenge 3
The Scale of Response: Pedestrian Sheds and Neighborhoods 7
Seniors Housing Communities as Change Agents 11
Toward the Development of Lifelong Neighborhoods 14
Conclusions 18
2 ACCESS AND URBANISM 21
Introduction 21
Go Forth Boldly 22
On Whose Behalf We Regulate 24
Advancing Accessibility Aspirations Beyond Minimum Standards 31
Stewardship 38
3 HEALTH, HEALTHCARE, AND URBANISM 45
Environmental Health, Safety, and Welfare 45
Reestablishing a Healthy Land-Use Paradigm 48
Knowledge and Action: Finding an Institutional Basis for Public Health and Land-Use Planning Integration 50
Beyond Intent and Toxicity: Establishing Frameworks for Planning Action 54
Beyond Planning: Healthy Environment Implementation Frameworks 64
4 NEIGHBORHOOD WELLNESS AND RECREATION 71
Urban Design and Wellness Industry Market Research 71
Aging and Wellness 73
Redefining the Lifelong Environment: Wellness in Community 77
Conclusion 86
PART II NETWORKS AND DIVERSITY 87
5 CONNECTIONS 89
Connectivity 91
Pedestrian Access and Transit 103
6 DIVERSITY 109
Planning for Diversity 109
Zoning for Diversity 111
Building Codes and Housing Diversity 121
PART III SENIORS HOUSING 125
7 EVOLUTION OF SENIOR DEVELOPMENT TYPES 129
Early Senior Care Models 129
Institutional Neglect 133
Diversification of the Senior Housing Type 134
8 THE LIFELONG NEIGHBORHOOD MARKET 149
Market Study Elements of Critical Importance to Lifelong Neighborhoods 149
Factors That Contribute to Residency in Age-Restricted Communities 156
Factors That Deter Older Adults from Moving to Age-Restricted Communities 164
Lifelong Neighborhoods and Influencing Factors 167
9 SENIORS HOUSING COMPONENTS 171
Initiating Lifelong Neighborhood Design with a Market Study 172
Seniors Housing Components 174
Service Policy Components 198
Built-Environment Policy Components 199
PART IV URBAN TO RURAL CASE STUDIES 207
10 PENN SOUTH NORC CASE STUDY OF AGING A DENSE URBAN CORE 209
Lifelong Summary 209
Context 210
Innovations in Health and Wellness Programming: Penn South Discovers the NORC Concept 212
Connectivity and Access 214
Dwellings and Retail 216
Health and Wellness 218
Community Building Spaces 219
Jeff Dullea Intergenerational Garden 220
11 BEACON HILL CASE STUDY OF AGING AND TOWN CENTERS 223
Lifelong Summary 223
Context 224
Innovations in Health and Wellness Programming 225
Connectivity and Access 226
Dwellings and Retail 227
Health and Wellness 230
Community Building Spaces 232
12 MABLETON CASE STUDY OF AGING AND NEIGHBORHOOD CENTER 235
Lifelong Summary 235
Overview 237
Context 238
Redeveloping as a Lifelong Community 239
Mableton Elementary School Redeveloped as a Civic Center 253
13 ELDER-CENTRIC VILLAGES: EXPLORING HOW SENIOR HOUSING CAN INCENTIVIZE URBAN RENEWAL IN RURAL AMERICA 257
Lifelong Summary 257
Evaluating Small-Town Living and Walkability 259
Providing an Elder-Centric Village 263
INDEX 267
See More
M. Scott Ball is an Atlanta-based architect and senior project manager for Duany Plater-Zyberk & Company (DPZ). He was previously involved in numerous hurricane recovery housing efforts and the creation of Louisiana's The Road Home and Mississippi Home Again programs. Ball was also co-executive director of the Community Housing Resource Center in Atlanta and served as president of the Association for Community Design, a national network of community design associations.
See More