E-book
Online Community Management For Dummies
ISBN: 978-1-118-18278-9
336 pages
December 2011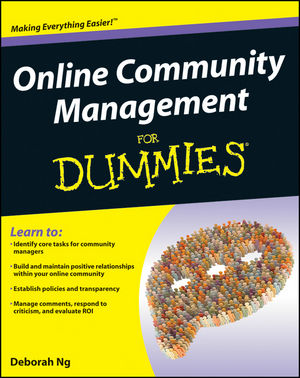 Learn to manage, grow, and communicate with your online community
Online community management is a growing profession and companies are investing in online communities in order to gain consumer insights into products and to test new products. An effective and dedicated community manager is essential to engage and manage a successful online consumer community. This straightforward-but-fun guide shows you how to effectively manage, grow, and communicate with your online community. Clear coverage shares tips for dealing with customers and fans through Twitter, Facebook, forums, and blogs.
A practical approach shows you how to ensure that visitors to your site are satisfied, kept happy, and return. You'll explore the various types of online communities and benefit from learning an assortment of tips and tools that will help you stand out above the competition, attract more visitors and gain the attention of potential advertisers and investors.
Aims at providing community managers the information they need to get a handle on their online communities and make them successful
Addresses the role of the community manager, the core community management tasks, and how to create an online community
Highlights ways to build relationships within your community, evaluate return on investment, and handle and respond to criticism
Offers advice for establishing policies and transparency and encouraging community interaction
Online Community Management For Dummies is the ideal introductory guide for making sure that visitors to your site have a good experience and return for more.
See More
Introduction 1
Part I: The Basics of Online Community Management 7
Chapter 1: Fostering an Online Community 9
Chapter 2: What You Have to Know about Online Communities 31
Part II: Embracing the Community Manager's Role 47
Chapter 3: Becoming an Online Community Manager 49
Chapter 4: Establishing Community Policies and Guidelines 75
Part III: Building a Productive Online Community 111
Chapter 5: Getting Started with Your Online Community 113
Chapter 6: Communicating with Your Community 125
Chapter 7: Listening to Your Community 145
Chapter 8: Building Kids' Communities 167
Part IV: Growing Your Community 177
Chapter 9: Welcoming New Members 179
Chapter 10: Encouraging Community Interaction and Involvement 193
Chapter 11: Attracting More People to Your Website 203
Part V: Assessing the Health of Your Community 217
Chapter 12: Evaluating Community Participation 219
Chapter 13: Paying Attention to the Numbers 231
Chapter 14: Making Decisions Based on Your Findings 243
Part VI: Taking Your Community Offline 249
Chapter 15: Fostering Community Growth with Offl ine Activity 251
Chapter 16: Hosting Meetups and Tweetups 261
Part VII: The Part of Tens 273
Chapter 17: Ten Essential Community Manager Tasks 275
Chapter 18: Ten Must-Have Skills for Community Managers 281
Chapter 19: Ten Best Practices of a Community Manager 289
Index 297
See More
Deborah Ng is a professional blogger, community manager, and social media enthusiast who grew her little writing blog into the number one online community for freelance writers before selling in 2010. She's the former community manager for several online brands, and when she's not sharing on one of the social networks, she can be found in her current role as Conference Director for BlogWorld and New Media Expo.
See More