E-book
Crochet Stitches VISUAL Encyclopedia
ISBN: 978-1-118-18316-8
288 pages
December 2011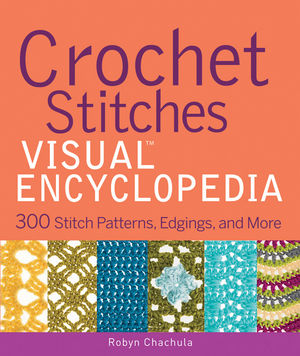 Visual instruction for 300 crochet stitch patterns
This visual encyclopedia features step-by-step instructions for 300 gorgeous crochet stitch patterns, from basic stitches to cables, lace, textured stitches, mesh and filet crochet, fans and shells, clusters, puffs, bobbles, spike stitches, colorwork, and more. Each pattern is accompanied by a full-color photo and a chart. Every crocheter needs a book like this on her shelf—the content is timeless and will have a place next to the crochet hooks for many years to come.
Crochet Stitches VISUAL Encyclopedia gives crocheters quick visual access to a comprehensive collection of stitch combinations that enables them to create their own designs or modify existing patterns with ease.
Patterns are represented in both charts and words to suit individual crocheters' preferences
A detailed color photo accompanies each stitch pattern
Hardcover packaging makes the book durable for a lifetime of use
Whether you're a beginner or an advanced crocheter, Crochet Stitches VISUAL Encyclopedia is a book you'll turn to again and again.
See More
CHAPTER 1 Simple Stitch Patterns 1
Slip Stitch Patterns
Single Crochet Patterns
Half Double Crochet Patterns
Double Crochet Patterns
Treble Crochet Patterns
Combined Stitch Patterns
CHAPTER 2 Textured Stitch Patterns 18
Simple Texture Stitch Patterns
Bobble Texture Stitch Patterns
Cable Stitch Patterns
CHAPTER 3 Lace Stitch Patterns 50
Chain Space Stitch Patterns.
Shell Stitch Patterns
Cluster Stitch Patterns
Wave Stitch Patterns
Pineapple Stitch Patterns
CHAPTER 4 Unique Lace Stitch Patterns 88
Filet Stitch Patterns
Short Row Stitch Patterns
Brussels Stitch Patterns
Loop Stitch Patterns
Partial Motif Stitch Patterns
CHAPTER 5 Colorwork Stitch Patterns 113
Mosaic Stitch Patterns
Embroidery Stitch Patterns
Charted Color Stitch Patterns
CHAPTER 6 Tunisian Stitch Patterns 136
Simple Stitch Patterns
Textured Stitch Patterns
Lace Stitch Patterns
Color Stitch Patterns
CHAPTER 7 Square and Hexagonal Granny Squares 165
Classic Granny Squares
Hexagon Motifs
Lacy Motifs
CHAPTER 8 Flower, Snowflake, and Joining Motifs 203
Flower Motifs
Circular Motifs
Snowflake Motifs
Joining Motifs
CHAPTER 9 Edgings 247
Simple Edgings
Shell Edgings
Special Edgings
Appendix: Glossary 268
See More
Robyn Chachula is a crochet designer with a background in structural engineering. She's the author of Blueprint Crochet: Modern Designs for the Visual Crocheter and Baby Blueprint Crochet. Fans can catch her as one of the crochet experts on "Knit and Crochet Now" on PBS, or on her blog, Crochet by Faye (www.crochetbyfaye.blogspot.com).
See More