E-book
Knitting Stitches VISUAL Encyclopedia
ISBN: 978-1-118-18318-2
256 pages
January 2012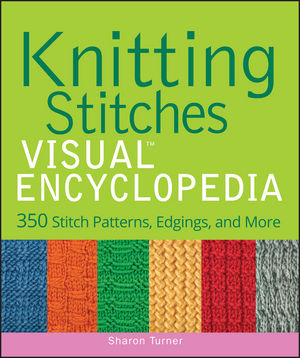 350 stitch patterns you'll use again and again
Knitting Stitches VISUAL Encyclopedia gives you quick visual access to a comprehensive collection of stitch combinations that enable you to create your own designs or modify existing patterns with ease. Each stitch is accompanied by a full-color photo and diagram to make learning even easier, while sidebars guide you through tricky parts of various stitch patterns.
knit and purl patterns • ribs • bobbles and textured stitches • slipstitch patterns • twist-stitch patterns • cables • drop-stitch, eyelet, and lace patterns • borders and edgings • color knitting patterns
See More
CHAPTER 1 Knit and Purl Patterns 1
CHAPTER 2 Rib Patterns 37

CHAPTER 3 Bobbles and Textured Stitches 61
CHAPTER 4 Slipstitch Patterns 77
CHAPTER 5 Twist-Stitch Patterns 91
CHAPTER 6 Cable Patterns 108
CHAPTER 7 Drop-stitch, Yarn Overs, Eyelet, and Lace 142
CHAPTER 8 Borders and Edgings 160
CHAPTER 9 Creative Stitches and Combinations 173
CHAPTER 10 Color Knitting 184
Stranded Color Patterns
Intarsia Patterns and Motifs
Color-Slip Patterns
Appendix: Glossary 235
See More
SHARON TURNER is the author of several knitting books, including Teach Yourself VISUALLY Knitting, Teach Yourself VISUALLY Knitting Design, and Knitting VISUAL Quick Tips (all from Wiley). She designs knitwear and published Monkeysuits, a line of knitwear patterns for babies and children.
See More