Anatomy Essentials For Dummies
ISBN: 978-1-118-18421-9
192 pages
May 2012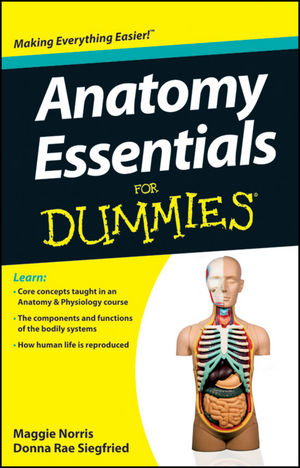 The core concepts you need to ace Anatomy
Perfect for those just starting out or returning to Anatomy after some time away, Anatomy Essentials For Dummies focuses on core concepts taught (and tested on!) in a typical Anatomy course. From names and technical terms to how the body works, you'll skip the suffering and score high marks at exam time with the help of Anatomy Essentials For Dummies.
Designed for students who want the key concepts and a few examples—without the review, ramp-up, and anecdotal content—Anatomy Essentials For Dummies is a perfect solution for exam-cramming, homework help, and reference.
A useful and handy reference to the anatomy of the human body
Perfect for a refresher or a quick reference
Serves as an excellent review to score higher at exam time
If you have some knowledge of anatomy and want to polish your skills, Anatomy Essentials For Dummies focuses on just the core concepts you need to understand this fascinating topic.
See More
Introduction 1
Chapter 1: Focusing on the Framework of Anatomy and Physiology 5
Chapter 2: Examining Cell Biology Basics 23
Chapter 3: Scoping Out the Body's Structural Layers 41
Chapter 4: Getting to the Heart of the Circulatory System 65
Chapter 5: Taking a Deep Breath with the Respiratory System 85
Chapter 6: Getting on Track with the Digestive System 97
Chapter 7: Passing through the Urinary System 111
Chapter 8: Making Babies: The Reproductive System 125
Chapter 9: Exploring the Nervous, Endocrine, and Immune Systems 143
Chapter 10: Ten Phabulous Physiology Phacts 161
Index 167
See More
Maggie Norris is a freelance science writer. Donna Rae Siegfried has instructed anatomy and physiology courses at the college level. They are the coauthors of Anatomy & Physiology For Dummies, 2nd Edition.
See More