Google+ Companion
ISBN: 978-1-118-18646-6
304 pages
May 2012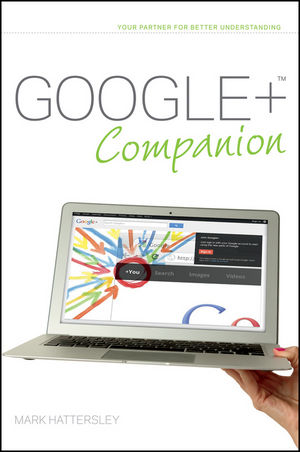 Get the inside scoop on the newest social networking site: Google+
If you think you've seen it all when it comes to social networking sites, you haven't seen Google+ yet! Built from the ground up to be useful to both desktop and mobile users, Google+ offers the same great features as other popular social network sites yet, Google+ goes one step further by integrating popular Google technologies and introducing exciting new and unique features such as "Circles," "Hang," and "Sparks." Using clear, step-by-step instructions, Google+ Companion helps you master this amazing new social networking technology.
Highlights the new and innovative features of Google+ with the use of clear, easy-to-understand descriptions
Introduces you to "Circles," a brilliant feature that allows users to decide what updates and personal information each group of friends see
Shares helpful details to explain "Hang": the new group video feature
Walks you through "Sparks," which integrates Google search into the social network
Addresses how Google+ will be supported on desktop computers as well as Android and iOS devices
Step into the newest world of social networking sites with Google+ Companion!
See More
Introduction xxiii
Chapter 1 What Is Google+ and Why Should I Use It? 1
Chapter 2 How Do I Set Up My Google+ Profile? 11
Chapter 3 How Do I Navigate Google+? 23
Chapter 4 How Do I Find and Add Friends? 41
Chapter 5 What Are Circles and How Do I Use Them? 53
Chapter 6 How Can I Share What's Happening in My Life? 67
Chapter 7 How Can I Hang Out with My Friends Using Google+? 87
Chapter 8 How Do I Manage and Upload Photos in Google+? 105
Chapter 9 How Do I Discover Interesting News Subjects? 131
Chapter 10 What Is +1 and How Do I Use It with Google+? 141
Chapter 11 How Do I Play Games on Google+? 153
Chapter 12 How Do I Manage Google+ Settings? 161
Chapter 13 How Do I Use Google+ on a Mobile Device? 185
Chapter 14 What Other Really Cool Google+ Tricks and Tips Can I Use? 207
Chapter 15 How Do I Manage My Privacy and Personal Information? 221
Chapter 16 How Do I Use Google+ to Promote My Business? 245
Appendix Resources 259
Index 267
See More
Mark Hattersley is Editor in Chief of Macworld UK and runs a number of tech-related websites and print magazines, including Macworld UK, iPad & iPhone User, and Digital Arts.
See More