E-book
Portrait and Candid Photography Photo Workshop, 2nd Edition
ISBN: 978-1-118-19086-9
304 pages
October 2011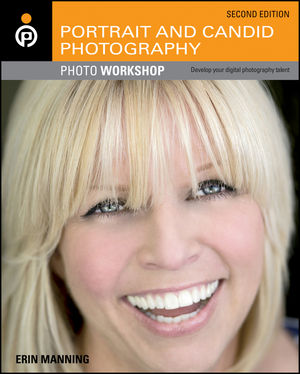 The latest tips and tricks for capturing high-quality photos
Taking great "people pictures" isn't a matter of luck. The secret is in observing your subjects and connecting with them, and then using your camera to its best advantage. This new edition uses full-color photos to demonstrate how to work with lighting, location, angle, composition, physical characteristics, and environment in either portrait or candid situations. Professional photographer and veteran author Erin Manning offers invaluable advice for handling the unique challenges of photographing babies, large and small groups, and action.
Assignments at the end of each chapter encourage you to test your newfound skills, while visiting pwsbooks.com allows you to post your work and benefit from feedback and constructive criticism.
Explains how to study your subjects in their natural habitat, while you observe how they react and interact
Features invaluable advice from veteran author Erin Manning that shares simple techniques for improving photos of babies and children
Zeroes in on how to best capture facial expressions
Highlights ways to tell a story with a series of candid photos
Helps you add interest to large-group shots
When you apply the techniques featured on the pages of Portrait and Candid Photography Photo Workshop, 2nd Edition, you'll watch your subjects come to life.
See More
Chapter 1 What You Must Know About Photographing People 2
Observe and Connect with People 4
Understand Light 9
Express Yourself 12
Chapter 2 Equipment Basics 20
Cameras 22
Image Storage 28
Lenses and Filters 30
Tripods 35
Reflectors and Diffusers 38
Lights and Accessories 39
Odds 'n' Ends 43
Chapter 3 Working with Light 50
Recognize the Characteristics of Light 52
Find the Light 62
Expose for the Light 68
Control the Light 77
Lighting Techniques for Artificial Light 80
Chapter 4 Composing Your Portraits 88
Composition Basics 90
Point of View and Focus 104
Chapter 5 Capturing Portraits 112
Create the Look 115
Explore the Light 122
Work with Your Subject 126
Experiment 133
Chapter 6 Families and Groups 138
Prepare 140
Direct and Position the Group 145
Capture Candids 152
Get Creative 154
Optimize Your Camera Settings 158
Chapter 7 Kids 162
Direct the Kids 164
Keep It Real 173
Compose the Shot 176
Chapter 8 Babies 184
Get Comfortable with the Baby 186
Keep It Simple 190
Use Soft Light 197
Seize the Moment 199
Chapter 9 Action Shots 206
Use Your Camera and Lens 208
Freeze the Action 217
Blur the Motion 221
Chapter 10 Postproduction, Sharing, and Saving 228
Manage Your Images 230
Basic Image Editing 237
Share and Save Your Images 262
Appendix 268
Glossary 276
Index 287
See More
Erin Manning is a professional photographer, author, educator, and media personality. Television viewers know Erin best as the digital photography expert and host of DIY Network's Telly Award-winning TV series The Whole Picture. She enjoys helping people understand photography and technology with a clear, friendly teaching style. Erin is also author of Make Money With Your Digital Photography, published by John Wiley & Sons, Inc.
See More