E-book
Google Secrets
ISBN: 978-1-118-19371-6
576 pages
September 2011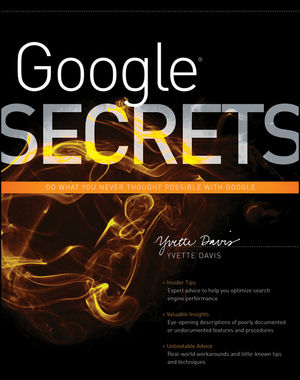 Become a Google guru with these effective tips, tricks, and techniques
Sure, you use Google. But do you really use Google—and everything it has to offer—in the most effective way possible? Wish you could just sit down with a Google expert who would show you how to take your Google savviness to the next level? With Google Secrets, you can! Tech expert Jerri Ledford reveals the ins, outs, and little-known facts about Google to show you how to sharpen your skills so you can get more done, more efficiently. You may already be familiar with Google's most popular applications, but this indispensable guide puts your knowledge to the test with insider tips, valuable insights, and unbeatable advice on Gmail, Google Voice, Google Sketchup, Google Analytics, and dozens more.
Explores the dozens of Google applications that help you stay in touch, collaborate more effectively, and locate all the information you need to accomplish almost any task

Builds on your already-savvy set of Google skills and takes your smarts to the next level with little-known secrets, unique tips and tricks, and helpful hints

Reveals the powerful capabilities of the entire spectrum of Google applications, such as Gmail, Google Docs, Picasa, Google Buzz, Google Maps, and much more
If you demand more than just the basics, then Google Secrets is the book you've been waiting for!
See More
Read This First xix
Part I Customizing Your Google Experience 1
Chapter 1 Starting Strong: Google A ccount and Profile Secrets 3
Chapter 2 Customizing Your Google Experience with iGoogle 15
Chapter 3 Increasing Your Knowledge with Google Reader 29
Part II Google Search Secrets 37
Chapter 4 Using Your Words: Natural Language Searches 39
Chapter 5 Refining Your Search 49
Chapter 6 Staying Close with Local Search 63
Chapter 7 Learning More with Informational Searches 71
Chapter 8 Using Multimedia Search to Find Entertainment 95
Chapter 9 Customizing Search to Your Needs 111
Part III Google Gmail Secrets 129
Chapter 10 Harnessing the Power of a Gmail Account 131
Chapter 11 Managing Messages 147
Part IV Secrets for Sharing Content with Google Aplications 165
Chapter 12 Getting Your Message Out with Blogger 167
Chapter 13 Managing Your Blog 187
Chapter 14 Getting More from YouTube 197
Chapter 15 Getting the Picture with Picasa and Picnik 207
Part V Google Social and Collaboration Ap Secrets 219
Chapter 16 Google Talk Secrets 221
Chapter 17 Staying Connected with G oogle Voice 229
Chapter 18 Catching the Buzz: Google Buzz 237
Chapter 19 Socializing with Orkut 245
Chapter 20 Expanding Knowledge on the Web with Knol 253
Chapter 21 Getting Involved in Google G roups 261
Part VI Google Productivity Aps Secrets 269
Chapter 22 Creating More with Google Docs 271
Chapter 23 Designing Better Presentations 283
Chapter 24 Calculating Answers with S preadsheet 293
Chapter 25 Demystifying Google Forms and Drawing 301
Chapter 26 Scheduling Better with Google Calendar 309
Chapter 27 Navigating Better with Google Maps 321
Part VII Google Website Secrets 337
Chapter 28 Building Your Home on the Web with Google Sites 339
Chapter 29 Improving Your Website with Google's Apps 351
Chapter 30 Implementing Google Analytics 361
Chapter 31 Using Google Analytics for eCommerce 373
Chapter 32 Integrating Google Analytics with AdWords 387
Chapter 33 Tweaking Google Analytics 401
Part VIII Android Secrets 413
Chapter 34 Getting More Done with A ndroid 415
Chapter 35 Creating Android Apps 425
Index 443
See More
Yvette Davis is an accomplished technical writer who has contributed more than 300 articles to print magazines and the web. She currently develops corporate documentation, including training materials, policy and procedure manuals, B-2-B communication, and B-2-Client communications. As the former Managing Editor of BrightHub.com's Google Channel she has a deep understanding of Google's wide range of services as well as the needs of the users utilizing them.
See More