E-book
Complete Book of Framing: An Illustrated Guide for Residential Construction, 2nd Edition
ISBN: 978-1-118-19649-6
368 pages
February 2012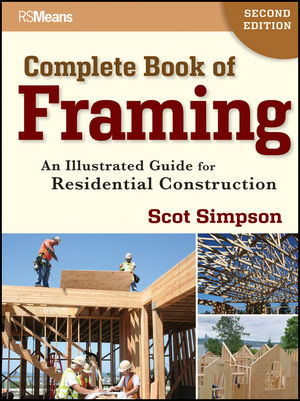 The updated easy-to-learn reference for rough carpentry and framing
Complete Book of Framing, Second Edition is an updated, easy-to-learn guide to rough carpentry and framing written by an expert with more than thirty years of framing experience. This book guides the reader through the steps on framing floors, walls, roofs, door and window openings, and stairs. Hundreds of color photographs and illustrations help the reader understand the basics as well as advanced framing methods. This Second Edition is updated to match the framing techniques to the 2009 International Building Code, and introduces the concept of "green framing" regarding material use and handling.
Deals with the new corrosive treating methods that began to be used in 2004 for pressure treated wood
Covers the time and energy-saving benefits of positive placement nail guns, which have become the industry standard for fastening light gage hardware
Includes a glue-laminated beam weight chart, along with a description of crane operations for setting these beams
Starting with the basics, this book begins with types of lumber, nails, and what tools are needed, followed by detailed, fully illustrated steps for framing each building element—from planning and layout through specific nailing patterns. Framer-Friendly Tips throughout the book show how to get a task done right—and more easily.
See More
About the Author
Acknowledgements
Introduction
Chapter 1. Introduction to Framing
Chapter 2. Nailing Patterns
Chapter 3. Floor Framing
Chapter 4. Wall Framing
Chapter 5. Roof Framing
Chapter 6. Doors, Windows, & Stairs
Chapter 7. Layout
Chapter 8. Engineered Wood Products
Chapter 9. Wind & Earthquake Framing
Chapter 10. Building Code Requirements
Chapter 11. Green Framing
Chapter 12. Preparing for a Job
Chapter 13. Managing the Framing Start
Chapter 14. Managing a Framing Team
Chapter 15. Safety
Glossary
Spanish Framing Terms
Index
See More
Scot Simpson, owner of S.S. Framing, Inc., in Edmonds, Washington,??has been framing homes, schools, and commercial buildings for more than thirty years. He developed and refined the methods in this book, using them to train his crews. Scot is the author of many articles for construction magazines such as Fine Homebuilding and the Journal of Light Construction. He was the 2006 chairman of the Associated Builders and Contractors (ABC) Framers Council.
See More